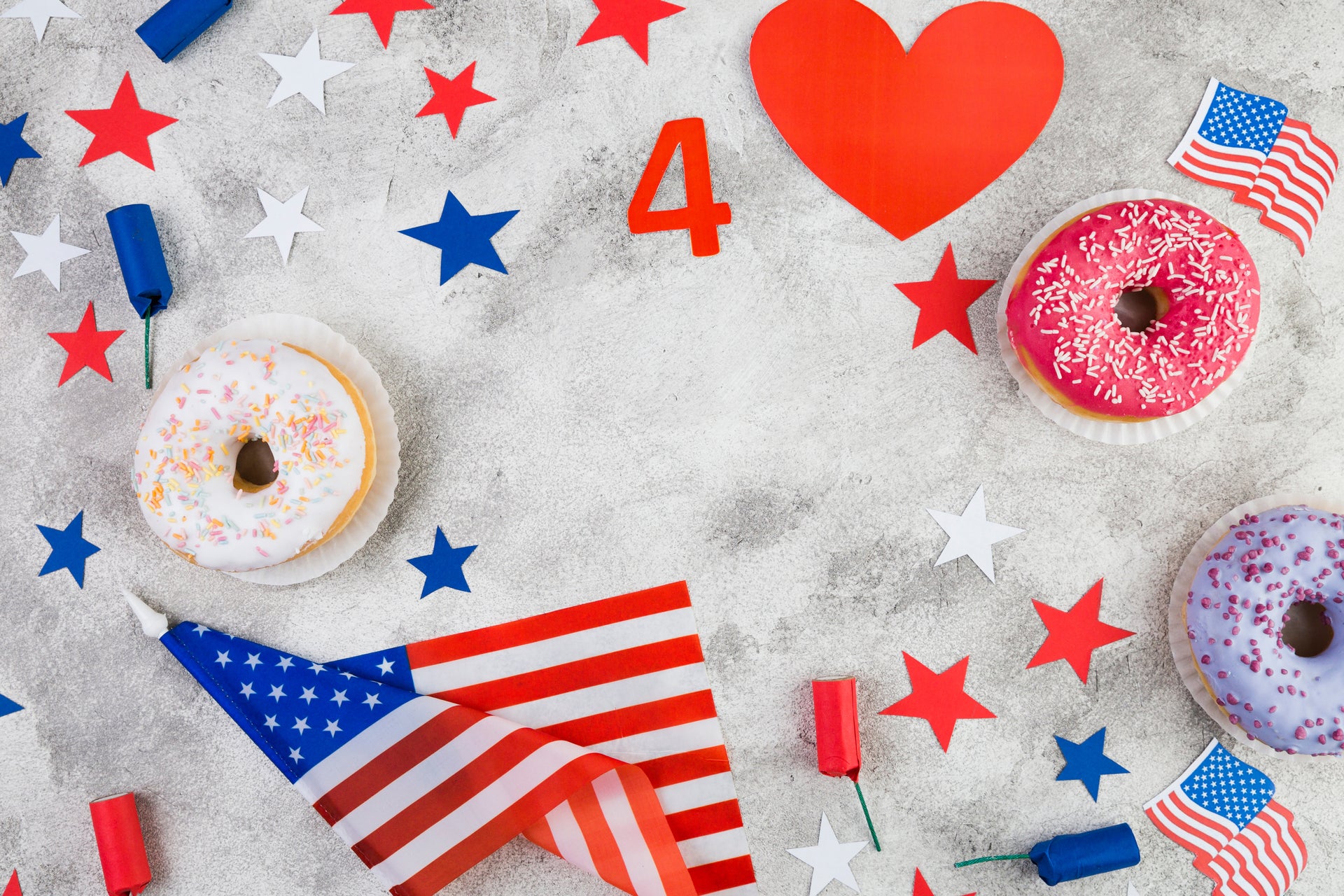 Fireworks of Flavor: Irresistible 4th of July Dessert Ideas
The Fourth of July is a time for celebration, patriotism, and indulgence. As we gather with family and friends to honor the birth of our nation, what better way to add a sweet touch to the festivities than with a dazzling array of desserts? 
Deliciously Patriotic: 4th of July Dessert Delights
Whether hosting a backyard barbecue or attending a community potluck, these dessert ideas will make you the star of the show. So, get ready to ignite your culinary creativity and embark on a journey of flavor as we explore these irresistible 4th of July dessert ideas. Whether you're a seasoned baker or just starting out, these treats will add a touch of magic to your celebration, creating memories that will last a lifetime. Let the fireworks of flavor begin!
Cupcakes: A Sweet Indulgence
Mouthwatering 4th of July Cupcake Recipes and Decoration Ideas
1. Red, White, and Blue Frosting with Edible Star-shaped Sprinkles
Celebrate Independence Day with patriotic cupcakes! Make vanilla or chocolate cupcakes and get creative with red, white, and blue frosting. These vibrant treats will capture the holiday spirit, whether for smooth designs or a rustic look. Add edible star-shaped sprinkles for extra festiveness.
2. Layered Cupcakes Resembling the American Flag
Create stunning layered cupcakes that resemble the American flag. Use red velvet or strawberry cake as the base, followed by white cake, and top it off with blue velvet or blueberry cake. Frost with cream cheese frosting for a smooth canvas. Pipe red and white frosting for stripes and add blue frosting with white star-shaped sprinkles for the stars. Impress your guests with these patriotic treats!
3. Fruit-filled Cupcakes with Fresh Berries as Toppings
Add a refreshing twist to your 4th of July cupcakes by incorporating fresh berries. Mix diced strawberries, blueberries, and raspberries into vanilla or lemon batter for bursts of flavor. After baking and cooling, frost with whipped cream and garnish with more fresh berries. These cupcakes embody the holiday colors and offer a delightful summery taste.
Unique Serving Ideas
In recent years, the art of serving cupcakes has taken a delightful twist. Gone are the days of traditional cupcake liners and plain serving trays. Instead, serving cupcakes in unconventional containers has overtaken the dessert world. And when adding a touch of elegance and convenience to your 4th of July dessert spread, nothing beats the charm of cupcakes in plastic wine glasses.
The clear design of elegant plastic wine glasses showcases the vibrant colors, creating an eye-catching presentation. These glasses not only add sophistication but also offer practicality. They are sturdy, portable, and easy to hold, perfect for outdoor gatherings and picnics.
Donuts: Bite-sized Bliss
Delectable 4th of July Donut Recipes and Creative Presentations
1. Glazed Donuts with Patriotic-colored Icing and Edible Glitter
Create patriotic donuts by using classic glazed ones as a base. Make red, white, and blue icings with food coloring, dip the tops, and sprinkle edible glitter for added sparkle. Perfect for your Independence Day party!
2. Donut Skewers with Alternating Red, White, and Blue Mini Donuts
Create patriotic donut skewers by alternating tiny donuts in red, white, and blue on the skewers. It's a fun and easy way to serve bite-sized treats and decorate your dessert table.
3. Donut Hole Cones with Vibrant Icing and Festive Sprinkles
Create a fun dessert by serving donut holes in cones. Dip them in colorful icing and add festive sprinkles. Display them in a holder or on a tray for a playful centerpiece.
Highlighting the Appeal of Mini-sized Desserts
When it comes to serving these delectable delights, the versatility of plastic partyware shines. Plastic partywares, such as small plates, bowls, and skewers, provide a fun and practical way to serve donuts at your Independence Day celebration. These partyware items' colorful and lightweight nature adds extra excitement to the dessert experience. Plus, they make it easy for guests to grab a donut or two as they mingle and enjoy the festivities.
Cookies: Classic Treats with a Twist
Enticing 4th of July Cookie Recipes and Decorative Designs
1. Star-shaped Sugar Cookies with Red, White, and Blue Icing
Make star-shaped sugar cookies with red, white, and blue icing for a festive holiday treat. Cut out the cookie shapes with a star-shaped cutter and decorate them with your favorite designs. These patriotic cookies will look great on any party plate.
2. Chocolate Chip Cookies with Patriotic M&M's or Sprinkles
Make patriotic chocolate chip cookies with red, white, and blue M&M's or sprinkles. The melted chocolate and colorful candy or sprinkles create a visually appealing treat. Serve on festive plates and watch your guests enjoy.
3. Firework-inspired Cookies with Colorful Frosting and Edible Sparklers
Make your dessert table pop with firework-inspired cookies. Start with your favorite cookie dough and decorate with colorful frosting and edible sparklers for a visually stunning display. Perfect for any party.
Elevating the Cookie's Presentation
Presenting cookies on patriotic plastic plates takes their appeal to a new level. These plates, adorned with stars and stripes, enhance the visual impact of your cookie display and add a patriotic flair to your 4th of July dessert table. The combination of delicious cookies and festive plates creates an irresistible treat that will delight your guests.
Individual Cake Delights
Delightful 4th of July Cake Recipes Perfectly Suited for Cups
1. Parfait-style Cakes with Alternating Layers of Cake, Cream, and Berries
Create stunning parfait-style cakes in clear cups by layering bite-sized cake cubes with creamy fillings, fresh berries, and a dollop of whipped cream. Impress your guests with the beautiful presentation and delicious combination of flavors.
2. Mason Jar-inspired Cakes with Red, White, and Blue Cake Layers
Make layered cakes in clear disposable cups inspired by mason jars. Use natural ingredients like beetroot or blue spirulina powder for red, white, and blue hues. Cut layers into small circles that fit snugly inside cups. Alternate colors for a striped effect. Add frosting or fruit compote between layers for flavor. Top with whipped cream or edible stars for a visually stunning dessert.
3. Cheesecake Cups with Patriotic Berry Compote and Whipped Cream
Make patriotic cheesecake cups by blending cream cheese, sugar, and vanilla. Spoon into clear cups, add berry compote and whipped cream on top. Garnish with extra berries or glitter for a festive touch. Your guests will love it!
The Popularity of Desserts Served in Single-serving Portions
As we celebrate the 4th of July, what better way to showcase these individual treats than by serving cake in disposable clear cups? Serve individual cakes in clear cups for a visually appealing and convenient dessert experience at your 4th of July celebration. The cups are lightweight, easy to handle, and disposable for minimal cleanup time.
Frequently Asked Questions (FAQ)
1. Can I customize these dessert ideas to fit dietary restrictions or preferences?
Absolutely! These dessert ideas can be customized to accommodate various dietary restrictions or preferences. For example, you can use gluten-free or vegan cake recipes, substitute dairy-free alternatives in the fillings or frostings, or adjust the sugar content according to your needs. Get creative and tailor the recipes to suit your guests' dietary requirements.
2. How far in advance can I prepare these desserts?
Preparation time for your dessert varies by type. Cupcakes, cookies, and donuts can be made and stored in containers. Cakes can be baked a day before and assembled on the day of the event. Parfaits and cheesecake cups can be refrigerated a day before serving. Follow storage guidelines for best results.
3. Can I make these desserts kid-friendly?
Get the kids involved in preparing 4th of July desserts by letting them decorate cupcakes with patriotic sprinkles or assemble their own parfait-style cakes. Adjust sweetness levels to cater to their taste preferences. These treats will please everyone at your gathering.
4. Can I make these desserts in large quantities for a big crowd?
Yes, you can make more of these desserts for a bigger group. Use mini versions for easier serving. Prepare ahead for a smoother process and plenty of treats.
Image by
Freepik
Happy 4th of July, and may your celebration be filled with joy, laughter, and the sweetest flavors of summer!