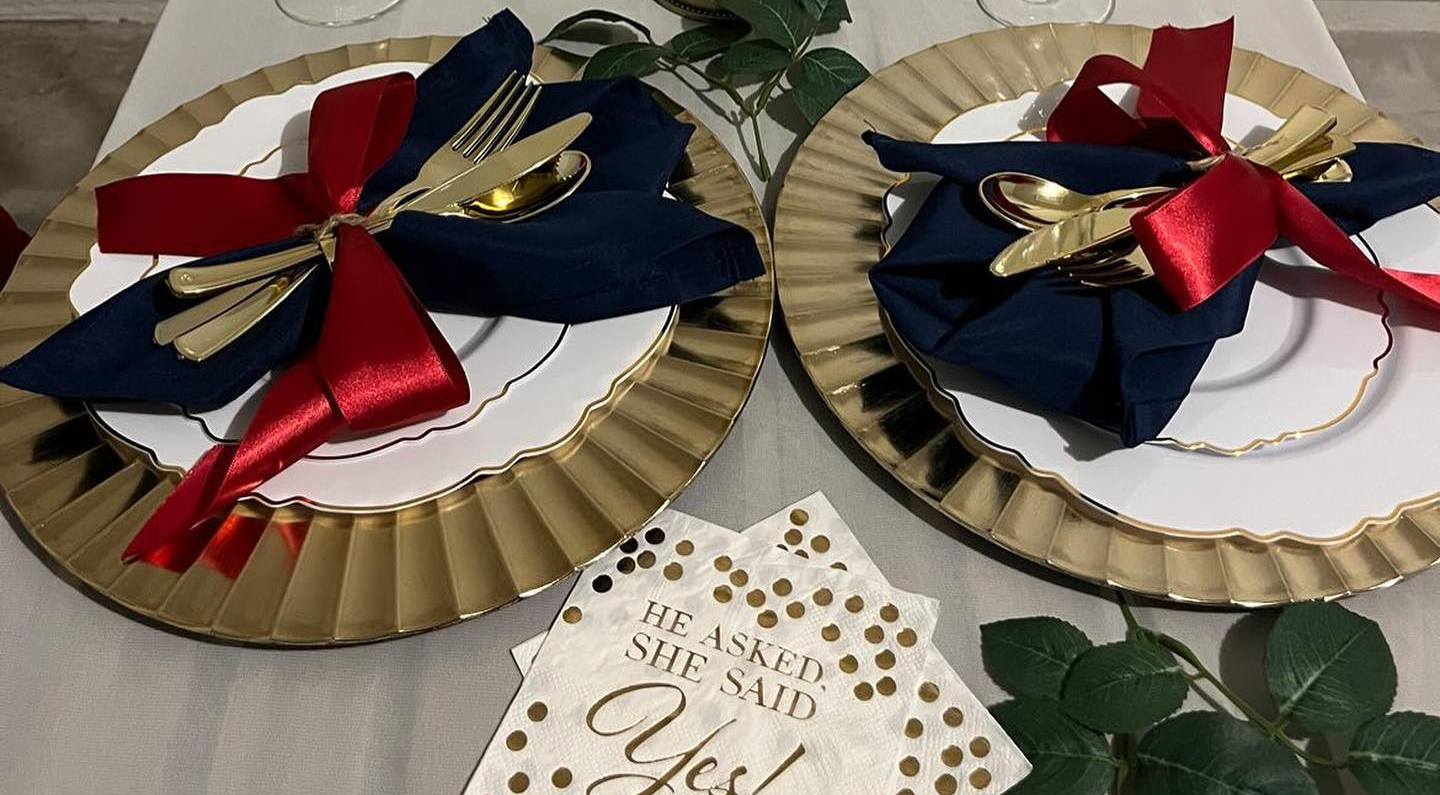 Love in the Air: Hosting a Romantic and Intimate Engagement Party
Love is in the air! An engagement is a memorable and exciting milestone in any couple's journey. It marks the beginning of a new chapter filled with love, commitment, and happiness. One way to celebrate this joyous occasion is by hosting a romantic and intimate engagement party. Whether you choose to have it at home, in a restaurant, or at a special location, creating a cozy and elegant atmosphere is essential. This blog post will provide tips and ideas on creating a beautiful and memorable engagement party. From setting the mood with lighting and music to creating an elegant tablescape to choosing the perfect menu and entertainment, we'll guide you through all the steps to ensure your engagement party is a success. So get ready to impress your guests and celebrate your love in style!
Creating a Romantic Atmosphere
An engagement party is a celebration of love, so setting the mood and creating a romantic atmosphere that will make the occasion truly special is essential. Here are some tips and ideas on how to create a cozy and romantic ambiance:
Lighting: 

The proper lighting can make all the difference in creating a warm and inviting atmosphere. Consider using soft, warm lighting such as fairy lights, candles, or dimmer switches. You can also use colored lights to add a touch of romance to the party.

Candles:

 Candles are a classic way to create a romantic atmosphere. Use them sparingly throughout the room, in candlesticks or small votive holders. You can also use scented candles to add an extra dimension to the ambiance.

Music: 

Soft, romantic music can help set the mood and create a relaxed and intimate atmosphere. Choose music that reflects the couple's tastes and preferences, whether classical music, jazz, or contemporary love songs.

Flowers: 

Flowers are a great way to add a touch of romance to the party. Choose flowers that are in season and have a romantic feel, such as roses, peonies, or hydrangeas. You can use them to create a centerpiece or scatter them throughout the room in vases or jars.

Personal Touches:

 Adding personal touches to the party can make it even more special and romantic. Consider displaying photos of the couple, using their favorite colors in the decor, or incorporating meaningful objects that represent their relationship.
By following these tips and incorporating your own personal touches, you can create a romantic and intimate atmosphere that will make the engagement party a celebration to remember.
Choosing the Right Venue
Choosing the right venue for your engagement party is important as it sets the tone for the entire celebration. Here are some options for hosting an engagement party, along with their pros and cons:
At home: 

Hosting the party at home can be a cost-effective option, giving you more control over the decor and atmosphere. However, it also means more work for you regarding preparation, cleaning, and catering.

In a restaurant:

 Hosting the party at a restaurant can be convenient as the venue will handle most of the catering and decor. It's also an excellent option for smaller parties. However, it can be expensive and limit your control over the ambiance and menu.

At a unique location: 

Hosting the party at a unique location, such as a garden, beach, or historic site, can add a unique and memorable touch to the celebration. However, it can also be expensive and require more planning and coordination.
When choosing the venue, consider factors such as the number of guests, the budget, and the style and theme of the party. You should also consider the couple's preferences and personality to ensure that the venue reflects their tastes and preferences.
Once you've decided on the venue, book it in advance and coordinate with the venue staff to ensure that everything runs smoothly on the day of the party.
Preparing the Menu
The menu for an engagement party should be elegant, intimate, and tailored to the couple's tastes. Here are some suggestions for creating a delicious and memorable menu:
Appetizers: 

Offer a variety of bite-sized appetizers that are easy to eat and flavorful. Some options include cheese and fruit platters, shrimp cocktails, bruschetta, or mini quiches.

Main Courses: 

Regarding main courses, consider offering a few options to accommodate different dietary restrictions and preferences. Some elegant and intimate options include steak, seafood, pasta dishes, or a vegetarian option such as roasted vegetable lasagna.

Desserts: 

Finish the meal on a sweet note with a delicious dessert. Consider offering a variety of mini desserts such as macarons, petit fours, or mini cheesecakes. You can also choose a small cake or cupcakes to celebrate the engagement.
When planning the menu, it's essential to consider the guests' dietary restrictions or preferences. Also, ask for any food allergies or restrictions beforehand and offer alternative options if needed.
Arranging an Elegant Tablescape
Creating an elegant tablescape is essential to hosting a romantic and intimate engagement party. Here are some tips for arranging a beautiful and stylish table setting:
Necessary items: 

You will need a few essential items to create an elegant tablescape. These include a 

plastic tablecloth, charger plates, fancy plastic dinnerware set

, a 

shiny gold cutlery set, elegant plastic champagne flutes

, and 

disposable wine glasses

.

Setting the table:

 Begin by laying the white tablecloth on the table. Next, place the gold charger plates on each seat and the dinner plates on top. Next, place the gold cutlery set to the right of the plates, with the knife closest to the plate and the spoon and fork next to it. Finally, arrange the elegant plastic champagne flutes and disposable wine glasses at the top right of the setting.

Centerpiece: 

Creating a stunning centerpiece is a key element of an elegant tablescape. Consider combining red roses and candles for a romantic and intimate touch. To create the centerpiece, place a long, low vase or tray in the center of the table. Add a few red roses and greenery, then place a few candles around the flowers. Light the candles before guests arrive to create a warm and inviting ambiance.
When setting the table, be sure to consider the theme and color scheme of the party. You can add additional decor elements, such as name cards or small favors, to make the setting even more personalized.
Entertainment Ideas
An engagement party is a celebration of love, and it's essential to keep the guests engaged and entertained throughout the event. Here are some ideas for entertainment that will fit the romantic and intimate theme of the party:
Games: 

You can create a fun and interactive atmosphere by incorporating games into the celebration. Some classic games that fit well with the theme include trivia games about the couple or a "How well do you know the couple?" game. You can also opt for fun and lighthearted games such as Jenga or Charades.

Music: 

Music sets the mood for any event, and an engagement party is no exception. Consider hiring a live musician, such as a guitarist or pianist, to play romantic songs throughout the event. Alternatively, you can create a playlist of the couple's favorite songs to play in the background.

Photo booth:

 A photo booth is a great way to create lasting memories and provide a fun activity for guests. Set up a photo booth area with a backdrop and props, and encourage guests to take photos throughout the night.

Toasts and speeches:

 The engagement party is an excellent opportunity for friends and family to offer toasts and speeches to honor the couple. Encourage guests to prepare a short speech or toast beforehand to ensure that everyone can share their love and well wishes for the couple.
When planning entertainment, it's essential to consider the size and style of the party. For a small and intimate gathering, focus on activities encouraging conversation and connection, such as games or toasts. Consider hiring a DJ or band for larger parties to provide music and entertainment.
Hosting a romantic and intimate engagement party is an excellent way to celebrate the love and commitment of the engaged couple. By following the tips and ideas we've discussed in this blog post, you can create an elegant and unforgettable celebration of love that will be cherished by the couple and their guests.