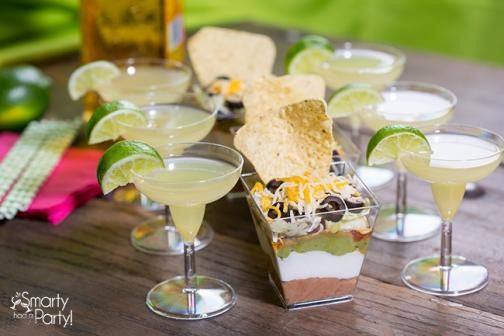 How to Throw the Perfect Margarita Party!
Make margaritas if life offers you limes!
Jimmy Buffett
Why Have a Margarita Party?
You are already tired and frustrated about starting something new in life and want a big bang to hit you and make you shine. Relaxation and quality time without stress is exactly what you want. Something to start your day up with!
But what could it be?
As we all know, throwing the perfect party is impossible unless you know what you're doing, just like understanding the ideal ingredients for a more delightful epic that would leave your guests in awe and wonder, such as different wondrous recipes that go to the taste buds in a state of aftershock.
It's hard to figure out the right plastic margarita glasses, bulk bottles, and cups, especially their shapes and sizes, plates, and tables.
Then the best location, like a backyard, rented apartment, or a booked hotel.
It can be frustrating when setting up the perfect want and need in one place.
But don't worry after reading this; you won't need to jump around searching for ideas, as this is your one-stop solution to your problems.
Steps to Throwing Off the Perfect Margarita Party in Less Than 5 Minutes!
Laying down the colors and covers for an exciting celebration. Take out those disposable plates, fancy plastic margarita glasses you left hanging, and some extra shoppers bags, and head for the local stores and start setting up your bottles.
Start calling out to your friends, colleagues, and partners to have the best day of their lives with a mixture of tastes and colors, such as apple mint, pomegranate, and orange.
Start utilizing your refrigerator and get a load of ice cubes for the party to use in your disposable plastic margarita glasses. Then, get the small glasses and start filling them up with beer. They will be the best for an early appetizer.
Better lighting and candles for a better night. It is fantastic to have a glass of champagne in your plastic margarita glasses.
Getting a location booked if it's a smaller group of people. Your backyard could be the best, a regular group of people, a rented apartment, and if it's for some essential or significant numbers, then a well-known hotel could be the best.
We have some of the best Margarita party ideas to help throw an epic party!
The secret sauce to 8 recommendations of the most beloved recipes for your disposable margarita glasses.
● Texas Red River Margarita
The red scenery of the sky and that beautiful sunset view before dawn are the color of the Texas Red Margarita. The taste is just as unique, made from blood oranges and grapefruit juices with a dose of lemon and Tequila to make this fantastic blend.
● Cerveza Margarita
Notice the feeling of deep-sea breezes and a clear blue ocean whenever you visit the beach. The same feeling and color you will experience after tasting the Cerveza Margarita made from Tequila, lemon-lime juice, beer, and Kosher salt. Nothing to settle for that vacation feeling like this drink.
● The classic Margarita
As we all know the saying, nothing can stand up to the original. The same goes for the original margarita recipe. The classic Margarita is made from Blanco tequila, orange liqueur, lime juice, Kosher salt, and lime wedges. As they say, authenticity is in the taste.
● Amaretto Margarita
Ahh, the feeling when you visit another country for the first time for a vacation like Italy. The same goes for the first time you taste this Margarita. 
It adds a sense of Italian culture to the party atmosphere. The ingredients which compose this Margarita are Lime wedges, Blanco Tequila, coarse salt, half an ounce of amaretto, and maraschino cherries. Be sure that the taste will make you want to visit Italy.
● Frozen Sriracha Margarita
The sweetness of the most favored fruit and its texture comprises this Margarita and is composed of Lime wedges, Coarse salt, Lime juice, half a teaspoon of Sriracha salt, Blanco Tequila, and a cup of mango nectar. Its extravagance and its taste will make you feel like your in-mango heaven.
● Caribbean Blue Margarita
The visualization of the world's most scenic seas is what represents the color of this Margarita. Truly the recipe of this beverage is like a jewel waiting to be discovered, and its ingredients are composed or made of lime wedges, blue Curacao, Coarse salt, freshly squeezed lime juice, and Blanco Tequila, and orange slices. Truly a drink fit for the brave sailors of the Caribbean Sea.
● Margarita Floats
It's the most ideal and enjoyable drink during the hot summer season when you drool from sweat and fatigue so much that you will suffocate from your breath. It's a gift from paradise during these intense situations, and the main ingredients comprise lime wedges, lemon-lime juice chilled, sugar, vanilla ice cream, lime sherbet, nine ounces of silver Tequila, and three to four cups of lime juice. 
This drink is a floaty marshmallow paradise during a heatwave.
● Frozen Blueberry Margaritas
Blueberries are one of the significant components for making blueberry apple pie, one of the most favored dishes in American or Italian restaurants. It can also be transfigured into the most delicious beverage. The ingredients for making this lucrative drink are silver Tequila, Blueberry Schnapps, Lime juice, Triple Sec, Frozen blueberries, Ice, Salt, and lime. This drink is for those who may love the scent of blueberries in the morning.
What's The most crucial point for a well-desired Margarita Party?
Always remember to have fun with your buddies or alone. Keeping the mind relaxed will give you the party bash you want. Setting up the party is an art itself. Bring the best memories of your life.
Learn to live on your own terms and enjoy every moment of it. So, what are you waiting for? Grab a fancy glass and party hard!