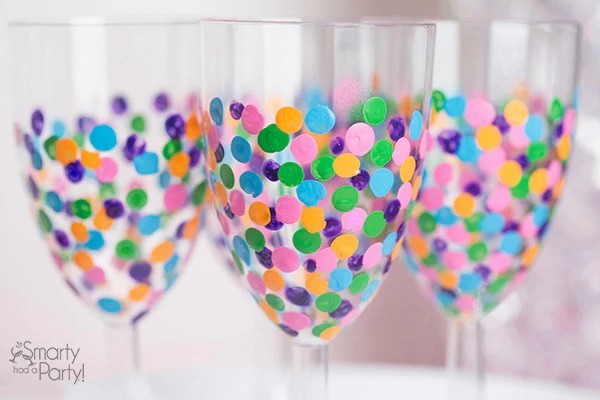 How to Host a Wine Glass Painting Party?
Looking to spice things up and infuse some creativity into your next dinner party? You've come to the right place. Painting parties are fun, inexpensive, versatile, and simple to organize. And even better, you don't need Picasso-level art skills to have a good time, develop something unusual, and create memories. 
Here are a few wine glass painting party ideas that will be beneficial for you in hosting a spectacular wine glass party.
How to Host a DIY Wine Glass Painting Party at Home?
If you're hosting a wine glass painting party, you might want to make it a little more interesting.
Try painting some fancy plastic wine glasses and flatware for your next party with one of these easy-to-follow methods that everyone, including kids, can perform.
Have The Prettiest Fall Leaves On the Glass
Painting branches with scorching yellow and orange leaves on the glass surface where the cup is formed will look astonishing. To make the glass look like a standing tree, continue the darkish branch color down the stem and into the base.
Hand-painted Peacock Feather Wine Glass
This stunning design of simple peacock feathers is simple, amusing, and attractive, with colors that go well together. You can customize the scheme to your preference if you like purples and blues to greens.
"All that glitter is not gold," as the old proverb goes, but it indeed is in this case! Dip your glasses into a tube of gold paint; rather than using a brush to apply it, it will give you a flawless finish with no brush strokes.
DIY Confetti Wine Glasses
Super festive confetti wine glasses are perfect to use on special occasions! All you need to make the confetti wine glass are colorful nail polishes. It's simple, fun, and absolutely brilliant!!
Unforgettable Wine Glass Painting Party Ideas for the Memory Books
Whether it's a girl's night, Mother's Day celebration, date night, or trivia night, host a wine glass painting party and make the celebration memorable.
Grab your eco-friendly party supplies and use the following ideas for a fantastic party idea to remember.
Before beginning your creative adventure, you will need specific equipment and supplies.
Here's a list of them:
Painter's tape

Permanent markers

Oven

Miniature jewels

Enamel paints that must be glossy

Disposable plastic wine glasses!
The Best 3 Theme Ideas for Wine Glass Painting Parties
1.    Photo Booth - Behold A Moment in Your Hand
Arrange a photo booth ad to seize the crucial moments of your party. Grab several packs of glitter garland from the dollar store and hang them vertically or horizontally in rows to cover a wall in minutes, creating a stunning backdrop for a memorable occasion or a striking portrait. To make a tinsel backdrop, layer numerous foil-door transparent curtains from party stores to create a lovely glittery environment for your party photos.
2.     Glitter and Glam
One of the best things about the glitter and glam party idea for the ongoing season is that it can be personalized to any holiday you celebrate during the season - it doesn't have to be about Christmas or spring only. It's also worth extra points as it gets completed solely with metallic Sharpie markers. 
Christmas trees, garlands, greenery, and even twinkle lights are some of the possible designs you can color on your winter-themed wine glasses. But, of course, your glass will seem festive as long as you draw in a metallic color.
3.     Dandelion in The Garden
Although the dandelion is considered a pest and not a flower, the beauty of the dandelion on the drinkware cannot be overlooked. You'll love how the dandelion appears to be moving and swinging in the breeze in the glasses.
Top Tips & Tricks for Hosting Your Own DIY Wine Glass Painting Party
It's fun to have a DIY wine glass painting party, especially at home. The added benefit is that you will have more time to paint, and your budget will be less strained. 
You will need the following materials for a perfect DIY painting:
Canvases

Acrylic Paint

Water Containers

Tablecloths

Aprons

Hairdryer

Palettes

Table-Top Easels
Instructions:
How to get ready for the evening:
Estimate how many chairs and tables you'll require depending on the number of guests. A 5' x 3' dining table, for example, could accommodate 6 easels. Depending on the number of guests, you may need to modify your space to hold additional tables.

Place the tablecloths on the tables, and set up the canvases.

Ensure that each canvas has the appropriate brush sizes for the painting.

Use a sample painting or a printout as a visual aid.

Set up your TV to play some ''Painted Wine Glasses Tutorial'' videos on youtube and show you how to easily color wine glasses.

Set up a painting station with all colors, brushes, and paper towels.

Assign someone to assist in the distribution of paints and other supplies. You can put all of the colors on each palette or pass them out as needed.

Pre-trace designs on the canvas with graphite paper if necessary. Alternatively, have graphite paper and traceable on hand for your visitors to trace.
Create a Space to Turn Your Home into a Fabulous Wine Glass Painting Studio!
The main differences between having a wine glass painting party at home and having one in a studio are that you have greater flexibility to organize things, which may be less expensive.
Basic guidelines to keep in mind when planning a wine glass painting party:
Step 1: The first stage is to identify where and how your paint party will occur.
Step 2: Choose the most appropriate painting for you and your friends or attendees. 
Step 3: Gather all of the supplies you'll need for your paint party, both for yourself and for your guests.
Step 4: Pick a date and time for your event, and send out invitations to your attendees.
If you don't have stylish and classy wine glasses for your guests to paint, your wine glass painting party will look unappealing and unenjoyable. So check out our fancy plastic drinkware glasses collection for the best in one-of-a-kind or custom-made items and make your party worth remembering!