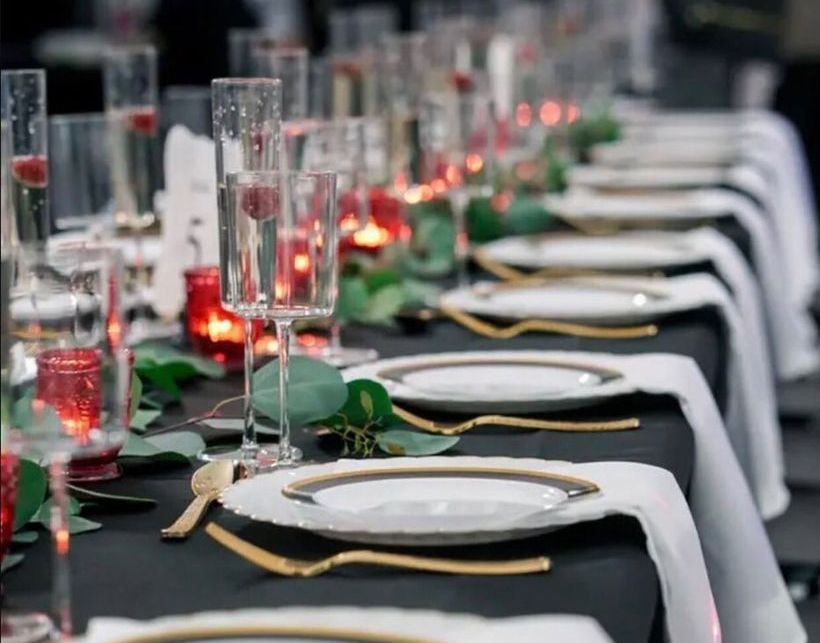 10 Fun Wedding Party Wine Glass Favors and Ideas
In recent years, wedding planners have noticed a shift in the way people give wedding favors. Gone are the days when couples would give flowers or candies to the guests. Instead, in 2022 couples are looking for modern, thoughtful wedding favors useful for the guests.
Therefore, we thought it would be awesome if you considered giving personalized party wine glass favors to the guests as they look really cool. So, go through these fantastic ideas for wine glass favors for wedding parties and consider what suits you best. We have also tried to give you some inspiration as to how you can provide wine glasses as wedding favors stylishly and uniquely.
Don't just wrap the glass in a gift paper and hand it over to the guests. Instead, do it in a fun and different way with these wine glass wedding party favor ideas.
1. Wine Glass Decor Activity with the Bridesmaids
The bride and bridesmaids want to do all the fun activities before the bride gets married. So call your group of friends together and organize a movement of decorating wine glasses to put in your wedding as wedding favors.
Setting up a 'wine glass decor contest' among the bridesmaids would be fun. Everybody will get to showcase their craft skills while entertaining themselves.
2. Serve Lemonade and Give the Favors
Stack up hand-painted glasses and serve a large beverage cooler of chilled lemonade. The guests will pick a glass, drink the lemonade, and take the glass with them (you will mention this on a board put on the side). You can serve whatever drinks that suit you.
3. Host a Wine Glass Painting Party
We don't think anything could be more entertaining than a wine glass painting party when it comes to having fun with wine glasses. So call your friends for a wine glass painting party, and you will be amazed at how much fun you guys have together.
4. Fake Frosted Glass
Do you have mod podge or white glue in your home? Of course, you have! Craft some fake frosted glasses that look exactly like the real ones with the only difference of being inexpensive. Plus, they are multi-functional; you can use them for drinking and table decor.
All you need to do is mix an amount of mod podge or white glue in acrylic paint and apply an even layer on the outside of the glassware. Let it dry, and you will have some inexpensive but elegant frosted glasses.
5. Set Up a Wedding Favor Bar
Set up a bar of decorated drinkware glasses and call it a 'Wedding Favor Bar". The guests are supposed to come and pick a glass of their choice. They will use it for drinking during the event and take it home afterward. You will need to get plastic wine glasses in bulk for this project. Decorate the bar with lights like you would decorate an ordinary cocktail bar.
Creating this bar setup is to give guests the freedom to pick their favorite glass and make an eye-catching spot at your wedding.
6. 'Pick the Glass of Your Name.'
Like the previous one, stack up wine glasses in a DIY bar with your guests' names on each of the glasses. It will be entertaining, and the guests will have fun finding their names. Don't forget to write anyone's name as it would be really embarrassing if you miss anyone's name.
Stemless Wine Glasses Make an Excellent Wedding Party Favor
As wedding party favors, stemless wine glasses are a top choice because they are less likely to break than delicate stemmed glasses. Especially the ones at Smarty! Our entire range of plasticware and biodegradable collections is ready to meet your party's needs and expectations. These wedding party wine glass favors will leave them with a memory of this event to cherish later. Here's how our stemless glasses can make your wedding favors beautiful.
7. They can Hold Mini Chocolates
Put some stemless wine glasses on your dessert table and fill them with mini chocolate bars and candies. They are best if you don't wanna give the glass itself as a favor.
8. Etched Glasses
Etched wine glasses look really beautiful, but we have to tell you that they are pretty expensive. If you are on a budget, make etched glasses at home and cut that cost. Even if the budget doesn't concern you, there is no reason to spend hundreds of dollars on wedding favors when you can do it by yourself.
You can create beautiful patterns on stemless glassware with the help of etching cream and stencils. This process yields the best results when the glassware is clean and dry. You will need to cover the areas with no stencil, so the etching cream does not stick there.
Personalize the Wine Glasses for the Bride and Groom
If your friends are throwing a bachelorette party, then you gotta give them personalized wine glasses as a token of love. 
9. Write Mr. and Mrs.
While it may sound cliche, it can be an exquisite wine glass idea if nicely written. Make it a little different than the usual ones. You can take colored glasses and write the letters in a beautiful font. Use acrylic enamel paint or glitter to write the letters on glassware.
10. Dress Them Up
You heard that right! Dress up the glasses like a bride and a groom would dress up in general; a typical white gown and a bow tie. You can also fill these glasses with mini chocolate bars.
 A Few Extra Wedding Party Wine Glass Ideas for the Road
Before you go, let us tell you a few different wedding party wine glass ideas to help you with wedding favors a little more.
You can put anything on the glasses, and they end up looking beautiful, like pearls, beads, laces, or even cover them with roses. For example, wine glasses with ribbons look perfect for a formal wedding dinner. You can also make colored flowers from clay and paste them on the glasses.