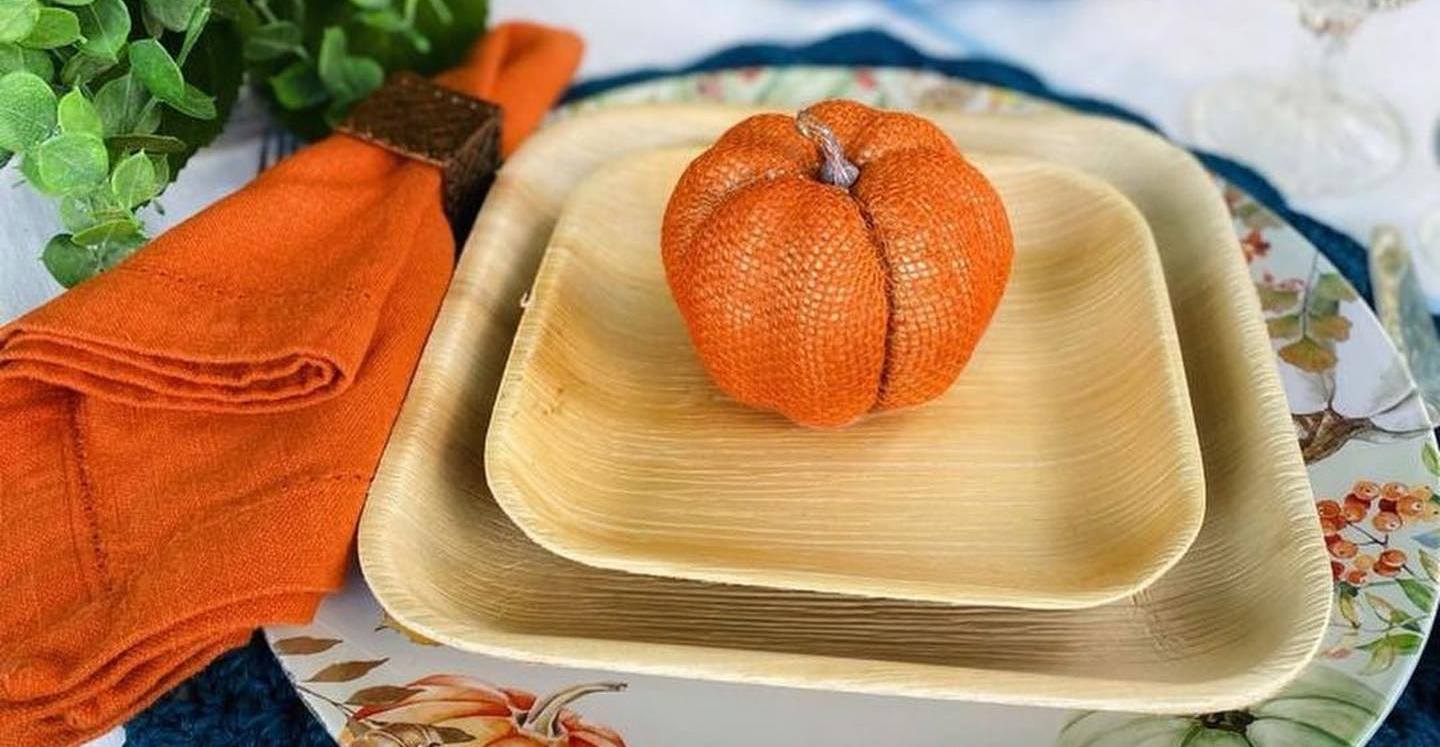 How to Decorate a Thanksgiving Table?
Pondering on ideas for hosting a Thanksgiving feast? Of course, your table is the center of attention when you host a Thanksgiving party, and you don't want it boring. A beautiful Thanksgiving tablescape can add charm and elegance to your gatherings. 
You don't have to rush to stores and spend hundreds of dollars buying expensive decorating items for your table. Instead, you can just go to your backyard to pick your favorite flowers and fall foliage and add a touch of nature to your table.
You may create beautiful Thanksgiving table settings and centerpieces by artistically combining a few readily available items, such as fallen leaves and pine cones from nature, fruits and vegetables from the grocery store, colorful napkins, and candles you already own.
Pumpkins
Thanksgiving table decoration is always incomplete without pumpkins. Pumpkins are easily available at your nearest grocery store, so why not take advantage of these beauties and adorn your Thanksgiving table with these adorable decorations?
There are many ways to incorporate pumpkins into your Thanksgiving decor. You can start by applying black, white, or gold craft paint on your pumpkins to create a solid base, then use a paintbrush to apply contrasting metallic paint. Finally, attach faux butterflies with hot glue and decorate these beautiful pumpkins on your table.
If unwilling to paint your pumpkins, you may keep the original color. You can also make beautiful centerpieces by carving out pumpkins and decorating them with your favorite flowers, including roses, tulips, daisies, and lilies.
Butternut Squash Vases
What if we tell you that pumpkins are not the only vegetables that can be turned into beautiful vases? Butternut squash can also make beautiful vases for your Thanksgiving table décor. So what are you waiting for? Rush to your nearest grocery store and pick some butternut squash to turn your table into a magical space.
Take a butternut squash, carve it, and lay it on its side so that it looks like a long planter full of different flowers, including dahlias, red anemone, viola, sunflowers, and mint julep. Trust us, with these colorful flowers, your guests will be bewitched as soon as they lay their eyes on your Thanksgiving table.
Burlap Thanksgiving Table Setting
Burlap is a natural material choice for any design in the fall because it's harvest time. Use little burlap bags painted in traditional Thanksgiving colors as napkins and utensil holders! You can attach place cards with strings on burlaps so that everyone knows where they are supposed to sit. 
Painted Branches
If you are out of ideas for your Thanksgiving, we have another fantastic Thanksgiving décor idea. Of course, we are talking about painted branches. You can simply visit your backyard and pick some branches of the trees.
Who might have thought such simple and ordinary branches could be changed into something mesmerizing and beautiful? Collect dried twigs and sticks, then paint them orange and red color.
For your vases, you can be creative and use pretty white milk jugs, or you can also paint these milk jugs with your favorite fall colors and make stylish centerpieces. In the end, put these centerpieces on a lovely tray and decorate them on your table. You can also get modern trays from Smarty. Absolutely stunning!
To keep a contrast between different items on your dining table, we recommend using colorful eco-friendly party supplies, which are available in a wide range of colors and are affordable.
Leaf Shaped Mats
The primary purpose of placemats is to shield the dinner table from smudges, stains, and heat damage. In addition, particularly placemats made of lace or silk serve as adornment. Finally, placemats only cover a piece of the table, unlike the tablecloth, which covers the entire surface.
For your Thanksgiving table decoration, it's best to go with leaf-shaped placemats to add an element of nature to your table. Red maple is a symbol of fall, and it breathes life into your Thanksgiving décor. 
So, for your upcoming Thanksgiving party, don't forget to incorporate red maple leaf placemats into your décor. Decorate your eco-friendly plates and bowls on these placemats to avoid messy spills and welcome Thanksgiving with new energy and great enthusiasm.
Thanksgiving Basket Decoration
To decorate your Thanksgiving basket, you need some moss, a few corns, pumpkins, a chalkboard with a rustic style, and chalk. First, fill the basket with some moss and leave small gaps to fill them later. Next, fill the basket with pumpkins.
Decorate the corn on the right side of the basket. It should cover almost half of the basket. On the chalkboard sign, write a Thanksgiving saying, and put it in the back of the basket. If there is any empty space in the basket, fill it with extra moss, and your Thanksgiving table basket is ready. Put it on the table with your eco-friendly dinnerware set and enjoy.
Colorful Leaves and Pine Corn Centerpiece
You may make your centerpiece by arranging a gold table runner! All that's left to do is attach a long branch with painted paper leaves and add accents of pine cones. You can choose your own color scheme or add turquoise, burgundy, orange, and gold colors. Choose eco-friendly golden plates and golden eco-friendly cutlery for your table because they will go well with your theme.
Pumpkin Lanterns
Lanterns usually receive a lot of attention in the winter but also deserve attention in the fall. Pumpkin lanterns are the perfect solution, whether decorating a table for Halloween or arranging a Thanksgiving meal.
To make pumpkin lanterns, carve out pumpkins into your favorite designs using a knife and fix candle or tea lights inside them to give them a warm glow. They will definitely enhance the overall beauty of your table.
Dough Bowl Centerpiece
Do you know that dough bowls can make wonderful centerpieces for your Thanksgiving table décor? Well, you can use a dough bowl to make your floral centerpiece; if you don't have one, you can buy it from the market. Fill the dough bowl with different flowers of the season including roses, dahlias, sun flowers, marigold and pansies.