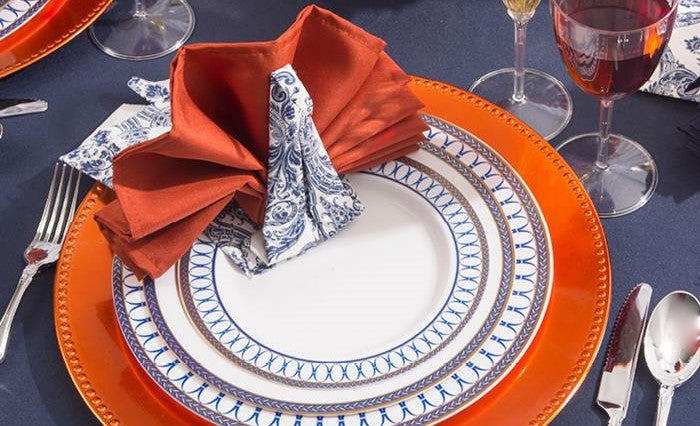 Napkin Folding Ideas for Thanksgiving - A Table to Love
Celebrations and rituals are one of life's most essential and elegant aspects. It helps people form healthy bonds and connects us with our culture. Moreover, one learns the history of their traditions and ethics by celebrating them.
Similarly, the Thanksgiving ceremony is one of the special days celebrated by people of the United States and other European Countries.
Thanksgiving is all about dinner and feasts in family gatherings. So decorating the table for dinner makes it look graceful and neat. Here, we will share some aesthetic and creative ideas to help you fold napkins and decorate the table for your next Thanksgiving holiday.
Napkin Foldings
It is the main element representing your food, and the guests will consistently rate your dinner elegance through your napkin foldings. It is challenging to work for beginners, but you can quickly learn them by following the steps. 
You can get some plastic glasses and insert disposable napkins inside of each. The paper dinner napkins are easy to use and discard, and you don't have to wash them for hours to remove the stains. 
Finding disposable paper napkins is not a big deal and can be found everywhere; you need to be sure they don't have harmful chemicals. If you want the best design, try your napkin folds with paper napkins, as they can be easily managed. 
If you are holding a festive party, we suggest you get fancy paper cocktail napkins with various patterns, which might make your party look more theme-oriented. 
Looking for some napkin-folding ideas? Here are some progressive ones:
Leaf-Shaped Napkin
It's a familiar yet unique way of folding a napkin. But, first, you must take a red silk napkin cloth and tie that cloth at the end with the golden-colored ring. 
The triangle shape is required while folding the ends to give it the form of leaves, so make some curves in the ending points of the cloth and place it on a white crystal plate. 
You can also place some rose petals within the plate, but it is optional. This kind of napkin folding will look classy with a white or wooden-themed utensil set, and your guests will significantly admire it. 
Royal Crown Folding Style
The Crown is already a sign of royalty and essence, so if you look forward to giving your table a royal and luxurious look, you should go for this idea. Starting with the process, divide the napkin into two halves diagonal to each other, and then fold it neatly. 
Hold the corners and fold them so they meet at the top points. Fold the bottom end more than half to the top, and the backside must be folded. Turn the napkin, so the sides are brought together, and tuck one into the other. 
Keeping in mind the shape of a crown or a sketch of the crown in your eyes, peel the two corners. Lastly, open the base of the folded side and try to make it stand upright. The crown-shaped napkin will be formed perfectly.
Endearing Turkey Napkin Fold
Take a napkin of your favorite color and place it on a smooth surface. Fold the bottom side more than half so it meets the other side of the napkin. Next, fold the former side less than half the folded napkin's size. Try to make precise folds from that side. Use a napkin ring to put the napkin together. 
Take a small gourd and use it to represent the mouth and neck region of the turkey. Plain it from the bottom so it doesn't fall off and sticks in its place. You can color the gourd, too, if you want to. The turkey napkin is ready. 
Cute Pumpkin Styling
Pumpkin folding for the napkin is one of the most liked ideas, and the fluff and the noticed color are other levels of satisfaction for the eyes. The pumpkin folding may look hard at first gaze or for beginners, but it is pretty interesting. 
Firstly, take an orange-colored napkin and place it on a flat surface and then place the napkin ring in the center as it is essentially required. Next, pull the middle section of the napkin through the center of the napkin. 
Keep on folding the sides of the napkin towards the center. When the sides are folded quite enough times, tuck them up, so it stays tight enough. Remember to add a middle-sized stick in the center, so it looks like a pumpkin and bars in its place.
Try using a wooden set of utensils to give it a complete and unique look; guests will surely like it and remember it forever.
Napkin Fan of Flowers
It is another simple and refined way of folding napkins. It is a neat way of folding napkins. For giving a clear view, choose black color and start folding it from the bottom ending until it acquires a shape of a fan like most of us used to craft paper fans. 
Place them on a neat white crystal plate, and stick some sunflowers or other of your choice at the end and folded sides. It will give a complete look to your napkin and dinner.
Wrapping Up
So this was all about the unique and dignified ways of folding the napkins and making your dinner more graceful. We hope you have learned a lot of new notions about crafts and can use these ideas in many other crafting and DIY works. 
You can search out more on our website for further queries or ideas. To get the most elegant napkins in the area, check out the official website of Smarty Had a Party. On our website, you will get a beautiful collection of napkins that you might not be able to find elsewhere. 
Dinner napkins can elevate the entire look of your tablescape within seconds. These are the napkins that you usually need. For a fancy option, you can also get our cocktail napkins to make your napkins pop. 
These are the must-have items, so grab this opportunity and get them right now. Also, remember to check out our other articles if you need help celebrating events and throwing parties.