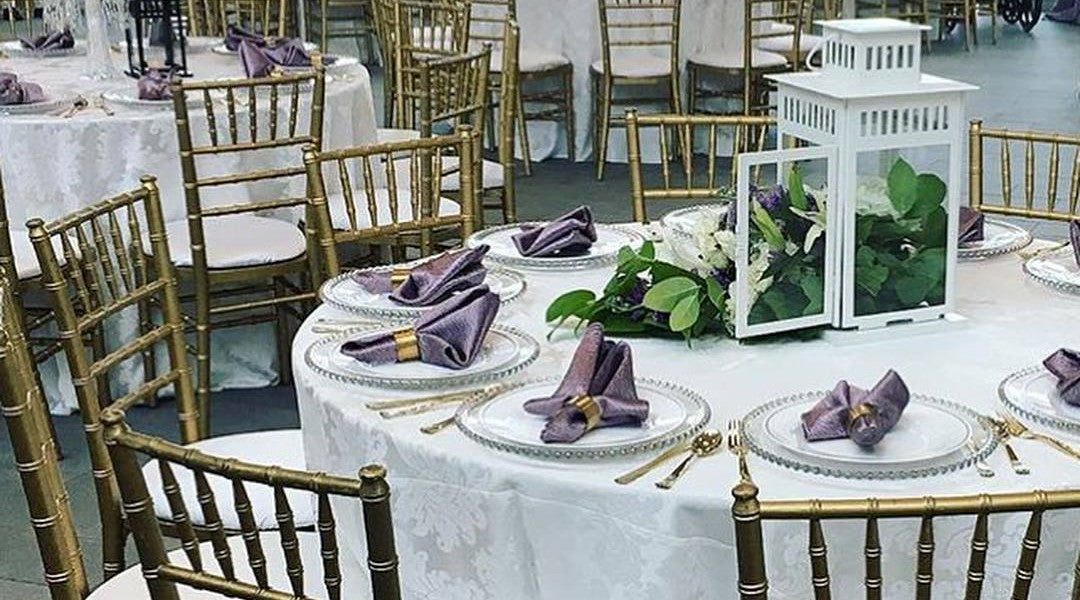 How to Decorate Your Dinner Table for an Impressive Wedding?
Once you decide on the menu, the challenging part is sorting through the nearly unlimited selection of wedding table decorations to create your unique design. 
Colors, materials, and other components can be combined in extraordinary ways to make patterns for your wedding tables that are totally aesthetic and unique. 
Although they may seem insignificant, little things like napkins, tablecloths, and disposable dinnerware for weddings can make all the difference in creating a memorable dining experience.
Make Your Dining Table Stand Out by Following This Guide!
There is something for everyone, whether you're planning a chic black-tie wedding or a romantic rustic retreat.
We've compiled the best table decoration ideas, including centerpieces, place settings, table numbers, and more, to help you ensure that every detail of your wedding will be flawless.
Long Table Décor: Long tables, however, provide many advantages over conventional, tiny tables in addition to looking quite elegant. Compared to round tables, long tables frequently deviate from the normal.
These tables can be set with lighter linens, flowers, leaves, intriguing centerpieces, candles, and high-quality eco-friendly dinnerware sets for the wedding. But, of course, the type of chairs you choose for your large tables also affects you.
Small Rectangular Table: Small tables are classic and trendy and provide guests with a cozy backdrop for dinner. Smaller rectangular tables, which may accommodate six to eight people, are ideal for a more intimate environment.
These simply decorated tables with seats for two to six guests at your wedding will look stunning.
Round Table Décor: Round tables are the traditional type of wedding table. Round tables are enjoyable to adorn and help guests and family feel more at home as they can fit anywhere for three to seven people.
Do not confuse our reference to a round table design for those garish satin linens in simple shades of purple and white. Your round tables can be outfitted with lovely centerpieces, floral runners, and beautiful linen. All you need to do is ensure it coordinates with your overall décor.
Décor With Lights-The Prettiest of Them All
No matter where or how they are arranged, fairy lights always look dreamy. Decorative lights are always a worthwhile addition, whether you use them to highlight cozy winter décor or to give a festive touch to a summertime gathering. So why not include them in the décor for your table seating?
Using your preferred colored lights will allow you to express your creativity and personalize the table's design. For example, decorating plants and foliage represents new beginnings, prosperity, and peace. You can also hang flowers or leaves in between the lights.
Have The Finest Cutlery for Your Guests to Dine-In!
To impress your guests and catch their eye, you must have the prettiest and finest cutlery on your dinner table. Smarty offers you a variety of products, including elegant disposable dinnerware for weddings, that are sure to satisfy even the most demanding customers. 
Tableware with an antique finish or disposable China can impress your guests and make cleanup easy after the party. With our beautiful and durable plastic dinnerware for weddings, you will never fail to amaze your guests.
Besides, we have a huge collection of disposable wedding dinnerware sets to match your big day's needs.
You need flatware that won't break or shatter when your guests use it to eat the main dishes, snacks, appetizers, and desserts at your wedding reception. Our premium plastic value set is incredibly strong, high-quality plastic, making it very functional and easy to use.
There is always something to be said for plain silver, even while choosing bright, eye-catching hues for your cutlery is nice.
Five Tips to Know for a Fantastic Table Décor!
The major feast, where the couple, their family, and guests sit down for a formal dinner together, is frequently one of the events' highlights because food plays such an essential part in every wedding. Naturally, therefore, table decor is a requirement. We have provided tips on how to set the ideal table for the feast.
Have Some Flowers: Whether artificial, dried, or natural, flowers play a significant role in wedding décor. They give the decor a bit of freshness and a typical wedding feel. In addition, the inherent scent of lotus, jasmine, and roses makes them more popular for wedding ceremonies.
Lights Are Important! Lighting is crucial for improving the table setting and overall decor if the wedding feast is held in the evening. Choose warm natural lighting for dinner tables and hanging lights that emphasize and improve the "at the table" feeling. Another suggestion is to use numerous candles and homemade floral runners.
Recycle and Reuse: An excellent idea to create an environment-friendly, yet lovely table setting is to choose objects that the couple or designer may reuse afterward. While many couples opt for extravagant weddings, only a select handful are interested in designing powerful installations unique to them and their love story.
You can use berries, lemons, twigs, dried flowers, etc., within modern décor themes for stunning table arrangements. One benefit is that these items can be reused and not wasted after the feast.
Crockery and Cutlery: Your table setting can be improved with the appropriate choices. Personalized napkins, notes, and colored dishes that coordinate with the overall concept usually liven up the table setting. 
Customized tableware is also popular these days. This can be done by the printing or hiring local clay potters to create unique crockery and paint it in the colors that go with the party's theme. With prints and colors, you may give it a unique modern spin. 
Table Linen: A combination of jewel-toned velvets or silks with a sprinkle of gold or silver designs creates a beautiful tablescape if your wedding has a royal touch.
The wildflowers arranged in unique wooden vases might also be a tribute to nature. When choosing linen, a suitable fabric choice is essential. For a traditional supper, woven fabric is ideal. 
Choose neutral hues like champagne gold with a blue, crimson, or gold underlay to create contrast or a tone-on-tone effect.
Don't make things too complicated. Instead of trying to fill your table settings with a ton of decorations, it is often wiser to keep things simple with a handful of statement-making pieces.