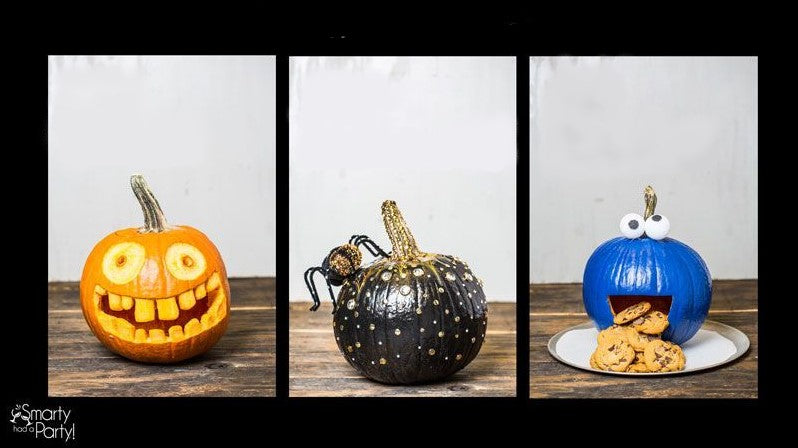 Halloween Pumpkin Carving and Decorating Ideas
In America, whole villages are made of pumpkins and various autumn decorations. By the way, the pumpkin is the main symbol of autumn days, so homes worldwide are decorated with carved pumpkins in many exciting ways. Carving is the most popular way to turn your pumpkin into a magical holiday decoration. No matter how it is cut, the pumpkin looks excellent, and not only during the day but also during the night, it can light up and decorate your garden.
That is why today, we present you with many different examples that will help you make a phenomenal pumpkin decoration and surprise your family or guests. You can find both scary and fun pumpkins. There are also many completely simple and fun models that you can easily carve yourself at home and make several pieces of various decorations. Some of these look like actual artwork.
Out of a hundred good things, pumpkin carving is another fun part of Halloween. The Jack-o'-Lantern feels like the heart of Halloween - its color and the beautiful craft offer have everything a perfect Halloween party needs. It takes us back to ancient times when the Irish immigrants started carving pumpkins at Halloween.
The Jack-o'-Lantern is named after a mythical character named 'Stingy Jack' who is thought to be roaming around on Earth for thousands of years, with a piece of coal in a pumpkin that the Devil gave him after getting upset by some tricks Jack had played on him. This story led to thousands of people decorating and carving pumpkins to date. You might now be wondering what you can do to those pumpkins around your house. Well, you have come to the right place. Here are some of the best and easy pumpkin carving ideas you can try this Halloween.
Craft an Evil Witch
We simply cannot imagine Halloween without a wicked witch character. The exciting part is that a witch sitting on a broom makes us relive a memory from our childhood about our favorite cartoons. So carve a witch on your pumpkin and let it make your Halloween enjoyable.
Light them Up!
How about some lit pumpkins (pun intended)? Lights can set the mood for Halloween night and elevate the ambiance of your event. It can be a rainbow, red, or yellow LED light. Put the lights inside the pumpkins from any of the carved spaces. The pumpkins will glow beautifully while giving a scary look.
Write on the Pumpkin
You can write interesting things and puns on pumpkins that instantly get everyone's attention. For example, you can write something related to oranges, such as "Blood Color: Orange," "I Came Here for the Food," or "Oh my Goodness, It's Halloween!". You can also write about the one and only Jack-o'-Lantern like "Tell your mom Jack said hi!".
Colorful Mini Pumpkins
Mini pumpkins are the cutest thing for a Halloween party. They can be painted with acrylic colors and look gorgeous. Acrylic colors make it easy to paint a pumpkin because you can wipe it off if you mess up.
Pumpkin Carving Food Ideas
A pumpkin patch party menu is extensive, so it becomes easy to pick what you want to have. You can have muffins, cornbread, gingerbread, chocolate truffle, salad, kebabs, and the iconic Jack-o'-Lanterns stuffed peppers. There are no hard and fast rules for selecting the menu. You pick whatever you want to - just make sure it is served rightly in beautiful disposable serving utensils.
Our wide range of tableware includes stylish serving flatware, disposable plastic serving knives, plastic serving spoons, and disposable cutters that help a lot in crafting the pumpkins. The disposable cutter and lifter help you a lot in carving your pumpkins in a lot of ways. 
Some Easy Solutions
The idea we liked the most was pumpkins wrapped in white wool, with plastic spiders, which you can find in almost every Chinese shop. As the skin of the pumpkin is smooth, the wool may slip off it during wrapping. To prevent this from happening to you, we suggest you stab the pins into the bark after a few wraps of wool around the pumpkin and hang the wool around it. She will keep it in place, and it will not be seen.
Pumpkin carving is the most exciting part of preparing for Halloween. If you have not had experience with carving so far, decide to drill them with a drill, which seems to us the most straightforward and most precise solution. Try to keep the distance between them large enough so that the crust between the two holes does not crack.
Use a screwdriver to make triangles on the BBT pumpkin, and then when you have practiced a little, go for a knife and make two classic designs, two scarecrows. For one scarecrow, make toothpicks from toothpicks that create beautiful shadows when the candle is lit inside the pumpkin. If you have never used a drill, it may be best to leave this part to someone with a little more experience than you.
In the end, while eating sweets from the sweet table, we came up with the idea to cut out eyes and mouths from black hammer paper and make a ghost out of the fridge. 
Practical Tips - How to Carve a Pumpkin for Halloween
1. Be Careful What Kind of Pumpkin You Buy
It would be best to buy a pumpkin that is sold for this purpose, and you can find it in supermarkets - it usually appears a week before Halloween. If you can't find a pumpkin in a unique package, you can also take an ordinary one. Just ensure that it is ripe, not soft in any part, and all orange.
2. Sharpen the Knife
You will need two knives and a spoon to carve the pumpkin: One larger sharp knife to cut off the top of the pumpkin. This part of the job usually requires a little strength, but don't worry. The inside of the pumpkin is hollow, and you can use a spoon to remove the seeds.
You can use a small, sharp, preferably serrated knife to hollow out your eyes, nose, and mouth.
3. Do Not Work Without a Template
Draw eyes, nose, and mouth on the pumpkin, or take self-adhesive sheets and draw shapes. You will then stick these shapes on the pumpkin and carve them.
4. Bonus Tip for Better Photos
Since you will most likely upload photos of your pumpkin on social networks, create an appropriate ambiance. In the park, you can, for example, collect leaves in various colors, twigs, and cones. This will give the autumn charm to your photo. And autumn is on Instagram.
Eat, drink & be scary, Smarties! 
With love 
Smarty had a Party
!