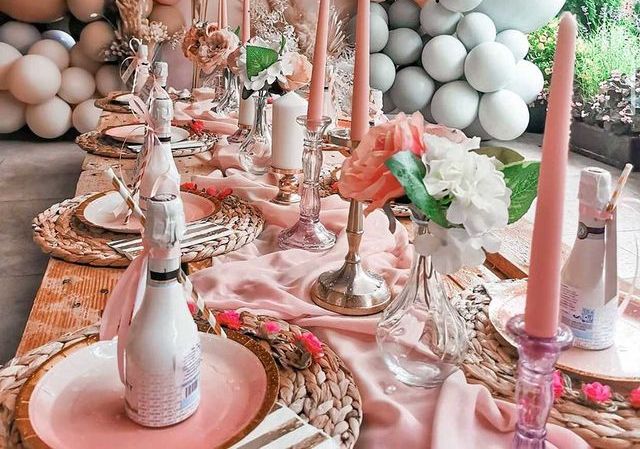 Bridal Party Planning Tips
A monumental way of officially celebrating the bride-to-be is hosting a a lovely bridal shower. It is a pre-wedding party attended by the bride's closest friends and family members to enjoy the time together. It provides the guests with an opportunity to 'shower' the bride with gifts and blessings. It's a bachelorette party where a girl celebrates her "last" night with her friends before marriage. If we can say so, it is her last night of freedom where everyone is happy and glorified. At that party, everyone drinks, eat, and simply enjoys life. The guests are served food and drinks, play games, and spend some time with the bride while they still can. 
Although there are no strict rules to follow, when it comes to planning a bridal party, hosting a bridal shower can still be quite daunting as there is a lot to care about. You got to make everyone fall in love with the ambiance of your bridal shower. As with any other girls' night, everything should be in a feminine style. Glamorous and great. Of course, this is one of the options, everyone can choose the topic they want, and there are many. 
The bride spends time with her friends like never before with colorful cocktails without thinking about men. It is a time when we need to just enjoy with our loved ones with whom we have so many fond memories. Girls' night may remind us that we will cultivate friendships that will always remain in our hearts even after marriage. Well, because of the importance of this event, we must do our best so that no one forgets that night! Luckily for you, we can give you the night you've dreamed of! 
You need things for a party, but you don't know where to find exactly what you imagined? Don't worry - we have made things easier for you with our elegant party supplies. Our disposable mini partyware and plastic drinkware will exceptionally grace your party tables. 
Here are some genius tips to make your bridal party loved by everyone and unforgettable!
Exciting Games to Play
There is a never-ending list of games to play at a bridal shower to engage everyone excitingly. However, it is preferable to play three games at a bridal shower. First, you can play the Break the Pyramid with some plastic party cups. Arrange our colorful plastic party cups in a pyramid shape, and someone has to break that pyramid using only three balls. 
Another use of these plastic party cups is in the Blow the Glass with Balloon game, where you have to blow these glasses with a balloon.  
And as a third example of how you can complete your party with these exceptional cups, it is one of the most popular games in American movies. As in the previous example, it is necessary to make a pyramid. Just put the cups next to each other instead of one on top of the other. Then try to throw small balls (primarily those used for table tennis) from a careful distance into a cup. If the ball falls into a cup, you win that round. Otherwise, you take one shot. A simple game that brings back school days. 
Serve Drinks Creatively
An elegant disposable dinnerware is a must-have to impress the guests – pick the right one for yourself at Smarty. Our vast collection of disposable plastic drinkware includes sleek wine glasses, fancy disposable champagne flutes, stylish plastic wine carafes, disposable party pitchers, and many more. They not only style your party tables gorgeously but also influence the drinking experience of the guests. 
If you are a more classy type and want champagne for you and your guests - we have a solution for you! As the name implies, the fancy disposable champagne flutes are flute-shaped, increasing the visual and drinking experience by generating more bubbles. Who wouldn't like that? 
On the other hand, if you prefer old-school wine (from which champagne is made) and are more for a fruit variant, we can help you drink wine with style with the help of our stylish plastic wine carafes. They are resilient and rugged. Moreover, unlike other plastic bottles, they are lighter in weight and reduce the purchase cost. Wine is also a great choice, as it goes well with many types of food. But what good is in a fantastic drink if you don't have anything to store it in? We can help you with that too! Let's talk about disposable party pitchers as they are trendy and chic. Perfect for punches and handmade cocktails. All these colors in them contribute to a better look of the space where it is located, and your friends will see precisely what is in their cocktail so that everyone will find something that suits them. They are easy to grip and won't shatter on falling. 
Set Up Alluring Party Tables
Now that you know the advantages of our disposable plastic drinkware, it would make more sense if you set up the most alluring party tables with our elegant wine glasses. We deliver perfection right at your doorstep! Our experts have created these stylish plastic wine carafes, disposable party pitchers, and fancy disposable champagne flutes with the most functional and sturdy materials. They look good, but they are also made of good quality. You know how they say: quality over quantity! They are 100% safe to use and economical. Another good thing is that everyone can afford them in their pocket. 
Our disposable mini partyware looks cute and is perfect for a girl's night party. You know that the main event of every party is making and drinking drinks, so why not take it to the next level and brighten up the whole evening with our refined glasses. So give the bride-to-be a particular party and make her start her new journey with all the love and blessings that she deserves!