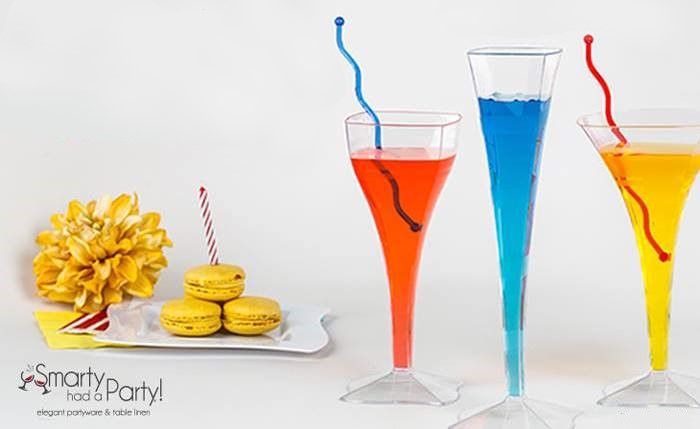 Cocktails and Glamour: Tips for a Stylish Cocktail Party
There's magic in the clinking of glasses, the soft glow of dimmed lights, and the stylish chatter that fills the air as you gather your friends for a cocktail party. A well-executed cocktail soirée isn't just an event; it's an art form. It's about combining the perfect mix of flavors, fashion, and flair to create a night that lingers in the memories of your guests long after the last martini has been sipped.
Cocktail Couture: Fashionable Ideas for Your Next Stylish Soiree
In our quest for elegance and sophistication, we've uncovered a treasure trove of tips and tricks to help you host a cocktail party that exudes glamour and style. Whether you're an experienced host or planning your first soirée, join us as we embark on a journey to discover the secrets of hosting a cocktail party that is the epitome of chic.
So, dust off your shaker, don your most stylish attire and dive into the world of a modern cocktail party. It's time to raise your glass to an evening that's about to become legendary. Cheers!
Crafting a Cocktail Menu
A stylish cocktail party is all about the harmonious blend of flavors, and your cocktail menu is at the heart of this experience. To elevate your soirée to the next level, here are some tips for crafting a cocktail menu that impresses your guests.
Catering to Different Tastes
Variety of Spirits

: Include options with different base spirits such as vodka, gin, rum, whiskey, and tequila. This ensures that guests who prefer one spirit over another will have something they love.

Sweet and Savory

: Balance your menu with both sweet and savory cocktails. Some guests may lean towards the sweetness of fruity drinks, while others may prefer the complexity of herbal or bitter cocktails.

Alcohol-Free Options

: Don't forget about non-drinkers or designated drivers. Offer a selection of mocktails or non-alcoholic options so everyone can join in the festivities.
Signature Cocktails for a Unique Touch
Theme-Based Cocktails

: If your party has a theme (e.g., a Great Gatsby-themed soirée), craft cocktails that reflect the theme. Think of the Roaring Twenties and create a signature "Gatsby Gin Fizz" or a "Prohibition Punch."

Personalized Mixology

: Get creative and develop cocktails inspired by your taste preferences or experiences. Share the story behind each signature drink with your guests; it adds a personal touch to the evening.

Customized Garnishes

: Elevate the presentation by using unique garnishes. Consider edible flowers, citrus twists, or even a branded cocktail pick for that extra touch of glamour.
Pairing Cocktails with Elegance
Classic Martini and Savory Canapés

: A classic martini's clean, crisp flavors pair wonderfully with savory canapés like smoked salmon on blinis or stuffed mushrooms.

Fruity Daiquiri and Fresh Fruit Skewers

: A fruity daiquiri goes hand-in-hand with a platter of fresh fruit skewers. The tropical notes in the cocktail complement the natural sweetness of the fruits.

Bubbly Champagne and Sweet Macarons

: For a touch of luxury, serve champagne alongside a selection of sweet macarons. The effervescence of the champagne cuts through the macarons' sweetness, creating a perfect balance.

Whiskey Sour and Spiced Nuts

: The boldness of a whiskey sour pairs wonderfully with spiced nuts, enhancing the cocktail's warm and citrusy notes.
Setting the Stage: Cocktail Party Essentials
Setting the stage is everything when it comes to hosting a stylish cocktail party. The correct elements can transform your gathering from just another get-together into an elegant and unforgettable affair.
1. High-Quality Disposable Barware
In the world of cocktail parties, presentation is paramount. That's where high-quality disposable barware comes into play. You may wonder, why disposable? The answer is simple: it combines the elegance of glassware with the convenience of disposables. Plastic barware, disposable cocktail glasses, and plastic champagne flutes can mimic the look and feel of their traditional counterparts while sparing you the post-party cleanup headache. Your guests won't even realize they're not sipping from crystal, and you'll appreciate the ease of cleanup at the end of the night.
Whether you're serving classic cocktails, sparkling champagne, or inventive concoctions, these disposable options offer the same level of sophistication without the fragility or risk of accidents that come with glass. So, raise your glass (or disposable flute) to a practical and stylish choice.
2. Disposable Wine Glasses
Wine lovers fear not! The elegance extends to your favorite varietals as well. Disposable wine glasses provide the same aesthetic appeal as real glass but with the added benefit of being lightweight and shatterproof. They are perfect for serving red, white, or sparkling wines at your cocktail party. Your guests will appreciate the attention to detail, and you'll enjoy not worrying about broken glassware.
3. Mini Appetizer Plates
A stylish cocktail party isn't just about the drinks but also the food. Mini appetizer plates are the unsung heroes of any gathering. These petite serving dishes allow you to present a variety of delectable treats in an organized and visually appealing manner. From bite-sized hors d'oeuvres to delicate canapés, mini appetizer plates are the canvas upon which you can display your culinary creations.
They add to the visual allure of your party and make it easy for guests to sample a diverse range of flavors. So, don't underestimate the power of these tiny plates in elevating your cocktail party experience.
4. Disposable Paper Cocktail Napkins
Spills are bound to happen in the whirlwind of clinking glasses and lively conversation. That's where disposable paper cocktail napkins come to the rescue. These little gems not only serve a practical purpose but also contribute to your event's overall style and cleanliness.
Choose cocktail napkins that complement your party's theme or color scheme. They can be a subtle yet impactful detail that ties everything together. Plus, they make it effortless for guests to enjoy their drinks and appetizers without worrying about messes.
The Glamorous Presentation
To make your cocktail party unforgettable, focus on creating an elegant atmosphere through presentation. Transform your space with chic and sophisticated elements to make it glamorous and sophisticated.
Chic and Sophisticated Decor
Color Palette

: Choose a color palette that resonates with your theme or the mood you want to set. Rich, jewel-toned colors like deep blues, velvety purples, or elegant blacks and golds can create a luxurious backdrop.

Textiles

: Incorporate sumptuous textiles like satin, silk, or velvet for tablecloths, napkins, or even throw pillows on lounge seating. These fabrics add a tactile layer of sophistication to your decor.

Furniture

: Consider renting or arranging stylish, comfortable furniture for lounging areas. Plush sofas and armchairs in coordinating colors can elevate the comfort and style of your event.
Lighting to Set the Mood
Dimmed Lights

: Keep the lighting soft and subdued. Dimmed or candlelit spaces create an intimate and luxurious feel. Opt for decorative candle holders or elegant candelabras to add a touch of old-world charm.

Chandeliers and Pendants

: Chandeliers or pendant lights can be statement pieces if your party is indoors. They not only provide ample illumination but also serve as eye-catching focal points.

String Lights

: For outdoor gatherings or garden parties, string lights draped overhead can create a magical and enchanting atmosphere.
Tablescapes and Centerpieces
Tableware

: Use high-quality tableware, such as the disposable options discussed earlier, to elevate your place settings. Coordinate the color and style of your disposable barware, cocktail glasses, and napkins to create a cohesive look.

Floral Arrangements

: Fresh flowers always add a touch of elegance. Consider tall, dramatic floral arrangements as centerpieces or simple bud vases with single blooms for a minimalist yet sophisticated look.

Table Runners and Chargers

: Layer your table settings with table runners and chargers in complementary colors or metallic finishes. These elements add depth and texture to the overall design.

Table Confetti

: A sprinkling of metallic or glittery table confetti can add a sparkling touch to your tablescape. Use it sparingly for a glamorous shimmer effect.
Entertainment and Atmosphere
To make a great cocktail party, focus on entertainment and atmosphere. Create a memorable ambiance to encourage lively conversations.
The Soundtrack of Glamour
Background Music

: For an elegant cocktail party, opt for jazz, bossa nova, or lounge music. These genres provide a smooth and soothing backdrop to conversations and cocktails. Create a playlist or use streaming services to find curated playlists that suit your style.

Live Entertainment

: If your budget allows, consider hiring a live jazz band, a solo saxophonist, or a pianist to perform. Live music adds a touch of class that recorded tracks simply can't replicate. Be sure to discuss your preferred playlist with the performers in advance.

Volume Control

: Keep the music at a volume that allows guests to converse comfortably. The goal is to enhance the atmosphere, not overwhelm it.
Encouraging Mingling and Networking
Seating Arrangements

: Arrange seating in a way that encourages movement and interaction. Consider a mix of standing cocktail tables, lounge seating, and traditional dining tables. Avoid overloading seating in one area to distribute guests evenly.

Conversation Starters

: Place conversation starters or icebreaker questions on tables to spark discussion. For example, "What's your favorite cocktail of the night?" or "Share a memorable cocktail party story."

Host Introductions

: If you have a diverse guest list, take the time to introduce people with common interests or connections. This thoughtful gesture can break the ice and encourage conversations.

Interactive Elements

: Incorporate interactive elements like a DIY cocktail station or a tasting table where guests can compare and discuss different spirits or cocktail ingredients.

Themed Activities

: If your party has a theme, consider incorporating themed activities or games to encourage participation and engagement. For example, a mixology contest or a costume competition for themed parties.
Frequently Asked Questions (FAQ)
1. What are the advantages of using disposable barware?
Disposable barware offers a combination of practicality and elegance. It eliminates the need for post-party cleanup, reduces the risk of breakage, and provides a sophisticated look that rivals traditional glassware.
2. What are the convenience and aesthetic benefits of disposable options?
Disposable barware, such as plastic cocktail glasses and champagne flutes, provides the convenience of easy cleanup while maintaining an aesthetic appeal. They mimic the appearance of real glassware, making them an elegant choice for stylish cocktail parties.
3. Where can I find high-quality disposable cocktail glasses and champagne flutes?
Reputable suppliers like Smarty Had A Party offer a wide range of high-quality disposable barware, dinnerware, servingware, and flatware. Smarty's products are designed to meet the standards of both elegance and durability.
4. Can you provide tips for coordinating cocktail party decor with a theme?
Coordinating decor with a theme can elevate your cocktail party. Consider elements like color palettes, textiles, and tableware that align with your chosen theme. For a Great Gatsby theme, opt for black and gold color schemes, art deco patterns, and vintage-style tableware.
We hope our guide on hosting a stylish cocktail party has left you inspired and eager to create your own unforgettable soirée. To further enhance your knowledge and help you craft the perfect event, we've gathered additional resources that you'll find valuable:
Top 10 Fall Cocktail Recipes

: As the seasons change, so do the flavors of your cocktail menu. Explore this resource to discover a collection of delightful fall-inspired cocktail recipes. From spiced concoctions to warm, comforting libations, these recipes add seasonal charm to your autumn cocktail party.

Macarons for Every Occasion: A Party Planner's Secret Weapon

: Macarons are not just delicious treats but versatile party essentials that can elevate your dessert table and add an elegant touch to any occasion. Learn how to incorporate macarons into your cocktail party, from pairing them with cocktails to using them as stylish party favors.
These additional resources from Smarty Had A Party will provide more tips, ideas, and inspiration for creating memorable and glamorous events. Whether planning for the fall season or seeking the perfect dessert accompaniment, these resources are your go-to guides for crafting impeccable gatherings.
With the knowledge and resources at your fingertips, you're well-equipped to host a stylish cocktail party that will be the talk of the town. So, cheers to your future soirées filled with sophistication, glamour, and unforgettable memories!