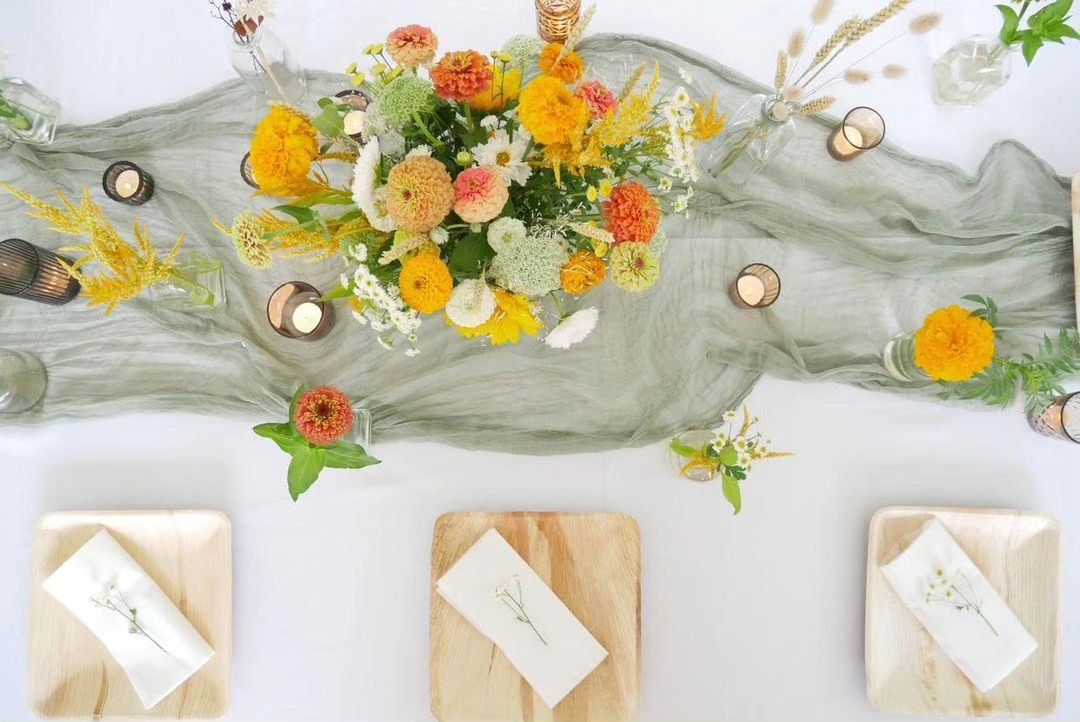 Rustic Elegance: Eco-Friendly Fall Wedding Inspiration
As the leaves begin their graceful descent, and the air turns crisp with the promise of autumn, magic in the season beckons couples to embrace its unique charm for their wedding day. Fall weddings, with their warm colors, cozy atmospheres, and a touch of rustic elegance, have captured the hearts of many. But in an era where eco-consciousness is not just a trend but a responsibility, it's time to infuse that fall wedding charm with a sustainable twist.
Autumn Bliss: How to Host a Green Fall Wedding
In our blog post, we invite you on a journey through the beauty of fall, where nature's splendor meets eco-friendly wedding planning. So, grab your favorite warm beverage, settle into your coziest chair, and let the inspiration begin.
Embracing the Beauty of Fall
The beauty of fall is undeniable. It's a season that wraps itself in rich, warm hues and ushers in a sense of coziness and togetherness. As you embark on your journey to plan an eco-friendly fall wedding, embracing the season's essence is key. 
The Allure of Autumn Foliage
Outdoor Ceremonies

: Choose an outdoor ceremony location surrounded by trees or a park to take full advantage of the natural beauty.

Foliage Bouquets and Boutonnieres

: Opt for bridal bouquets and groomsmen boutonnieres featuring seasonal leaves, berries, and branches.

Leaf Confetti

: Replace traditional confetti with biodegradable leaf confetti for your post-ceremony celebration.
Incorporating Seasonal Elements into Decor
Pumpkin and Gourd Decor

: Decorate your ceremony and reception spaces with various pumpkins and gourds in different sizes and colors. They make fantastic table centerpieces and aisle markers.

Candles and Lanterns

: Illuminate your wedding with candles and lanterns' warm, flickering glow. Their soft light adds a touch of romance to the fall ambiance.

Autumn-Inspired Table Runners

: Consider table runners made from burlap or rustic fabrics in fall colors like deep red, burnt orange, and earthy brown.
Choosing the Perfect Fall Color Palette
Deep Reds

: Channel the vibrant hues of autumn leaves with deep reds, maroons, and burgundies. These colors are perfect for bridesmaid dresses, floral arrangements, and table linens.

Warm Oranges and Yellows

: Capture the season's warmth with shades of orange and yellow. These colors, including table settings and invitations, can be incorporated into your decor.

Earthy Browns and Greens

: To add an earthy touch, incorporate brown and green tones through wooden elements, foliage, and natural textures.
Sustainable Florals and Decor
The heart of any wedding decor lies in the floral arrangements and centerpieces that grace the tables and ceremony spaces. For an eco-friendly fall wedding that embodies rustic elegance, selecting sustainable florals and decor that capture the season's beauty and align with your environmental commitment is essential.
Capturing the Beauty of Fall in Your Centerpiece
1. Using Locally Sourced and Seasonal Flowers
Research Local Flower Availability

: Investigate which flowers are in season in your area during the fall months. This will ensure that your floral choices are not imported from distant locations, reducing their carbon footprint.

Support Local Growers

: Collaborate with local flower growers and florists who prioritize sustainable and eco-friendly practices. They can guide you in selecting the perfect flowers for your fall wedding.

Incorporate Native Flora

: Consider incorporating native plants and wildflowers into your arrangements. These flowers suit the local environment well and can thrive with minimal maintenance.
2. DIY Garden Floral Centerpiece Ideas
Harvest-Inspired Arrangements

: Gather autumn leaves, branches, and pinecones from your local surroundings and combine them with a few seasonal flowers for a rustic, garden-inspired centerpiece.

Herb Garden Centerpieces

: Potted herbs like rosemary, lavender, and sage add a delightful fragrance to your tables and serve as practical and sustainable wedding favors for your guests.

Mason Jar Bouquets

: Arrange wildflowers or locally sourced blooms in mason jars or recycled glass containers for a charming, eco-friendly centerpiece.
Upcycled Decor Ideas
Repurposed Wooden Elements

: Consider using reclaimed wood for signs, table numbers, and even as a backdrop for your ceremony. Weathered wood complements the fall aesthetic perfectly.

Vintage Finds

: Search for vintage and thrifted decor items like antique lanterns, candleholders, and rustic furniture pieces to add character to your wedding decor while reducing waste.

Biodegradable Confetti

: For a playful touch, provide guests with biodegradable confetti made from dried leaves or flower petals, ensuring a sustainable and memorable exit.
Eco-Chic Wedding Tablescapes
Your wedding tablescape is the canvas upon which your rustic fall wedding vision comes to life. To infuse eco-friendliness into this essential aspect of your celebration, consider these sustainable and chic options that will leave your guests in awe.
Palm Leaf Plates: Biodegradable and Stylish
Natural Aesthetic

: 

Palm leaf plates

 carry an organic, earthy charm that perfectly complements the rustic elegance of fall weddings. Their unique textures and irregular shapes add character to your table settings.

Biodegradable and Compostable

: Palm leaf plates naturally break down in a few months, leaving no harmful residues behind.

Sturdy and Heat-Resistant

: These plates can handle hot and cold foods, making them practical for any meal, from the appetizers to the main course.
Birch Wood Flatware: A Natural Touch
Eco-Friendly Choice

: 

Birchwood flatware

 is made from renewable and biodegradable materials, making it an environmentally responsible option.

Rustic Charm

: The light color and smooth texture of birch wood create a rustic and natural aesthetic that blends seamlessly with the fall theme.

Sturdy and Functional

: Birchwood utensils are sturdy enough to handle various types of cuisine and can be composted after use.
Disposable Eco Serving Ware and Palm Leaf Bowls
Eco-Serving Ware

: Look for 

biodegradable and compostable serving platters

 and utensils made from palm leaves or sugarcane pulp. They are excellent for serving appetizers, salads, and side dishes.

Palm Leaf Bowls

: 

Palm leaf bowls

 are versatile and can be used for soups, stews, and desserts. Their unique shape and natural aesthetics make them stand out in your table settings.
Smarty Had A Party: Your Source for Eco-Friendly Dinnerware
Smarty Had A Party is your trusted partner when sourcing eco-friendly dinnerware and table decor for your fall wedding. Smarty's extensive selection of sustainable, stylish, and high-quality products ensures that your wedding will be environmentally responsible and visually stunning.
Wedding Favors and Gifts
Wedding favors and gifts are a thoughtful way to show appreciation to your guests and loved ones for being a part of your special day. In the spirit of an eco-friendly fall wedding, consider options that delight your guests and align with your commitment to sustainability.
Eco-Friendly Wedding Favor Ideas
Plantable Seeds

: Embrace the beauty of fall by gifting your guests plantable seeds that they can nurture into vibrant flowers or herbs in the coming spring. Each seed packet serves as a reminder of your wedding's growth and blossoming love.

Reusable Tote Bags

: Provide reusable tote bags made from organic cotton or recycled materials. These versatile, eco-friendly bags can be customized with your wedding date or a meaningful quote.

Local Honey or Jam

: Share the season's flavors by gifting small jars of locally sourced honey or homemade jam. Not only are these treats delicious, but they also support local artisans and reduce the carbon footprint associated with long-distance shipping.

Custom Eco-Friendly Candles

: Create custom soy or beeswax candles in fall-inspired scents like cinnamon, apple, or pumpkin spice. These candles add warmth to your wedding decor and promote eco-conscious living.

Seed Bombs

: For a unique and fun favor, consider seed bombs made from clay, compost, and wildflower seeds. Guests can toss them into their gardens or a nearby green space, contributing to the growth of local flora.
Charitable Donations instead of Favors
Choose a Cause

: Select a charitable organization that resonates with you, whether it's environmental conservation, humanitarian aid, or a cause with personal significance.

Inform Your Guests

: Let your guests know about your decision to make a charitable donation on their behalf. You can include this information in a heartfelt note or a sign at your reception.

Personalize the Donation

: Consider donating to honor your guests or in memory of a loved one. This adds a personal touch to the gesture.
Ethical Gift Registry Suggestions
Fair Trade Goods

: Include fair trade products such as artisan-crafted home decor, textiles, and accessories that support artisans worldwide.

Experiences

: Request experiences instead of physical gifts. Guests can contribute to activities like cooking classes, wine tastings, or outdoor adventures you can enjoy together as a couple.

Donations to Sustainable Causes

: If environmental or social causes are close to your heart, you can ask for donations to related charities or organizations as wedding gifts.
Frequently Asked Questions (FAQs)
1. Are palm leaf plates and birch wood flatware cost-effective for a wedding?
Palm leaf plates and birch wood flatware are often cost-effective choices for weddings. While they may have a slightly higher upfront cost than traditional disposable options, their natural beauty and eco-friendly credentials make them an excellent value. Additionally, you can find bulk purchasing options that help reduce costs.
2. Where can I purchase disposable eco-friendly party supplies?
You can purchase disposable eco-friendly party supplies from Smarty Had a Party, a trusted online retailer specializing in sustainable event products. Smarty offers many environmentally friendly options, such as biodegradable plates, compostable cutlery, and recyclable plastic dinnerware. Shopping with Smarty Had a Party allows you to host eco-conscious gatherings without compromising style or convenience.
3. How can I ensure my wedding favors are eco-friendly and memorable?
Select wedding favors that match your wedding theme and the current season, such as plantable seeds or reusable items like tote bags. Enhance their significance by adding your names and wedding date. Accompany these favors with a heartfelt note detailing their eco-friendly qualities and the reason for their selection. Opt for functional or edible favors, which are often appreciated and minimize wastage.
4. Do you have any tips for repurposing wedding decor after the event?
You can donate or lend decor items to friends or family who may plan future events. Sell decor items online through platforms like eBay or Facebook Marketplace. Integrate these items into your home decor for a lasting memory of your special day. Consider upcycling or repurposing decor elements for new projects or home decorations.
Cheers to your rustic, elegant, and eco-friendly fall wedding—a celebration that blends the beauty of nature with the beauty of love. May your special day be as stunning as the autumn leaves, as warm as a cozy sweater, and as enduring as your commitment to each other.