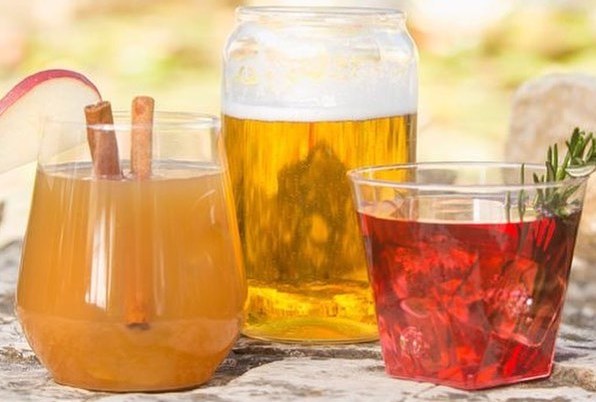 Top 10 Fall Cocktail Recipes
What good time of year exists for catching up with friends while lounging outside? Fall is a great time to get together with friends and enjoy. These stunning fall cocktails will amaze your guests.
This season, if you want to elevate your cocktail game in the most delicate plastic drinking glasses, we have the drinks for you! The richest fall flavors, including rich pumpkin flavor, crisp apples, and a ton of warm and inviting flavors, are all blended into these cocktails.
You might want to curl up on a cool fall day with your favorite soup or a gorgeous sweater. However, nothing warms you up like a fall cocktail. Although some of these fall cocktail recipes are chilled, and some are hot, they all share the quality of being utterly delicious and loaded with seasonal ingredients. 
They're fantastic whenever you want a nice treat or nightcap, but they're especially perfect for big events like Thanksgiving dinner, Halloween parties, and fall dinner parties. Cheers!
1. Autumn Fizz
Ingredients:
Alibi Gin, 2 oz.

Lemon juice, 25 oz.

A sip of agave syrup

Fizzy apple cider

Apple and Thyme as decorations
Directions:
Gin should be added to a shaker along with lemon juice and agave nectar. After shaking, the mixture should be poured into disposable tumblers and topped with sparkling cider. Add a slice of apple and fresh mint as garnish.
2. Pear Sour
Ingredients:
Pear brandy, 2 oz.

2 ounces of fresh pear nectar.

Fresh lime juice, 75 oz.

1 slice of pear

One egg white 
Directions:
In a cocktail shaker with ice, combine pear brandy, pear juice, lime juice, and simple syrup. Mix and shake well. Shake vigorously if egg white was added. Into a coupe or martini glass, strain. Pear slice for the garnish.
3. Campfire Sling
Ingredients:
Rye whiskey, 2 oz.

25 ounces of maple syrup.  

3 tbsp of bitter chocolate

Oil-infused orange flavor
Directions:
Add all the ingredients to plastic wine glasses with a lot of ice. Then, stirring vigorously through a blazing wood pick over the drink's surface, the orange zest's oils will be released.
4. Tawny Port
Ingredients:
Whiskey, 2oz

Ten-year tawny port, 5 oz.

Maple syrup, 1 spoon

3 slashes Bitters 

Orange rind
Directions:
In a glass, combine bitters, syrup, and orange peel. Press the orange peel lightly with a martini shaker to release its oils. Add a sizable ice cube, port, and whiskey. To dilute, stir.
5. Bartender's Breakfast
Ingredients:
 Coconut milk, 75 ounces. 

75 ounces Nutella

1 cup milk.

75 oz. of 12-year-old El Dorado tequila.

75 ounces Champagne Pierre  

Demerara syrup, 25 oz.

2 dashes Bitters 

Nutmeg
Directions:
Blend Nutella and Coconut milk until completely smooth. Pour all other ingredients into a shaker tin. Shake with ice cubes, then pour into drinkware glasses. Add red-striped straws and nutmeg shavings as garnish.
6. Winter's Eve
Ingredients:
Amaro Cio Ciaro, .25 oz

.25 ounces of maraschino liqueur 

.25 oz. Dolin Dry Vermouth

Old Forester Lemon, 1.5 oz.
Directions:
In a mixing glass, make the cocktail, add the ice, whisk for 25 seconds, and then let it sit for a few more seconds as you get the coupe glass ready. Pour the cocktail, add the lemon zest, toss the lemon, and add the sour cherry as a garnish.
7. Apple Cider Mimosas
Ingredients:
one bottle of champagne

apple cider, 1 cup

1 cup sugar

1 tablespoon cinnamon
Directions:
Sugar and Cinnamon should be mixed on a small plate. Before dipping in the cinnamon sugar mixture, champagne glasses should be widened with water. Pour apple cider into disposable plastic stemware until they are 1/4 full, then top with champagne.
8. The Marguerite
Ingredients:
Tequila Reposado 1800, 1.5 oz.

1 ounce of grapefruit juice

Fino sherry, 5 ounces.

Maraschino liqueur, 5 ounces
Directions:
Put in a pretty glass and top it with ice. Add soda water to the top, then add grapefruit for garnishing. 
9. Cuban Cocktail
Ingredients:
Ron Zacapa tequila, 1/5 oz. 

5 oz, Citrus fruits 

5 oz, Syrup

a few leaves of plucked mint

Champagne
Directions:
Double strain the concoction in a cold cocktail glass after mixing it in a cocktail shaker. Add a Champagne float, then add the mint for garnishing. 
10. Pumpkin Spiced Rum
Ingredients:
Bailey's Spiced Pumpkin, 1 oz

1-ounce Spiced Captain rum

Vanilla ice cream, 1.5 scoops

Mint

Cola
Directions:
Mix Baileys Spiced Pumpkin, Captain Rum, and vanilla ice cream in a martini glass. Add cola on top, then stir. Mint is a good garnish.
Seasonal Flavors That Work Best for Fall Cocktails
Seasonal flavors that work best for fall cocktails include Apple, Pomegranate, Fig, Persimmon, Cranberry, Cinnamon, Nutmeg, Ginger drink, Pumpkin, Bourbon, and Vanilla.
There are many ways to add spice to cocktails, including using sauces like Cayenne pepper, liqueurs, dry powder, chili peppers, or fresh fruits. Knowing how heat functions are the secret to using spice and making your cocktails exactly how you like them.
Garnishes For Fall Cocktails
These include Cinnamon sticks, Star anise, Dried Orange Slices, Fresh cranberries, and Apple slices. We can add leaves to cocktails as well. The most common and well-liked herb in drinks is, by far, mint.
Additionally, fresh garnishes for stunning, crisp drinks are celery and cucumber. On an autumnal day, few things can outrun a cucumber martini. Cucumber can be cut into various shapes to garnish a cocktail because of its hardness. A cucumber ribbon is the most basic variation.
The mojito and mint julep is mainly responsible for their fame, but their crisp, refreshing flavor is a perfect addition to various dishes. Along with basil, cocoa, and ginger, it goes well with lime, lemon, and other fruits.
Wrapping Up
Something is special about fall. Nothing makes us want to curl up by the fire in a super soft sweater with a drink in hand more than when the leaves start to change, and there is a crisp breeze in the air.
A glass filled with flavors like apple cider, cinnamon, and spices feels more suited to the changing seasons, even though we enjoy a timeless, seasonless, traditional drink. 
We've compiled fantastic recipes for autumnal drinks that will cover you for every weekend of the best season of the year. You can choose yours to rock the party!