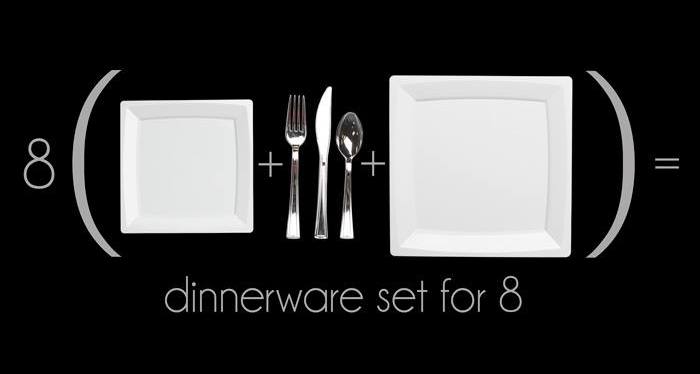 Affordable Luxury: A Guide to Choosing a Plastic Dinnerware Set
In the entertaining world, a certain magic in setting a table captivates your guests and elevates the entire dining experience. But let's be honest; while we all aspire to host gatherings that exude luxury, the price tag of traditional dinnerware can leave our wallets feeling a little lighter than we'd like. That's where the concept of affordable luxury comes into play, and it's precisely what we'll be exploring in this guide.
Effortless Entertaining: Simplify Hosting with Plastic Dinnerware 
This blog post introduces you to a game-changer in the entertaining world: plastic dinnerware sets. These aren't the flimsy, utilitarian plastic plates of yesteryears; they are elegant, stylish, and designed to make your dining table look like a million dollars without breaking the bank.
So, if you're ready to discover how to achieve affordable luxury and simplify your hosting endeavors, read on. We're about to unveil the secrets of choosing the perfect plastic dinnerware set that will leave your guests impressed and your budget intact.
Plastic Dinnerware Sets - An Elegant Solution
When you think of hosting an elegant dinner party or a special event, exquisite china plates, crystal glassware, and gleaming silverware often come to mind. However, the reality is that such high-end tableware can come with a hefty price tag, not to mention the potential for breakage and the following laborious cleanup. But what if we told you that you could achieve the same level of sophistication without the stress on your budget and without compromising style? Welcome to the world of disposable dinnerware—a modern, practical, and stylish solution changing how we host events.
Rising Popularity Across Events
One of the most striking features of plastic dinnerware sets is their growing popularity across various events. No longer relegated to picnics and casual gatherings, these sets have become a staple at weddings, corporate events, birthday parties, and even formal dinners. The versatility of plastic dinnerware allows hosts to elevate the ambiance of their affairs without the constraints of traditional, breakable tableware.
In addition, the ability to mix and match styles and colors allows you to create a customized table setting that perfectly complements the theme and mood of your event.
Affordable Elegance
Plastic dinnerware sets offer sophistication without the high cost of fine china or porcelain. They are also sturdy and designed to withstand heavy meals without chipping or breaking, making them a cost-effective and low-maintenance alternative.
The Components of Plastic Dinnerware Sets
Smarty Had A Party - Your Source for Quality
Smarty Had A Party offers affordable luxury dinnerware sets without compromising quality. They are a trusted partner for creating unforgettable events with years of experience and a deep understanding of hosts' and event planners' needs.
Commitment to Quality and Elegance
One of the standout features that sets Smarty Had A Party apart is their unwavering commitment to quality and elegance. While their products are disposable, they are far from disposable in quality. Smarty's disposable party supplies are crafted to exacting standards, ensuring that each piece reflects the utmost sophistication and style.
A Range of Products Beyond Plastic Dinnerware
While plastic dinnerware sets are undoubtedly their specialty, Smarty Had A Party's product range extends beyond this. Smarty understands that hosting a memorable event requires more than plates and cutlery. That's why Smarty Had A Party offers various complementary products to enhance your table setting.
Whether you need chic tablecloths, elegant disposable serving ware, stylish paper napkins, or captivating chair covers, Smarty Had A Party has you covered. Our extensive selection of event décor and accessories allows you to create a cohesive and visually stunning atmosphere that leaves a lasting impression on your guests.
A Stellar Reputation in the Industry
In the event planning and hosting world, reputation matters, and Smarty Had A Party boasts a stellar one. Smarty has earned the trust and admiration of countless individuals and organizations across various industries. Their commitment to excellence, quality, and customer satisfaction has cemented their status as a leader in the industry.
Event planners, caterers, brides and grooms, and hosts turn to Smarty Had A Party for their disposable dinnerware and event decor needs. Their track record of success and the loyalty of their customers speak volumes about the level of service and product quality you can expect when you choose Smarty Had A Party as your supplier.
Bulk Options for Convenience
Bulk plastic dinnerware sets are convenient for hosting large events like weddings, corporate galas, or milestone birthdays. Ordering in bulk streamlines planning and eliminates the stress of potential shortages during the event.
Smarty Had A Party's Offerings: 20, 60, and 120 Settings
As you embark on your journey to discover the perfect plastic dinnerware set, you must have options matching your hosting needs. This is where Smarty Had A Party, your trusted source for quality disposable dinnerware, truly excels.
Smarty Had A Party offers an array of bulk options, making finding the perfect fit for your event easy. Whether you're planning an intimate dinner party or a grand extravaganza, Smarty has you covered:
20 Settings:

 Ideal for smaller gatherings or events, this option provides everything you need for an intimate dinner or a cozy family celebration.

60 Settings:

 Perfect for mid-sized events, this package ensures you have enough dinnerware to accommodate a moderate guest list without any worries.

120 Settings:

 For those planning large-scale events, this bulk option offers an impressive array of dinnerware to cater to a sizable guest count. It's an excellent choice for weddings, corporate functions, and other significant occasions.
Cost-Effectiveness of Buying in Bulk
Beyond the sheer convenience of bulk ordering, there's another compelling reason to consider this approach: cost-effectiveness. Purchasing plastic dinnerware sets in bulk often results in significant savings compared to buying individual place settings.
Elevating Your Event - Weddings and Beyond
The Role of Elegant Disposable Dinnerware in Weddings
Weddings are a culmination of love and planning, where every detail adds to the enchantment of the day. This is where elegant disposable dinnerware for weddings steps into the spotlight, offering an array of benefits that cater to the demands of this monumental occasion:
Elegance:

 Plastic dinnerware sets embody elegance, transforming the wedding table into a visual masterpiece. The plates glisten like fine china, the flatware shines like silver, and the tumblers radiate a crystal-like clarity. These sets allow you to craft a table setting worthy of the grandest celebration.

Convenience:

 Weddings are already bustling with activity, and the last thing you want is a complicated cleanup process. Plastic dinnerware sets simplify this aspect, as they are easily disposable after the festivities. This means you can focus on enjoying the day rather than worrying about washing dishes.

Customization:

 Every wedding is unique, and plastic dinnerware sets offer many styles, colors, and designs. Whether your wedding is a classic affair, a rustic celebration, or a modern extravaganza, you can find sets that perfectly align with your theme and vision.

Budget-Friendly:

 Weddings often come with a hefty price tag, but plastic dinnerware sets provide a budget-friendly alternative to traditional fine china. This allows you to allocate more of your budget to other essential elements, such as your dream venue, the perfect gown, or a stunning floral arrangement.
Elevating Any Event
Plastic dinnerware sets are not limited to weddings. They can add elegance and visual appeal to various events. 
Corporate Events:

 Impress clients, partners, and employees at corporate gatherings with a sophisticated table setting that exudes professionalism.

Birthday Parties:

 Whether it's a milestone birthday or an intimate family celebration, plastic dinnerware sets add a touch of glamour to the festivities.

Holiday Gatherings:

 Elevate your holiday dinners and parties with holiday-themed plastic dinnerware sets that capture the season's spirit.

Anniversaries:

 Celebrate lasting love with a memorable table setting that mirrors the occasion's significance.

Engagement Parties:

 Toast to new beginnings with a table setting that hints at the love story about to unfold.

Baby Showers:

 Welcome the arrival of a little one with style and grace, thanks to charming plastic dinnerware sets.
Frequently Asked Questions (FAQ)
1. What makes plastic dinnerware sets different from traditional options?
Plastic dinnerware sets offer the perfect blend of elegance and convenience. Unlike traditional dinnerware, which is often fragile and costly to replace, plastic dinnerware sets are durable, affordable, and designed to mimic the look and feel of fine china or porcelain. They also eliminate the need for time-consuming cleanup, as they are disposable.
2. Are plastic dinnerware sets durable enough for heavy meals?
Modern plastic dinnerware sets are designed to be sturdy and durable, capable of handling heavy meals without bending or breaking. Many are made from heavyweight plastic, ensuring they can withstand the rigors of a multi-course dinner or a buffet-style feast.
3. How do I choose the right size and style for my event?
Choosing the right size and style for your event depends on several factors, including the type of event, the number of guests, and your preferences. Consider the theme or mood you want to create and match the plastic dinnerware sets accordingly. Opt for classic styles for formal events like weddings, while more casual gatherings may allow for creative and themed choices.
4. Are Smarty Had A Party's products environmentally friendly?
Smarty Had A Party is committed to sustainability and offers a range of eco-friendly disposable dinnerware options. These products are made from biodegradable or recyclable materials, allowing you to host events with minimal environmental impact. 
Thank you for joining us on this journey of affordable luxury, and may your future events be filled with joy, laughter, and the magic of a well-set table. Cheers to hosting with grace, ease, and the touch of sophistication that plastic dinnerware sets bring to the table.