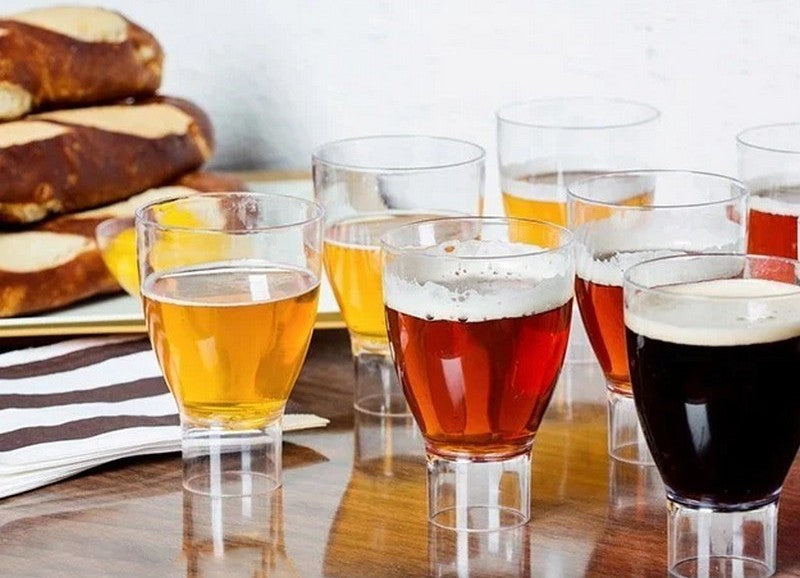 The Ultimate Guide to Hosting an Oktoberfest-Inspired Party
There's something magical about the crisp autumn air, laughter mingling with music, and traditional beer wafting through the breeze. We're talking about Oktoberfest, that iconic celebration of beer, food, and camaraderie that has captured hearts worldwide.
Beer Tasting Party Inspiration
If you've ever dreamt of recreating Oktoberfest's spirited and jovial atmosphere in your own backyard or living room, you're in for a treat. Welcome to our blog post, your one-stop resource for crafting an unforgettable experience that pays homage to the world's most famous beer festival.
Setting the Scene: 

Decorations and Atmosphere
Oktoberfest-Themed Decorations
Wooden Barrels:

 If you can get on some wooden barrels, use them as rustic decor elements. They enhance the ambiance and serve as convenient makeshift tables for drinks and snacks.

Alpine Flowers:

 Arrange pots of alpine flowers like edelweiss and geraniums to add a touch of natural beauty to your décor. 

Directional Signs:

 Create playful directional signs pointing to essential areas like the beer Garden," "Food Court," and "Dance Floor." These signs will be practical and add a fun, carnival-like atmosphere.
Table Centerpieces and Lighting
Table Centerpieces:

 Opt for traditional table centerpieces like miniature beer steins, pretzel arrangements, or small bouquets of alpine flowers. These centerpieces will not only look charming but also serve as conversation starters.

Lighting:

 Lighting can significantly impact the mood of your Oktoberfest party. Use warm, soft lighting to create a cozy, inviting atmosphere. Consider string lights, lanterns, or candlelit centerpieces to achieve this effect.
Beer Selection and Tasting
When it comes to hosting an Oktoberfest-inspired party, one of the key elements that can make or break the experience is your beer selection and how you present it. Oktoberfest is synonymous with beer; you'll want to curate a diverse and exciting selection for your guests.
Curating a Diverse Beer Selection
Variety is Key:

 Start by offering a range of beer styles to cater to different tastes. While traditional Oktoberfest beers are typically Märzen lagers, consider including other styles like IPAs, lagers, pilsners, and wheat beers. This allows your guests to explore new flavors while enjoying the classics.

A mix of Local and International:

 Add an extra layer of excitement by featuring both local and international beer options. Showcase the best craft brews from your area and include some well-known beers to keep the Oktoberfest spirit alive. Remember to check out seasonal or limited-edition brews that can add a unique touch to your beer selection.
The Importance of Labeling Your Beers
Identification:

 With multiple beers, clear labels help guests quickly identify each brew. You can create labels with the beer's name, style, alcohol content, and a brief description of its flavor profile.

Theme Reinforcement:

 Labels also contribute to the overall Oktoberfest theme. Incorporate traditional colors or humorous anecdotes about each beer to add a playful touch.

Allergy and Dietary Information:

 Some guests may have allergies or dietary restrictions. Including this information on labels helps everyone make informed choices.
Setting up a Beer Tasting Station
Location:

 Choose a central and easily accessible spot where guests can gather and sample the beers. A long table with enough space for glasses, labels, and tasting notes works well.

Glassware:

 Provide appropriate glassware for each beer style. 

Chilling:

 Ensure that your beers are properly chilled before the party. You can use buckets filled with ice to keep the beers cold throughout the event.
Beer Tasting Tips for Your Guests
Start Light:

 Encourage guests to begin with lighter beers and work up to heavier ones. This helps them appreciate the subtle nuances of each brew.

Sip and Savor:

 Remind your guests to take their time, savor each sip, and pay attention to the aroma, flavor, and finish of the beer.

Tasting Notes:

 Provide tasting sheets or cards where guests can jot down their thoughts and rate each beer. This adds an interactive element to the tasting and sparks discussions among attendees.
Food and Snacks
A fantastic food selection is just as essential to your Oktoberfest-inspired party as the beer. To add some exciting twists, let's dive into the world of Oktoberfest-inspired eats.
Traditional Oktoberfest Foods
Bratwurst and Hot Dogs:

 No Oktoberfest celebration is complete without savory sausages. Serve up a sizzling platter of bratwurst and hot dogs. Whether simmered in beer or grilled to perfection, these juicy links will satisfy carnivorous cravings.

Mustard and Sauces:

 Elevate the sausage experience with various mustards and sauces. Traditional Bavarian sweet mustard, spicy brown mustard, and tangy sauerkraut should have a spot at your condiment station.

Pretzels and Sauerkraut:

 Soft pretzels, with their golden crust and fluffy interior, are Oktoberfest staples. Pair them with sauerkraut, a fermented cabbage dish that balances the richness of the sausages with its tangy crunch.
Unique Additions to Elevate Your Menu
Cupcakes with a Bacon Twist:

 Give your menu a creative twist with bacon-infused cupcakes. These sweet and savory treats will surprise and delight your guests. Combining rich, moist cupcakes and crispy bacon bits on top will be a conversation starter.

Vegetarian and Vegan Options:

 It's essential to cater to all dietary preferences. Consider adding vegetarian and vegan options to your menu. Options like vegan sausages, roasted vegetable skewers, and plant-based dips ensure everyone can indulge in the Oktoberfest festivities.
Party Essentials: Drinkware and Tableware
When hosting an Oktoberfest-inspired party, the right drinkware and tableware can make a significant difference in your guests' overall atmosphere and convenience. 
Choosing the Right Drinkware for Beer
While Oktoberfest is traditionally celebrated with large beer steins, you can capture the festival's spirit with fancy mini-plastic cups. These cups not only add a touch of sophistication to your event but also make it easier for guests to enjoy a variety of beers without feeling overwhelmed by the volume.
Convenient and Stylish Disposable Dinnerware Options
Plastic Plates for Food:

 

Plastic plates

 are your go-to choice When serving traditional Oktoberfest foods like hot dogs and pretzels. They're durable, easy to handle, and eliminate the need for extensive cleanup. 

Mini Plastic Bowls for Condiments:

 To keep your condiments organized and accessible, provide 

mini plastic bowls

. These bowls are perfect for housing various mustards, ketchup, sauerkraut, and other toppings. Arrange them neatly on a condiment station for easy access.

Disposable Paper Napkins:

 Oktoberfest can get messy, especially when enjoying sausages and pretzels. 

Disposable paper napkins

 are both practical and eco-friendly. 
How to Set the Table for a Polished Look?
Table:

 Use a rustic wooden table for a more authentic feel.

Centerpieces:

 Create eye-catching centerpieces with beer steins and fresh flowers in beer mugs. These elements add charm and character to your table.

Place Settings:

 Arrange your 

disposable plastic party supplies

 neatly at each place setting. Ensure there are enough utensils and napkins for all your guests.

Lighting:

 Consider using soft, warm lighting, such as candles or string lights, to create a cozy ambiance as the evening progresses.
Frequently Asked Questions (FAQ)
1. Where can I find the best disposable party supplies?
You can find a wide range of high-quality party supplies at Smarty Had A Party online party supply store, including dinnerware, drinkware, flatware, and more. Smarty offers a fantastic selection of items to help you create an authentic atmosphere.
2. Can I host an Oktoberfest-inspired party indoors?
Absolutely! Depending on your space and preferences, you can host your Oktoberfest celebration indoors, in your backyard, or at a rented venue. Indoor parties are an excellent choice for cooler climates.
3. How do I choose the right beers for my party?
Curate a diverse selection of beers, including traditional lagers and a mix of local and international options. Choose beers that cater to various tastes, from light and crisp to bold and flavorful.
4. How can I promote responsible drinking at my party?
Encourage guests to drink responsibly and designate drivers or arrange transportation options. Provide non-alcoholic beverages for designated drivers and non-drinkers to ensure everyone can enjoy the fun safely.
Raise your glass and toast to a successful celebration that will be remembered by all who attend. Cheers!