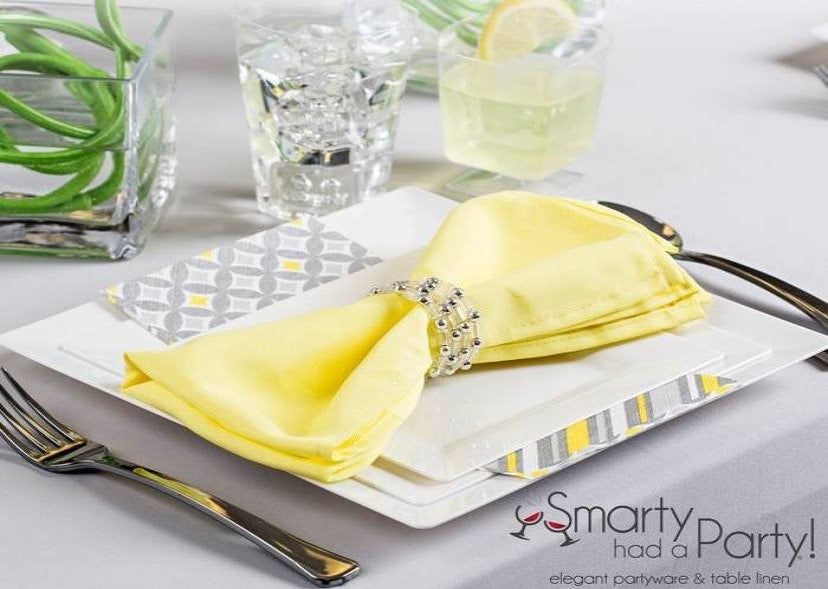 Golden Elegance: Yellow Wedding Table Decor Inspiration
When it comes to weddings, every detail matters. The colors, the flowers, the centerpieces—all of these elements combine to create a harmonious celebration of love. Among these details, the choice of color holds a special place, as it sets the tone and captures the essence of the day. And what color could better symbolize the warmth, joy, and promise of a lifelong journey together than the radiant hue of yellow?
Yellow, the Color of Love: Wedding Tablescape Trends
Whether planning a grand celebration or an intimate gathering, prepare to be inspired by the magic of yellow. Let's delve into a world where love and color converge, where "Golden Elegance" becomes the heart and soul of your wedding decor, and where every table tells a story of enduring love and cherished moments.
Place Setting Elegance
A wedding tablescape is more than just a collection of dishes and utensils; it's a canvas where love and artistry blend seamlessly. Among the myriad elements contributing to its beauty, place settings stand out as the foundation for your entire table decor. 
Plastic Tablecloth: Affordable and Versatile
The choice of a tablecloth sets the stage for the entire dining experience. In the world of wedding table decor, white remains a timeless classic. Opting for a white plastic tablecloth keeps your budget in check and provides a versatile backdrop that enhances the vibrancy of yellow accents. White symbolizes purity and provides an elegant, affordable canvas for your decor, allowing budget allocation to other wedding essentials.
Plastic Dinnerware Set for Weddings: Combining Style and Convenience
Your choice of dinnerware can significantly impact your wedding tablescape's overall look and feel. White plastic dinnerware, specifically designed for weddings, perfectly balances style and convenience. These plastic plates are not only elegant but also practical for a variety of reasons.
They provide a clean and polished look to your table while eliminating the concerns of breakage associated with traditional porcelain or china. Furthermore, they can be easily disposed of after use, saving you from the post-wedding cleanup hassle. With intricate detailing and a glossy finish, plastic dinnerware sets for weddings complement the yellow theme with finesse.
Disposable Silverware: Practical and Sophisticated
The silverware choice is a subtle yet impactful detail in creating an elegant tablescape. Opting for disposable silverware in a shimmering silver hue offers practicality and sophistication. Silverware, with its gleaming appeal, elevates the dining experience and adds a touch of opulence to each place setting.
Much like the other disposable elements of your table decor, disposable silverware eliminates the need for extensive post-wedding cleaning. This frees you to fully immerse yourself in the celebration and relish the precious moments with your loved ones, knowing that even the smallest details have been taken care of.
Fancy Plastic Drinkware: Elevating Your Drink Presentation
To complement your white and yellow theme, consider opting for clear plastic drinkware with a touch of elegance. These fancy plastic drinkware pieces provide a sense of refinement while allowing the vibrant colors of your beverages to shine through.
Clear drinkware enhances the visual appeal of your table, creating an airy and inviting ambiance. Guests can enjoy their drinks in style, and you can savor the knowledge that cleanup will be a breeze with disposable drinkware.
Adding a Pop of Yellow
In wedding table decor, color is pivotal in infusing personality and vibrancy into your celebration. In the case of our "Golden Elegance" theme, yellow takes center stage as the accent color that brings warmth, joy, and a touch of sunny sophistication to your tablescape. 
Napkin Bow: A Charming Touch of Color and Elegance
Imagine a stylish yellow disposable linen napkin gracefully folded in a bow shape. It's a small detail, yet it carries the power to transform your place settings into works of art. The yellow napkin bow serves as the first hint of the "Golden Elegance" theme, setting the tone for the entire table.
This delightful touch of color adds elegance and evokes feelings of cheerfulness and optimism. It's a visual cue to your guests, inviting them to partake in the joyous celebration of love. Moreover, disposable linen napkins make cleanup a breeze, ensuring you can enjoy your special day without worrying about the aftermath.
Disposable Dinner Napkins: Practicality Meets Style
Practicality and style need not be mutually exclusive. Colorful disposable dinner napkins strike the perfect balance between functionality and aesthetic appeal. These napkins feature a tasteful combination of white and yellow, offering a cohesive look that seamlessly integrates with your "Golden Elegance" theme.
Beyond their visual appeal, these napkins serve a practical purpose. They provide guests with a comfortable and hygienic dining experience, and their disposable nature simplifies the cleanup process. Your wedding day should be filled with cherished moments; these napkins ensure you have more time to create memories and less time worrying about post-reception chores.
Yellow Flowers: A Stunning Centerpiece Choice
Regarding wedding centerpieces, few choices are as striking as a clear vase filled with vibrant yellow Calla lilies. These elegant, trumpet-shaped flowers capture the essence of "Golden Elegance" and serve as a captivating focal point for your tables.
The clear vase allows the yellow Calla lilies to shine, creating a visually stunning contrast between the radiant yellow blooms and the transparent vessel. This combination exudes sophistication and allure, while the yellow hue of the flowers symbolizes the promise of new beginnings—a perfect representation of your journey together as a newlywed couple.
Smarty Had A Party: Your Wedding Decor Partner
When creating your dream wedding tablescape, having the right partner makes all the difference. Enter Smarty Had A Party, your go-to resource for wedding table decor. With a wide range of products designed to suit various wedding themes, Smarty simplifies bringing your "Golden Elegance" vision to life.
An Abundance of Choices for Every Theme
Smarty Had A Party understands that every couple is unique, and their wedding should reflect that uniqueness. That's why we offer an impressive array of wedding decor options, including those that perfectly align with the timeless "Golden Elegance" theme. Whether planning an intimate gathering or a grand celebration, our catalog ensures you'll find the ideal elements to enhance your theme.
Convenience Meets Style
One of the standout advantages of choosing Smarty Had A Party is its convenience in your wedding planning journey. Smarty's disposable wedding tableware combines style and ease, allowing you to enjoy your special day without worrying about post-reception cleanup. Our user-friendly website also streamlines the selection and ordering process, making it a stress-free experience.
Staying on Theme
Your wedding theme is the heartbeat of your celebration, setting the tone for every aspect of your big day. As we dive deeper into our "Golden Elegance" theme, it's essential to emphasize the importance of staying on theme throughout your wedding decor, especially regarding your yellow table decor. 
The Significance of Theme Consistency
To create a memorable wedding, choose a cohesive theme that ties everything together. For a "Golden Elegance" theme, consistency is crucial in reflecting the warm and refined atmosphere of yellow throughout the event.
Guidance for a Seamless Transition
Define Your Color Palette: Establish a clear color palette that complements your "Golden Elegance" theme. While yellow is the star, choose secondary colors that harmonize with it. Shades of white, cream, and gold often work beautifully to accentuate the elegance of yellow.

 Consistent Accents:

 Incorporate consistent accent colors throughout your wedding decor. This could include the color of your bridesmaids' dresses, the groomsmen's attire, and even the flowers in your bridal bouquet. These accents help tie the theme together.

Consultation with Experts:

 Seek guidance from wedding planners or decorators specializing in your chosen theme. They can offer valuable insights and suggestions to ensure your yellow table decor aligns with your vision.

Sample and Visualize:

 Consider creating a sample table setting to visualize how the yellow decor elements will look alongside other aspects of your wedding, such as the venue, lighting, and floral arrangements.

Attention to Detail:

 Pay close attention to the small details. Every detail should contribute to the overall theme, from the shade of yellow in your napkins to the type of yellow flowers in your centerpieces.

Communication:

 Communicate your vision with your decorator, florist, and other vendors. Ensure they understand the importance of theme consistency and work together to achieve the desired look.
Frequently Asked Questions (FAQ)
1. How can I incorporate yellow into my wedding table decor without overwhelming the design?
Balancing yellow's vibrant charm with other tablescape elements is essential. Start by using yellow as an accent color rather than the dominant one. Incorporate it through items like napkins, floral arrangements, and place cards. Consider softer shades of yellow to add a subtle touch of color without overpowering the design.
2. Are disposable tableware options suitable for formal wedding receptions?
Yes, disposable tableware has come a long way and is now suitable for various wedding styles, including formal receptions. High-quality disposable dinnerware and drinkware can maintain an upscale and polished appearance while offering the convenience of easy cleanup.
3. What are the advantages of using clear drinkware for weddings?
Clear drinkware is a popular choice for weddings for several reasons. Firstly, it complements any color scheme or theme, including "Golden Elegance." Secondly, it allows the colors of your beverages to shine through, adding visual appeal to your table. Lastly, clear drinkware is versatile and can be used for various drinks, from water and champagne to colorful cocktails.
4. Can I mix and match different shades of yellow in my tablescape?
Mixing and matching different shades of yellow can create depth and visual interest in your tablescape. Consider incorporating lighter and darker shades of yellow in your napkins, flowers, or decor items. Just be mindful of balance, ensuring the overall look remains cohesive and harmonious. Experiment with various shades to find the combination that best suits your vision.
May your "Golden Elegance" theme illuminate your path as you step into this new chapter of your life, together in love and surrounded by the radiance of yellow. Cheers to a love that shines brighter than gold!