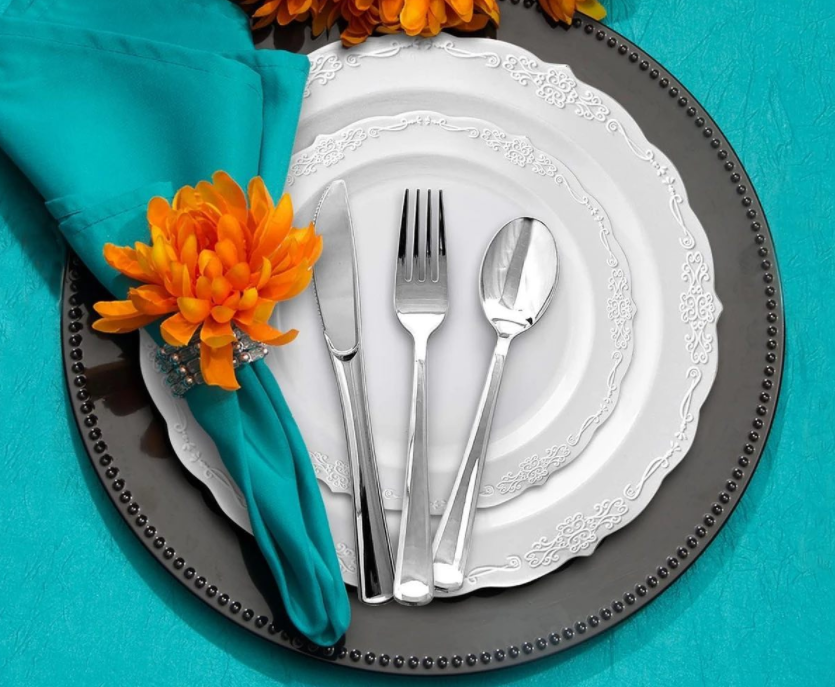 7 Essentials to Setting a Party Table
Your party table expresses your lifestyle and personality; it shouldn't lack anything like your personality. The table is always the center of attention at the party. It provides your party a focal point and a place that reflects your event idea and party theme. 
After you have shaped a long list of guests and sent out the invitations, get prepared to make your party table look epic, just like the party dress you bought with so much love and excitement. 
Here are 7 essentials to setting a party table for your upcoming next party. 
1- Pick a Theme
It's always necessary to set a theme for your party, as it would provide life to your party. The theme offers a flow to your party decor and makes it look consistent. Whether you are having a small gathering or a large one, make sure to set a theme to enhance the party decor.
Take time to brainstorm to come up with epic party theme ideas. Follow your interest to come up with epic theme ideas for your party, or googling it won't take a second. Pinterest is a great platform to take the party theme inspirations. 
The tropical, garden-inspired, and minimalistic themes are the trending themes in the list, but still, you would need inspiration for them - don't be afraid to ask your friends or Google for them. 
2 - Follow a Plan
When you serve a large crowd at your place, there will be a hustle and bustle. However, following a plan will keep you at ease and stress-free at the party once your guests are at the party venue. 
Here's what you should keep in mind to make things manageable at the party. 
Make a list of serving wares and the kitchen you'll need to serve the guests. 

Create a list of items you'll need to buy for table decor. 

Wash and clean up the dinnerware and other serving wares that will be used to serve the guests. 

Double-check all the serving wares if they are broken or need replacement.
3 - Table Decorations
Regarding table settings, without proper decor pieces, it's incomplete even if you have the fanciest serving wares on your table. Elevate your table's charm and beauty and enhance its profile by placing decorative pieces on the table. 
Decorating your table would be much easier if you decided on a party theme. Then, all you need to do is to follow up on the theme. Spread the fancy table cloth following up your theme as well as the table runner to provide your table focal point. 
However, don't forget the little details that'll make your table settings stand out, like the centerpieces made of flowers, craft centerpieces, and fancy napkins folds.
4 - Add Centerpiece
Adding a centerpiece is a perfect way to effortlessly bring elegance and charm to your table settings. Some hosts create customized centerpieces at home to give the table a thoughtful vibe. 
If you are a creative person, it's a perfect opportunity to try your creative instinct and let your table be the canvas. Use flowers, vases, glassware, and anything you have got in your cupboard and use it to create epic centerpieces for your table. 
Couldn't brainstorm better ideas for epic centerpieces? Well, google up things to take the inspiration to find perfect centerpieces ideas that'll encourage your theme. 
5 - Choose Dinnerware Set
Table setting's a significant part is the selection of your dinnerware set. It determines the elegance and the final look of your table. Follow up your theme to make your dinnerware set selection easier. 
However, if going for an exclusive dinnerware matching your party theme seems expensive, white is always the best option. So go for the whiteware, which coordinates with any type of theme and setting. 
Use the charger plates to add elegance and a unique effect to your table settings. They don't only enhance the presentation of the serving wares on the table but also prevent the crumbs and spills from falling on the table cloth. 
If going with the white dinnerware set doesn't feel unique to you, then don't hesitate to mix and match them. Likewise, you can mix and match the wooden, metal, and plastic dinnerware sets. Just work on their presentation, and in the end, you'll have the perfect table set up for the party.
If you are looking for elegant and fancy dinnerware set at a cheaper price tag, look no further than the elegant disposable plates. We at "Smarty Had a Party" have a wide variety of disposable party dinnerware and fancy disposable plates that come at a fraction of the cost. 
6 - Candles
Candles are always part of the table settings, especially for dinner parties. They don't only make things glow on the table but also add a special effect that makes the whole environment full of aesthetics. 
If you have a small table set up for the dinner party, then one large candle would be perfect. However, if you are planning to invite a long list of guests or maybe an entire family to the dinner party, then a couple of candlesticks would be a perfect way to add elegance.
7 - Napkins
Most napkins are just the piece of cloth that guests use to cover their lap, or some just keep in their hands to wipe up their mouth. The primary purpose of having the napkins on the table is to keep everything like before. 
But, napkins can also be the piece of art that'll elevate your table's decor. So, take the step ahead, and instead of just placing the napkins conventionally, fold them in a different style that encourages your party theme. 
For instance, if you are having a valentines day party for your significant others, present the napkin by folding it into a flower shape. There are plenty of tutorials available on the internet where you can learn the different techniques to present your napkins uniquely on the table.