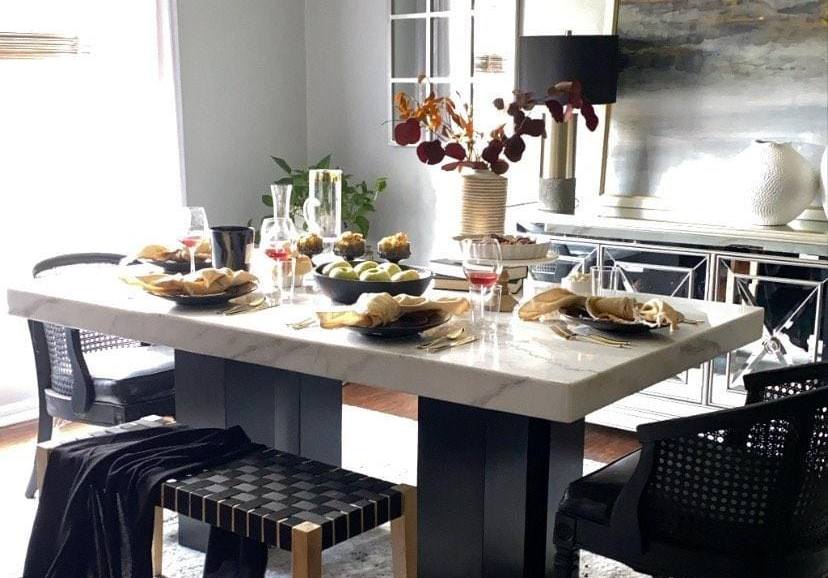 Fabulous Table Decorating Ideas for Every Occasion
Are you tired of searching for different decorations for different occasions? Well, look no further. We've got you a list of awesome table decorating ideas. You should try these fabulous ideas on every occasion, and your guest won't feel anything bizarre about it.
All of these ideas cover different aspects of culture and are socially acceptable. So you won't have to worry about anything!
Burgundy-Gold-Burgundy Table Setting
This outdoor table decoration idea looks fantastic when it's done and can be used for almost every occasion. However, before decorating the table, you've to decide how many guests you expect to have at the party. If you have around 20 people, you should look for a tent around 10' X 30'.
Try to go with rectangular tables because this way, you'll save much more space. If you want to use the round tables, you might need a giant tent to accommodate more people. However, we recommend using rectangular tables since it will leave you more room for gift tables and placing cakes with risers or cake stands.
Take a white tablecloth and cover all of your tables with it. Next, spread a lovely burgundy table runner on the first table and the golden table runner on the other. Keep this sequence throughout your table and make an elegant contrast.
Decorate the table with all the essential dinnerware supplies, including charger plates, flatware, glassware, and other essentials. Don't forget to add a perfect centerpiece for all the tables. It can either be a flower pot or a set of scented candles. It's all your choice.
Make sure you keep the table with a cake, friendly and clean with a minimum amount of elements on it. This table can be used to place gifts if you're planning a baby shower, gender reveals, or a birthday party.
Green - The Color of Nature!
This table decor idea is best for showing your love for nature. Cover the table by using a green tablecloth along with a golden table runner on top. You can work with a golden charger plate because it perfectly combines with the green table cloth.
It is recommended to keep your dinner plates simple and decent. The standard white dinner plate on top of the charger plate would be a perfect fit. When it comes to choosing a napkin, you can choose to have green-colored napkins to match up with the table cloth.
Make sure you have a complete range of glassware. For example, you can use fancy plastic stemware for both decorations and for dining purposes. 
We at Smarty Had A Party have a wide range of elegant disposable wine glasses to cater to your drinkware needs. We also provide disposable value sets to provide the quantity you need at the best price possible.
Not to mention our plastic dinnerware sets, Smarty leads the disposable dinnerware industry with stunning design choices and an epic legacy of customer trust and loyalty.
Along with a complete drinkware collection, make sure you have an elegant centerpiece with some lush green plants to add that natural touch to your table setting.
Romantic Pink Table Decor
This super adorable pink-themed table decor with romantic aesthetics works perfectly well for most informal settings. All you have to do is cover your tables with a light pink tablecloth and arrange the same colored napkins on the dinner plates.
Try to use golden charger plates to add glamor to your table, and you can simply use standard white dinner plates on top of charger plates. Then, wrap the spoon and fork in the pink napkin to give it a rosy look.
In a glass vase or a disposable tumbler, put some fresh, red roses that will give you an aesthetic feel and perfume your entire surroundings. We also offer disposable tumblers for parties that might come in handy when creating a stunning tablescape.
Depending upon the season's requirements, you can use these premium disposable plastic tumblers in hundreds of different ways to decorate your party table, placing plants in them or fresh juices or hot chocolate shakes.
Adding balloons is optional. If you think the balloons will give your party life, you should definitely go with pink colored balloons, or even black would look mesmerizing. But if you want to keep things simple and manageable, eliminating balloons from the decoration list is all your choice.
Navy Blue Table Decor
A table covered with a dark blue tablecloth and a complete set of silver dinnerware gives your party a unique royal look. Adding the right type of centerpiece can make your table look premium.
You can add a silver table runner, on top of which you can place elegant silver centerpieces. It can be anything as simple as a silver sprayed an old bottle of champagnes.
For the dinner plates, you can choose to have standard white plates or go with the one that perfectly contrasts with the navy blue tablecloth, like silver-colored dinner plates.
Backdrop Balloons in Style
No matter what type of table setting you choose for your party, adding this stunning backdrop with balloons will make any setting look mesmerizing. It will not only let the guests capture some memorable portraits, but it will also give your party the life that you're looking for.
There are plenty of options to go with. But, first, you must pick a contrasting combination of balloons and your overall party theme and create a stunning backdrop with balloons.
Here are some sample backdrops using balloons that will work with every occasion.
This gold and white balloon backdrop work best for baby showers and any birthday celebration. 
Using pink balloons with pink mesh cloth will work perfectly for a birthday party for your daughter. A perfect gift that parents can bless their child with is some good memories, and creating good memories with some epic ideas, is something that can make some epic memories to remember.