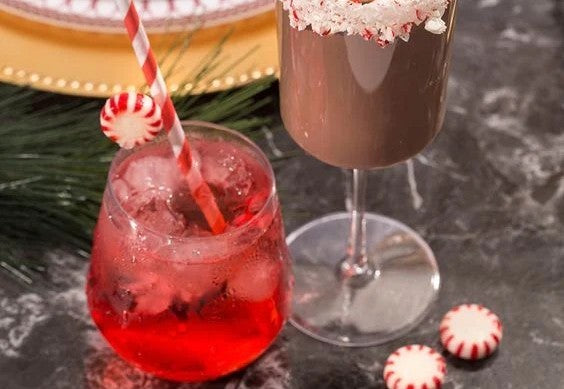 6 Easy Christmas Cocktail Recipes
Thinking of inviting your friends over for dinner this Christmas? Well, Christmas is incomplete without a cocktail. Some of the must-try cocktail recipes are here.
1. Watermelon and Lime Mocktail Recipe
Sip up the freshness on Christmas with a watermelon and lime mocktail recipe. 
Ingredients:
1 Watermelon 

2 Limes

1 tbsp sugar or honey

500 ml chilled soda water

10-15 ice cubes

A few mint sprigs for garnish
Method:
Remove the skin and any seeds from the watermelon before cutting it into chunks. You'll need approximately 450g of its flesh. Put the chunks into the freezer and leave for an hour to get really cold.

Cut 2 thin round slices from each lime for the garnish and place them aside. Next, squeeze the juice of the remaining limes into a blender.

After an hour, take the watermelon out of the freezer and mix it with sugar, honey, chilled soda water, and mint leaves.

Blend it until it's smooth. If you prefer a thinner consistency, add a little soda water and stir it. Pour the mixture into a jug filled with ice cubes. 

Your delicious mocktail is ready. Garnish it with the lime slices you kept aside and the mint sprigs.

If you want, fill it with more ice, and serve it in 

plastic tumblers

. 
2. Apple Cider Mocktail
This Apple Cider mocktail is a simple and delicious mocktail that contains bold apple cider flavor and cozy spices. This mocktail is the perfect addition to any Christmas table because it's created with simple homemade apple syrup, freshly squeezed orange, and lemon juice. Granny Smith apple, Gala, Honeycrisp, and Fuji work best for this drink.
Recipe:
The Apple Cider Mocktail recipe is divided into two parts. First, we have to make apple syrup. After that, we'll be moving toward the apple cider mocktail recipe.
Before making an apple cider mocktail, make sure that you take out your drinkware, including plastic drinking glasses, cups, and plastic tumblers. If you don't have disposable drinkware, you can buy the best drinkware glasses from Smarty, as they are easy to handle.
Ingredients (Homemade Apple Syrup)
1 sliced Gala or Honeycrisp apple (Skin on)

organic brown sugar, ⅓ cup

1 cup distilled water

1 teaspoon of cinnamon powder

½ teaspoon of nutmeg powder

¼ teaspoon of allspice powder
Method:
Combine all the ingredients in a saucepan over medium-high heat and stir them. Bring the mixture to a boil for 1-2 minutes.

Bring it to a simmer and cook for another 5 minutes. Remove it from heat and let it cool completely. 

Your homemade apple syrup is ready.
Ingredients (Apple Cider Mocktail)
1 cup apple cider, either homemade or purchased

¼ cup homemade apple syrup

½ freshly squeezed lemon

1 freshly-squeezed orange

Lemon soda for topping 

Crushed ice
Method:
Add a bit of crushed ice, apple cider, orange juice, lemon juice, and cooled apple syrup to a mason jar or cocktail shaker. Shake for one to two minutes to blend the ingredients.

Fill your 

plastic drinking glasses

 with crushed ice, pour half the mocktail mixture, and top with your favorite lemon soda until the glasses are ¾ filled. 

In the end, garnish the glasses with apple slices and cinnamon sticks if you want. 
3. Mojito Mocktail
This Virgin Mojito mocktail is a refreshing mix of lime and mint. Your guests will love it. It is full of flavor from healthy ingredients and is incredibly simple to make for a big crowd. 
Ingredients:
Fresh lime juice

Honey Syrup

Fresh mint leaves

Carbonated water

Ice
Method:
Mint leaves, and lime juice should be muddled together in a glass.

Crush the leaves to extract the flavor from the mint. Use a wooden spoon handle or a muddle.

Add the honey syrup to this mixture.

Add carbonated water.

In the end, garnish with lime slices, a few mint sprigs, and fresh fruits if you want.

Your easy-peasy Christmas mocktail is ready. Serve it in your favorite drinking glasses.
4. Crimson Christmas Punch
Because of the stunning red color of this punch, it's perfect for serving at Christmas parties. Since it doesn't contain alcohol, even the children can enjoy it! Merry Christmas!
Ingredients:
1 cup cranberry juice

5 cups tropical-punch

1 cup lemon juice

1 cup pineapple juice

2 cups raspberry
Method:
Make sure all the ingredients are chilled.

Mix all ingredients into a bowl, including lemon juice, pineapple juice, and cranberry juice. 

Add scoops of raspberry sherbet into this mixture.

Let it sit for a few minutes.

Mix it well and pour the mixture into separate drinking glasses.

Garnish the glasses with lemon or pineapple slices.
5. Pomegranate and Grenadine Mocktail
Made with pomegranate and grenadine, this mocktail is definitely going to fill your mouth with water, and this is a must-try recipe for your Christmas party.
Ingredients:
Pure pomegranate juice

2 cups sugar or 3-4 tbsp stevia

Sparkling water

Lemon, orange, or cranberry

Candy canes
Method:
Bring pomegranate juice to a simmer in a saucepan. Reduce heat and simmer for 15 to 20 minutes until the liquid is reduced by half.

Add sugar and stir it until it is completely dissolved.

Pour the mixture into a container and refrigerate it until completely chilled. 

Combine 1 ½ to 2 tablespoons of grenadine with ½ cup of flavored water.

Add the sugar cane, fill with ice and gently stir it before serving in transparent plastic tumblers.
6. Fruity Mocktail
When hosting a family gathering, prepare this fruit-flavored mocktail with grenadine and orange juice. With grape and blueberry stirrers, it's more enjoyable.
Ingredients:
Green grapes

Blueberries

4 tbsp grenadine

5-6 cups of orange juice, depending on the number of people.

Sparkling water for topping
Method:
To make stirrers, thread the grapes and blueberries onto the skewers.

Fill the glasses with grenadine.

Pour the orange juice into the glasses that it sits on top of the grenadine.

Add the stirrers and top up with sparkling water to serve.