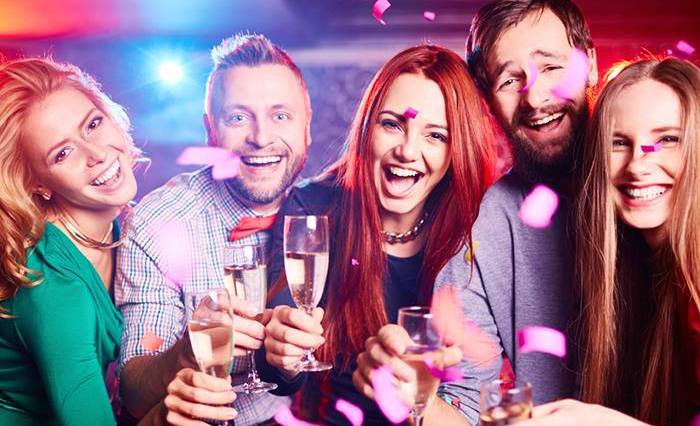 How to Celebrate New Year's Eve?
The year 2022 has probably been filled with many ups for you. If it's been filled with some downs, we're glad to see it come to an end so you can move forward to a brighter future. It's important to celebrate the wins you've had in 2022 - whether it's been fantastic, awful, or a mix of both. A big one? You have survived, so take a moment to consider how you want to greet the new year.
On New Year's Eve, you can do the obvious things like partying, watching the Ball Drop on TV, or enjoying a delicious dinner with family and friends. What we hope you don't do is pretend that it's just another day.
Setting your intentions for the next 12 months around the sun on New Year's Eve will help you kick off the next 12 months around the sun perfectly. Think about what you intend to accomplish and who you want to spend the day with before choosing what to do on the day and who to be with. 
1. Set Mini Resolutions for the Coming Year
You can make minor improvements to your life this year during New Year's Eve. Instead of making impossible-to-keep promises, start with achievable victories, so you'll be much more likely to achieve them. You're starting with small goals rather than unrealistically big ones you might have set in the past. Keeping on track will be much easier if you strategize. 
Once you have identified your goals, break them down into the specific steps required to achieve them. Then, anticipate what speed bumps you will encounter. For example, what usually prevents you from getting up early if you want to run in the morning rather than at night, and how can you make it easier for you to do so? Once you have tracked your progress, stayed organized, and celebrated your wins, you are ready to move forward.
2. Lessons Learnt in 2022
Reflect on the challenges that you overcame last year. Did you learn anything about yourself, your family, or your local community as a result of their actions? Then, consider how and what you have learned might be useful to you in the future.
Consider how you have been spending your time over the past year, and consider what ideas, habits, and relationships have been holding you back from reaching your full potential. The best way to reduce their presence in your daily life or let them go entirely would be to ask yourself how you can do so.
3. Clarify Your Goals
To begin the new year with clarity and focus, it is necessary to spend some time on New Year's Eve contemplating what lies ahead, reflecting on what lies ahead, and setting some intentions for that new year to get you ready for what lies ahead.
If you break down your goals by quarter, month, or even week, you will be amazed at how much you can accomplish if you break down your goals accordingly. Putting some effort into planning will allow you to achieve a lot. It will take only a little bit of your time and effort to achieve the desired results.
4. For a Fresh Start, Declutter Your Home
Your home should always be organized and tidy throughout the year, not just in the springtime. Keeping your surroundings orderly gives you creative space to think about ideas. As a result, you will undoubtedly feel refreshed, unburdened, and prepared to handle any challenges that may arise in the coming year.
As Marie Kondo suggests, you simplify your possessions and keep only those items that bring you joy in your life. As a result, there will be no doubt in your mind that you will feel unburdened and ready to handle anything that may come your way. Get rid of clutter piling up in the corners of your home and ruining your appearance by investing in some organizers.
5. Year-End Memory Collection
Can you remember when the last time that you printed out pictures? It has been a long time since you did that. It may have been a while since you have done this, but now is the perfect time to do it since you haven't done that for a while.
Relieving memories in a tangible form, no matter what type of scrapbook you create, regardless of what you are creating, can be a great way to relive your emotions over the past year. Can you make a scrapbook on a digital platform without cutting and pasting all the photos, or do you want to do it yourself? Some services like Smilebox and Shutterfly will do that for you.
6. Play Games with Your Family
It is possible to celebrate the new year even if the people you love and cherish are spread out far from you and cannot visit you on the occasion because they are too far away.
You can connect with your friends and family online in a number of ways, including playing online games that are great for groups and video chats and games you can play over FaceTime. Or, just play games that are family-friendly at home with your family.
7. Be Crafty with New Year's Eve Decor: Get Creative
Decorate your party with extra flair this year. A simple backdrop from Amazon and fun props themed to 2023 can make a great photo booth to make your event memorable. You can also get super creative with high-quality and durable dinnerware sets. We suggest you use plastic wine glasses and disposable plastic champagne flutes from Smarty to make your New Year party tables look luxurious!
8. A Fancy Dinner is a Must
On the eve of the New Year, nothing seems to be more than wrapping up in your coziest lounge clothes and pulling out all the stops to prepare a complete gourmet meal from start to finish. You are sure to have a fantastic time whether you take your partner on a culinary journey or host your best friends for a dinner party; whatever it may be, you will surely enjoy the experience.