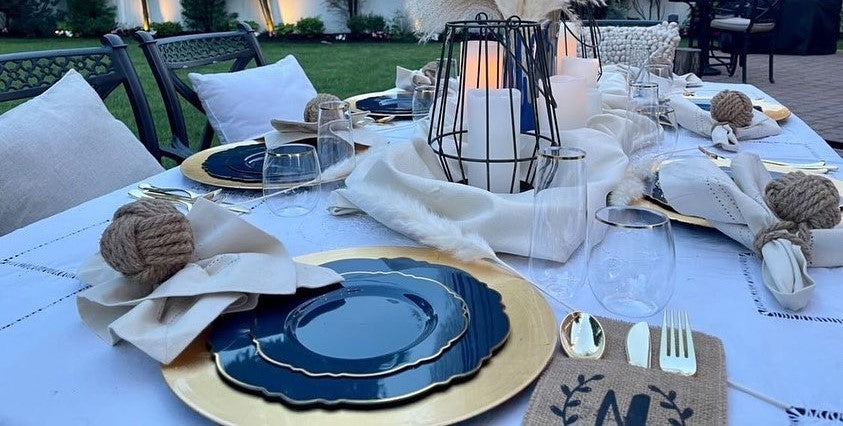 10 Tips to Throw a Chic Boho Dinner Party
As summers approach, we start fantasizing about an exquisite outside picnic to enjoy the glory of the weather with our friends in a beautiful environment.
Throwing a chic boho dinner party is the most enjoyable event you can experience. Your ability to prepare delicious meals and serve them creatively will not only outscore you in your social circle but will also greatly amaze your friends.
The ideal setting for delicious food and an enjoyable conversation with our loved ones is a unique dinner party with a bohemian theme. This informal but vibrant setting creates a stress-free environment that encourages your friends and family to rest, enjoy, and cherish their time together. 
Dinner parties and spending time with peers have gradually begun to take off as people are now comfortable getting together following Covid-19.
The best part is that we've provided you with some excellent advice for arranging the perfect dinner party. 
1. A Pleasant Theme-Perfect Start
When organizing a boho dinner party, choosing a theme or color combination in advance can be a great place to begin. Picking a theme can help to tie the rest of the party decor together and be very beneficial when choosing tableware, decor, and food options. You can make it as specific or as broad as you like. 
We suggest you choose a color scheme that goes well with the ongoing season. 
Make an effort to use the decor supplies you already have so you can save your time and money.
2. Décor At Its Best
Make the party area appear magnificent and trendy with party supplies, printed chair covers, and fairy lights. Table mats, tablecloths, and drink stations are nice touches that will give your attendees the impression that you've worked hard to impress them. 
3. Adorn Your Chairs
Tie ribbons to chairs for a quick, low-cost technique of adding a whimsical element to the party decor. It also produces a lovely appearance when flapping in the air.
4. Have Some Flowers - Make Everyone Happy
Everything gets better with a touch of pretty flowers. Flower walls or a floral backdrop would work best for a dinner party. There's no better way to welcome your guests with a wreath of fresh flowers.
A dining table looks flawless with a floral centerpiece. However, you can make an arrangement that goes beyond the aesthetic; boost your guests' energy with the presence of fresh flowers, and get ready for a pleasant event ahead.
A few lovely flowers in wine glasses and bronze vases might also look enchanting if making an epically huge and beautiful centerpiece is out of your level of expertise. 
5. Give Your Dining Table a New Look
A boho-chic party table is incomplete without natural elements. So decorate your table with flowers, foliage, and rustic vases to make it give off peaceful and happy vibes. 
Your table will look much better if you use appropriate and vibrant napkins.
Get fancy plastic plates for a perfect boho-chic table and put nicely folded napkins on them. You should keep the coordination alive without getting too clingy. For that, we suggest you get rustic napkins with varying patterns. To make the plates look more beautiful, put napkins on them. Uniquely fold the napkins in shapes like bat fold, tulip fold, and rose fold.
6. Choose The Finest Crockery
It can be tricky to find matching dinnerware for unexpected guests. Choosing a minimalist, floral design with plates of different colors would not look bad. Get the table covered with multiple sets of plastic party plates - blending plain and patterned designs in vibrant colors to give the table a charm.
Another way of increasing the amount of dinnerware is to use vintage crockery. To create a unique collection of unmatched items that are ideal for use for dinner parties, look for alluring teacups and saucers, disposable plastic plates, and serving dishes.
7. Food that's Perfect to Serve on Boho-Chic Table 
When deciding on the menu, consider your guest's choices and preferences. In addition, you must note to avoid the foods that cause allergies to some people.
Chicken skewers with Pita Chips board must be ready as soon as the guests arrive. Before the main course at dinner, people would love to have a few appetizers on some elegant disposable plates.
You can serve Roasted Broccolini, Roasted Salmon as the main dish, and Mini Fruit's Pizza for the dessert. Serve the meal in this beautiful palm leaf dinnerware.
8. The Flawless Party Outfit
Look your best and surprise your guests at a Boho dinner party. Make a dress code for your guests and have a fun, Boho-chic-themed dinner party! Depending upon your likeness, you can select a vintage or modern dress code. Select a dress code that is not complex, and anyone can pull it off.
9. Keep Your Guests Comfortable
Making your guests feel comfortable is the key to a worth-remembering party. Providing comfy seats with a fluffy oversized cushion at the back is essential if you don't want to give your guests severe backaches. Also, ensure you don't opt for loud music at the party because headaches are as bad as backaches.
Provide plenty of tissues to your guests and have some extra dinnerware for unforeseen events.
10. Party Favors are a Must
Parties never get completed without party favors. To make it an evening to cherish, consider offering your guests thoughtful gifts that will serve as a lasting memory of the event. If you want to keep it specific to the Boho theme, you can give them a vintage vase or a fancy teacup.
Host a Boho dinner party for your family and friends with these ideas. Our ideas will collectively create a memorable evening that will be the hot topic for several weeks. From the table settings to the tasty meal and creating an exceptional ambiance, you'll soon master the art of hosting dinner parties.