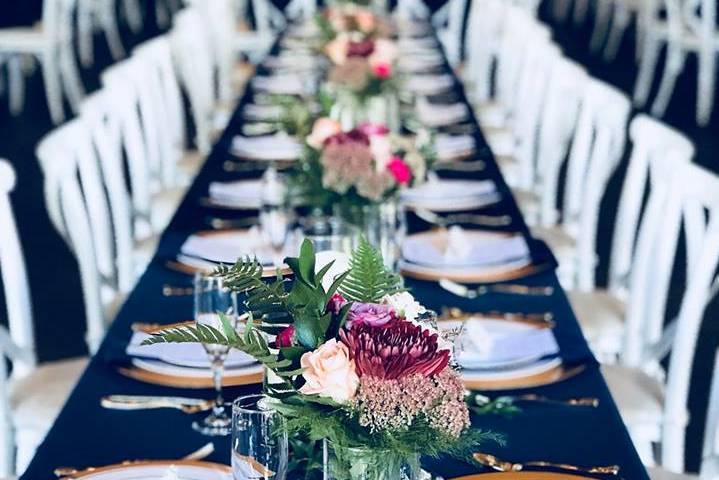 Why You Should Use Disposable Wedding Plates
Choosing perfect dinnerware is really important to plan along with the rest of the wedding planning. Your wedding day must be the day that everyone wants to enjoy with perfection, and when it comes to making your wedding a perfect one, everything matters, including those plates on the table.
Most people don't consider planning for dinnerware and instead pay more attention to the venue, decorations, and other fun stuff. No doubt, all of those things are extremely important to consider, but you should pay much more attention to the type of dinnerware used by the guests.
There should be some essential factors in your mind when choosing a perfect dinnerware. It must look gorgeous, add value to your wedding decor, be reliable, easy to handle, and above all, it must be affordable since it's a wedding. You would definitely need hundreds of plates and other dinnerware items.
Disposable wedding plates are pretty popular these days, and they are a perfect solution when we consider all the factors we just mentioned. In addition, they're cheap and reliable, and you get hundreds of different options in colors, shapes, and designs.
So, why should you use disposable wedding plates? Here are some of the most important reasons that make disposable wedding plates your go-to products for your wedding decorations.
Cleanup is Much Easier
With disposable wedding plates, cleaning the wedding mess is more accessible, and you won't have to worry about cleaning them afterward.
Imagine you managed an incredible wedding night, seeing off all your guests, enjoying those wedding vibes, and suddenly seeing a load of dinnerware that needs to be cleaned. Usually, the organizers do the dishes, but if you're the one who's managing all the stuff, you're really going to have a hectic time!
You can simply free yourself from this hectic job by having disposable wedding plates and making your cleanup way more accessible than it was ever before. At Smarty, you can get disposable plastic plates of all sizes and shapes and make your wedding hassle-free. In addition, these disposable wedding plates make your wedding more enjoyable since you don't have to worry about cleaning the after-party mess.
Traveling Becomes Easier
After the lockdowns were lifted, closed social gatherings were banned due to lockdowns and most of the wedding venues were not allowed to operate. As a result, people started to organize their own venues in the countryside, on nearby beaches, and on mountaintops which were completely legal and authorized by the state.
When it comes to situations like these, taking all of your wedding essentials with you was a task. However, since the plastic plates for weddings are lightweight, it was effortless to take them to the venue by simply throwing them in the back of your truck.
Nowadays, people love to select a completely natural location that fits perfectly with their wedding theme. Therefore, taking your plastic dinnerware items with you becomes more convenient to such incredible sights.
Affordability? Not an Issue!
Manufacturing plastic dinnerware is relatively cheap compared to manufacturing other dinnerware types like ceramic, silverware, and others. This is because the plastic items are highly affordable to manufacture, and they're made in bulk, so the cost per unit is extremely low compared to other types.
Plates designed and manufactured for weddings are pretty beautiful and look unique, but they're also manufactured in bulk which allows companies to offer them at cheaper rates. So from a customer point of view, people buy plastic wedding plates in bulk and get additional discounts.
Color is Important!
At weddings, you can't use those thin white plates. You have to go with some color to match your table setting with the overall wedding party. Choosing a color for dinnerware is ultimately a subjective matter. You have to decide your wedding theme and plan for a specific color.
At Smarty Had A Party, we offer elegant plates for weddings in different colors and shapes. You can select the one that fits perfectly well with the overall feel of your wedding. Make an everlasting impression by designing the entire charm and aesthetics of the wedding.
Match Your Table With Bridal Dress
Show your love to your partner by matching the theme of your table with the color of the dress your partner. This nonverbal gesture will definitely make your partner feel loved and important.
Choose the color of your dinnerware that matches the color of your one-and-only's dress. You can also go with the floral designs that we offer. These golden floral wedding plate designs can be a perfect option.
Moreover, you can also go with disposable black plates with golden vintage rims. They look extra gorgeous with vintage-themed wedding decorations.
If you can't decide on a specific color, black is something to go with. It can fit in with almost every wedding style, and it can be used in both formal and informal settings. In addition, the black color has its own charm and grace that can't be compared with any other color.
Ending Note:
It's all about your preferences. If you really want to enjoy ceramic premiums and have no budget boundaries, then you can go with ceramic dinnerware.
Along with the affordability factor with ceramic, another downside is that you'd break them if you slip them on the floor. Moreover, these are pretty heavy, so if you're planning to travel to a venue that's managed all by yourself, transporting these ceramic plates would be a huge hurdle.
Silverware, on the other side, is another excellent option, but again, they're heavy, and you'd have to suffer if your venue is far away.
Considering most of your preferences, we highly recommend plastic dinnerware since it's entirely rational to buy them for a special occasion such as a wedding.
In the end, it's all about your personal choice. It's your day. You need to make it perfect according to your standards of perfection! Happy wedding decorations!