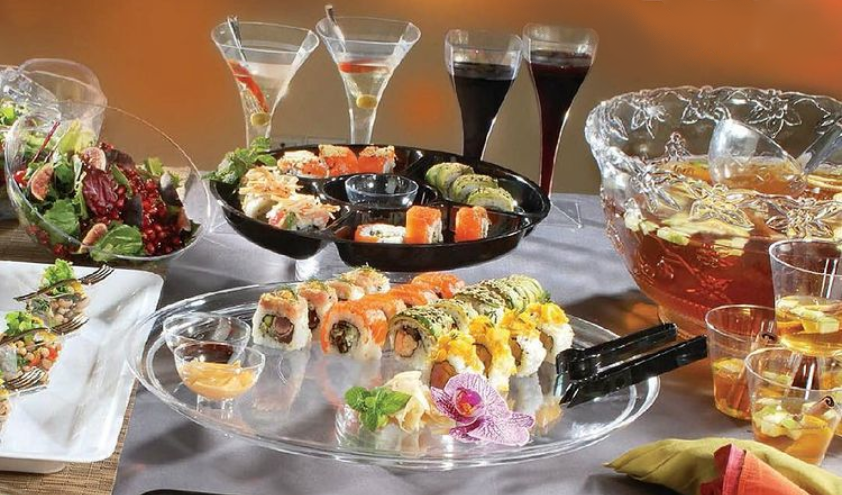 Outstanding Buffet Design Ideas
The only thing that your party guests are going to remember after a party with a buffet is the display and design of it. So, why not spend just a few minutes learning about unique ideas about designing your buffet and how to display things in style to bring that excellent little wow factor to your party.
If you haven't planned much for your buffet, it can really become a complete mess, and you aren't going to have a good time. So embarrassing, right? Here are some of the most incredible buffet design ideas to try next time you throw a party with a buffet.
Go With White Plates Only!
You won't believe it, but this simple trick can make things look simple yet elegant. When it comes to planning for choosing the right dinnerware for a buffet, you must always go with simple white plates. Your buffet would definitely be overwhelmed with the range of food colors.
White plates on the tables will create simplicity, allowing the individual food items to shine with their unique colors. You don't want your table to look like a rainbow. So, only add simple white plates to make your buffet look simple and elegant.
If you don't want to go with simple white plates, you can also choose to have eco-friendly plates. The disposable eco dinnerware can bring those natural vibes to your party and can become an excellent replacement for your white plates.
The eco-friendly dinnerware includes eco-friendly palm leaf bowls, biodegradable eco trays, eco-friendly flatware, and all the other essentials you'd need to throw a fantastic party.
Avoid Traditional Display
You can play with the way you display the food on the table. Try not to follow the traditional style of placing everything in trays and bowls and just stuff them on tables. Instead, you can go with different styles and designs by adjusting the height of certain foods.
There's a complete art of science behind placing different food at different heights and locations. Nothing pops out when you place everything at the same height on the table. If you want to emphasize one dish over the other, you can't really do that if you're following a flat table display setting.
Try to create visual interest by giving heights to different elements on the table. Make your tablescape look exciting and appealing. You can get mini-stairs for the buffet or risers to lift some of the food and give your table a new look.
Floral Decorations
Fresh flowers can make your event more blissful, but you must be pretty picky when decorating floral. Always use fresh flowers so that you can have a soothing experience throughout.
Your flowers must not be so high on the table that they disturb conversations. Instead, the floral decorations must be kept low on the table so your guests can have eye contact with others and have an uninterrupted conversation.
Don't Forget Something for Kids
Buffet parties are most commonly arranged for formal events, but if you're expecting some kids over the party, do something for their entertainment. You must keep the following items on the table to keep the kids busy with the food.
1 - Chocolates (of different brands, flavors, and colors)
2 - Lollipops (any type of hard candy)
3 - Mints
4 - Bubblegums
Add Multiple Types of Cheeses
Everyone has a different taste for having some cheese on the plate. So, you can't just go with one type of cheese on the table. Instead, you should go with a variety of cheese options. But, it's essential to not exceed more than five types of cheeses.
Having more than optimal types of cheese on the table, you're actually making your guests get overwhelmed. So don't put your guests in an indecisive state while choosing cheese.
Be Rational While Choosing Dinnerware
After a fantastic buffet, you'll get a lot of dirty dishes, and nobody likes to do the words right after an awesome party. So, eliminate the anxiety of doing the dishes by replacing your dinnerware with disposable eco dinnerware. Then, you can simply throw them in the trash bin once you wrap your party.
The eco-friendly plates will give your party a natural feel and be easy to use for you and your guests.
Flavorize Your Desserts
You can add a variety of desserts to the buffet. However, don't go with just a single dessert. It really makes your planning questionable. People love to have multiple flavors in the dessert. Mostly, people pay more attention to the main meal and overlook the importance of desserts.
People are really looking for those sweet, red-velvet molten lavas. Of course, you can add whatever you want, but make sure you're planning for a couple of dessert options.
Donuts & Cookies are one of the most common and favorite items you can include in the list. Moreover, you can also go with different types of pies, candies, and even cakes. There are hundreds of recipes that you can try to give your buffet a blend of sweet tastes.
Setting up ice-cream bars seems to be a good idea, but when you actually couple it up with a buffet, it doesn't actually fit in. However, if your budget and energy allow you to manage an ice cream bar along with the mentioned dessert ideas, that would be HUGE!
Outdoor or Indoor Buffet?
Well, it's subjective, and you can choose whatever suits your fantasy. However, the outdoor buffet arrangement gives more opportunities to play with the party's theme. For example, you can set your tables around a tree and decorate it with lots and lots of LEDs. It will become more like your giant centerpiece.
However, you can do a lot of stuff indoors as well. You have to arrange some seats and good air-conditioning because no one would like to feel suffocated, and you're good to go. Use different lights to bring some unique vibes.