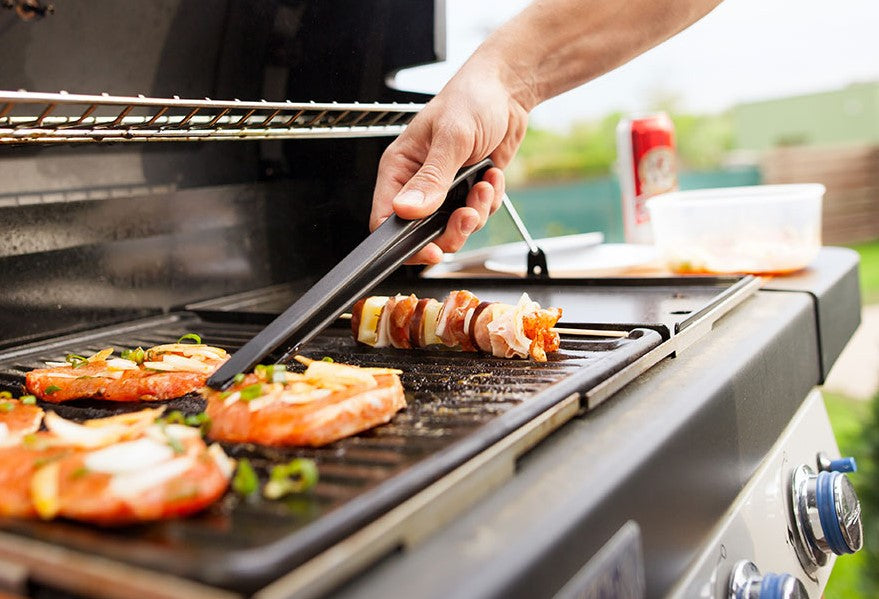 What Do You Serve at a BBQ Party?
Backyard BBQ cookouts are the best form of entertainment on a summer evening. But they can be very daunting because of the amount of time spent only thinking about what to serve. If you are confused about what to serve at your BBQ party, take help from this guide. We have explicitly explained what should go on your barbecue party tables so you can enjoy the evening without worrying about anything.
Want to Elevate Your Event Appeal? We've Got You.
Get 10% Off Your First Order
Sides
Side dishes are essential since they complement the main course and enhance its flavor and taste.
Summer Salad
While the guests are waiting for the BBQ to be done, serve them this salad, so they have something to eat in the meanwhile. Like any simple, basic salad recipe, this requires a few ingredients that are probably already present in your kitchen.
Chop cucumbers, onions, tomatoes, spring onions, and lettuce and mix them with lemon juice, salt, and pepper. Then, your salad is ready to be served!
Pesto Pasta Salad
In a food processor, put 1 tbsp lemon juice, 3 cups basil leaves, one cup parsley, ⅓ cup roasted pine nuts, 3 garlic cloves, ½ tsp salt, ½ tsp black pepper, ½ cup olive oil, and blend. Next, grate ½ cup of parmesan cheese and put it in the food processor. Blend everything for one minute and pour 1 ¼ cups of greek yogurt into a bowl. Add in cooked short pasta and cherry tomatoes. Combine well, and it is ready to be served to your guests.
Grilled Corn
Corns are everybody's favorite in recipes, but they become a whole mood when grilled. Grill corn at medium-high for 12 minutes and then cover them in mayonnaise, sour cream, and dill mixture. Add lime juice, salt, and black pepper to the mix to bring about the taste.
BBQ Chicken Rice
Make these barbecue-vegetable rice and enjoy a spicy barbecue with rice.
Marinate half kg boneless chicken cubes for 20 minutes in ½ cup yogurt having 1 ½ tbsp ginger garlic paste, 1 tbsp soy sauce, ½ tsp salt, ½ tsp black pepper powder, 2 tbsp lemon juice, and 2 tbsp' tandoori masala'.
Tandoori masala can be made using:
Coriander (2 tbsp)

Cloves (4)

Green cardamoms (2)

Black cardamoms (3)

Black peppercorns (12)

Cinnamon stick (1)

Star anise (1)

Dry ginger (3)

Mace (1)

Salt (1 ½ tbsp)

Red chili powder (1 tsp)

Turmeric powder (1 tsp)

Citric acid (½ tsp)

Yellow food color (¼ tsp)
(Dry roast coriander, cloves, green cardamom, and black cardamom and grind them to a fine powder and the rest of the ingredients. Strain and put in an air-tight jar. Or even better, try finding a pre-made tandoori spice mix from the store).
Fry one finely chopped onion in 4 tbsp oil until it turns golden brown. Pour the marinated chicken and the mixture and cook for 5 minutes on low flame and 10 minutes on the high flame while stirring continuously. In the end, give coal smoke and cover the lid.
Cook vegetables (carrot, cabbage, capsicum, all julienne cut) with 2 tbsp soy sauce and oil. Set aside. In another pan, fry chopped garlic and red chili flakes for 2 minutes and take off the stove.
Put boiled rice in a tray and pour the red chili flakes and garlic mixture, cooked vegetables, and the leftover BBQ chicken. Top it off with the 'Thousand Italian Dressing,' whose recipe is shared below.
Grilled Chicken
We know the previous recipe seems like it has all the spices in the world. But, if you don't prefer spicy food, this BBQ grilled chicken recipe is for you.
Dips and Sauces
What's BBQ meat without some sauces? First, prepare the mint sauce by blending mint leaves, coriander leaves, one green chili, 4 drops of lemon juice, a pinch of salt, 3 tbsp of yogurt, and a pinch of cumin powder.
You can also prepare 'Thousand Island Dressing' by mixing mayonnaise (1 cup), tomato ketchup (½ cup), salt, black pepper, vinegar (½ tsp), and finely chopped onion and cucumber (1 tbsp each).
Drinks
Make a bubbly blue lagoon mocktail like you make an ordinary lime and mint soda drink, but with a twist. In elegant glassware, put ½ tbsp finely chopped mint, 1 tbsp sugar, a pinch of salt, 1 tablespoon lime juice, and 3 ice cubes, and fill it up to the top with white soda. Here comes the twist - pour a couple drops of liquid blue food color and mix. The beautiful blue color of this drink is perfect for a summer BBQ party.
Desserts
Barbecue parties call for light desserts that don't feel very heavy on the stomach but satisfy everyone's cravings for sugar. Because you already have consumed too many calories during the party, you should stick to low-calorie desserts that essentially don't involve a lot of cheese or cream.
You can serve 'blueberry, raspberry, ginger and cream parfaits' or pina colada popsicles. For an even healthier dessert, make a rainbow fruit salad that is both colorful and healthy, making it perfect to have on a bbq party menu. It has all the delicious fruit; strawberries, mangoes, blueberries, melon, and apples.
Almond stuffed dates covered in cream cheese are another excellent option for desserts. Yes, there is cheese there, but these are mini desserts, so people will only eat one or two.
How to Serve BBQ?
Now that you know what to serve on your BBQ tables, another question arises - how to serve the BBQ dishes appealingly? The answer is simple: in an elegant disposable serving ware that's both elegant and durable. But that's pretty hard to find, right? Well, not anymore! Smarty provides you a one-stop solution for all your party needs. With our elegant and sturdy plastic serving party supplies, you can set tables that shine throughout the event.
Moreover, our disposable serving platters and disposable serving flatware are available in various shapes and colors, so you don't have trouble matching the serving ware with your party's theme. Hurry up! Look at our collection of plastic serving trays for parties and grab the best ones for yourself.
Want to Elevate Your Event Appeal? We've Got You.
Get 10% Off Your First Order