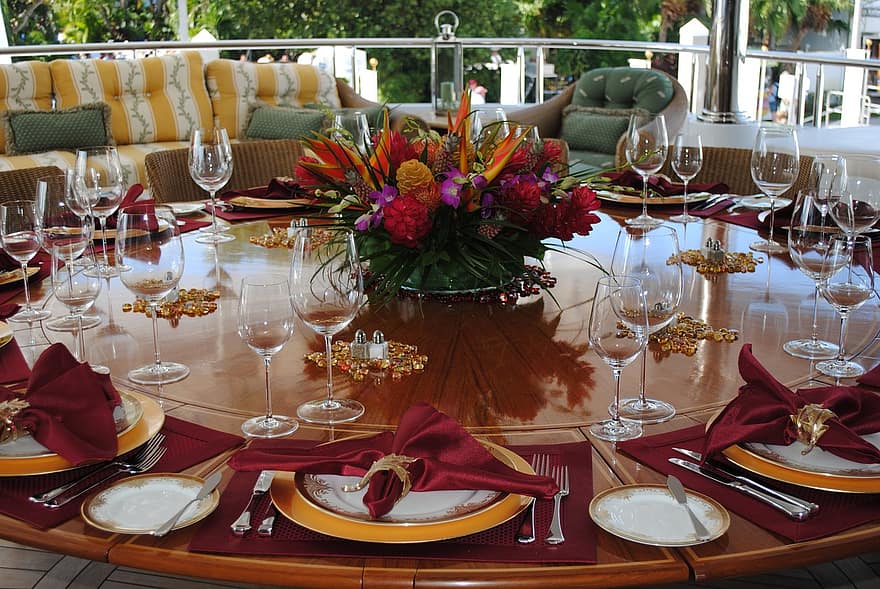 How to Set a Stunning Party Table?
You must get bored sometimes thinking that I need a break. So, what pops up in your mind when you think about something similar? Party! For this to happen, you need the proper decorations, utensils, and a couple of individuals. 
Whether it's a big party or a small one the main thing is to spend quality time and relax with some fresh air.
You want to have the best memory of your life with your friends, colleagues, neighbors, and family members, but how can this be possible?
It's pretty simple. You need to have the proper table settings to make your decorations and designs fabulous. Moreover, you need to have the best dinnerware sets, which could be made of plastic, disposable, elegant, or fancy type.
We all love to dress up beautifully for the parties. But when you do it, don't forget to do the same with the dinner table. The stunning ambiance, dining experience, and overall décor are highly influenced by the arrangements or settings you make at the table. 
Making the table look good makes your guests feel welcomed and appreciated. "Live for today, plan for tomorrow, party tonight, party tonight," says Drake. This guide will explain all the requirements necessary to have the best party ever!
Top Ways To Set up Your Party Table in 5 Minutes!
You have to follow these quick and easy tips to achieve your plan.
Folded Napkins.

Elegant table runners or tablecloths.

Flowers with a beautiful scent.

Your centerpiece decoration pieces.
A Quick Way To Solve Setting up a Party Table
The key element to solve a party table to be set up appropriately is by creating attraction for guests and friends, for example, setting up candles and lighting in the night to have a beautiful view.
Music can help prevent your friends and family from becoming bored and prevent others from leaving early.
You can create some outdoor or indoor games to prevent everyone from becoming bored and help them enjoy playing games like Video gaming, football, volleyball, or badminton. This way, it would keep others active and energetic, causing enjoyment and self-satisfaction.
You can also create activities like stand-up comedy or drama, which cause a lot of enjoyment, keeping everyone entertained and happy. If you have a backyard where you can do this sort of stuff, that would be a central plus point to utilize in setting up your party table. Like they say, "greenery is for the peace of the mind." 
Choose Disposable Dinnerware For The Party and Make It Look Brilliant
Instantly, all your requirements for a beautiful table setting can come into place if you set up disposable dinnerware.
What goes into disposable dinnerware that works?
These are the following reasons that work:
Long-lasting

: These are made for huge gatherings like weddings and special events. They are more robust and have better durability. Utilizing them can help you to have a fantastic party. Additionally, they can also prevent wear and tear from happening. Whether having an indoor party or an indoor party, these utensils don't break easily as ordinary delicate plates do.
Affordability

: You can easily afford them. They are less expensive compared to ordinary plates. Instantly, you can obtain them at a reasonable price.
Effortless Cleaning

: They are way easier to clean and remove dirt, and you don't need to use excessive water to remove grease. Because they will not affect the renewable source, it helps prevent waste from happening. They are known as biodegradable plates.
Plastic Dinnerware For Parties: It's not as difficult as you think
This is quite common and easy to use plastic plates at parties. For instance, you're having a tea party and having trouble finding the proper plates. However, if you want a quick set-up with less time consumed and want to cover basic needs for a table, then plastic plates are the best for you. 
You can check for items similar to plastic dinnerware by visiting Smarty had a Party! We have the most elegant disposable dinnerware for you in many designs, shapes, and colors. 
You can succeed in elegance with disposable dinnerware. Using disposable party dinnerware sets will open your guest's eyes and make them become mesmerized by your table setting. Then, luring them to it with extraordinary designs, you can set up desserts, bowls, cutlery, and even table covers.
Tip to remember
:
You can have fun with disposable dinnerware by decorating, figuring out new ways of styling them, setting up straws for drinking, covering a table with plates in a circle order, and nearby trash cans for throwing disposables away. Furthermore, set different sizes of plates for various food items so that it wouldn't bother guests in choosing the right plate for themselves. 
Here's What Really Matters in Fancy Disposable Value Sets
It primarily depends on the quality of value sets you use. Because if you use low-quality plastic dinnerware sets that would break easily, you would be left with nothing, leaving your money to waste, which would cause you to become upset and sad. 
The fancy disposable value set matters on which type of company items you are using. If you are purchasing from a well-known brand, this would save your time and benefit you and others in the surrounding.
It could be made of anything like wooden or sharp cutlery items of stainless steel that would actually prevent rust from occurring and would be bacteria-free. Attractive designs would also make it look good. But primarily, all sets of fancy utensils must be included as Forks, knives, spoons, teaspoons, and cups for any sort of drink from smallest to largest.
Feedback Is Important! 
What can most importantly help you is feedback and advice from your friends and family on how they would like to set up their party table, and grabbing a few friends for help isn't so bad. This way it will give you a better view of what you order to make it the best party ever.