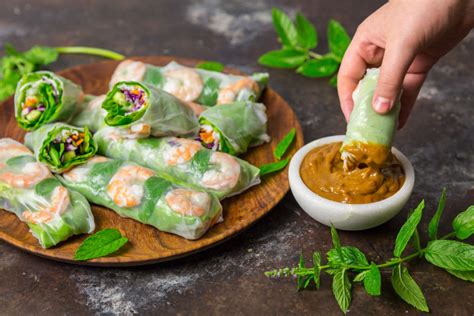 Vietnamese Rolls with Peanut Dipping Sauce
Vietnamese spring rolls traditionally consist of meat, shrimp, vegetables, rice noodles, or other ingredients to taste wrapped in rice paper. It is believed that the spring rolls arrived in Vietnam from China, where they are adapted to local flavors and ingredients. Rice paper, vegetables, herbs, and various types of meat, fish, or shrimp are used to prepare the rolls, and thin rice noodles can also be added. The rice paper is dipped in water briefly and then placed flat on a plate. The desired ingredients are arranged in the middle of the paper, and then everything is rolled into a roll. It is most often served with peanut sauce. The rolls are mostly served as an appetizer, fresh and cold
Fresh summer rolls are one of my favorite dishes to prepare because they are (1) versatile based on what I have/am craving, (2) healthy, (3) so, so good, and (4) three words: PEANUT DIPPING SAUCE. Spring rolls are great, but peanut sauce* elevates them to AMAZING! This sauce is simply Phenomenal!!!
We like to think of the Vietnamese roll as an elegant example of fast food: a salad packed into an edible container, which results in something as beautiful to behold as it is practical to eat by hand. In addition, the Vietnamese roll is a big win for the health-conscious because the roll is almost fat-free, and the sauce, while sporting a little peanut butter, is not highly caloric. As a result, one dipped bite yields an explosion of flavors and textures that are guaranteed to excite any palate.
Vietnamese Rolls Recipe
Ingredients:
For the peanut sauce:
Rolls:
4 ounces dried rice vermicelli noodles

24 medium shrimp, peeled and deveined

16 round rice paper wrappers

3 medium scallions, cut into slivers about 3" long

1 bunch of mint leaves

1 

cup

 

finely shredded carrots (about 3 oz)

1 

cup

 

finely shredded red cabbage (about 3 oz)

16 butter or green leaf lettuce leaves

4 Persian cucumber, cut into matchsticks

1 small bunch of fresh cilantro sprigs
Preparation:
First, Whisk all the ingredients together in a 

small bowl

; set aside.

Cook the rice noodles according to the package directions for the summer rolls. Drain and set aside.

Bring a medium pot of salted water to a boil over high heat. Add the shrimp, turn off the heat and poach until bright pink and opaque, about 1½ minutes. Drain in a colander and run under icy water until cool. Dry with 

paper towels

 and cut each shrimp in half horizontally (making them thinner). Place on a 

plate

, cover with plastic wrap and refrigerate until you're ready to roll.

Fill a wide, shallow dish large enough to hold the rice paper wrappers with warm water. Arrange all of the filling ingredients within easy reach around a work surface. Lay down a lettuce leaf and arrange a few rice noodles, cabbage, carrots, cucumbers, scallions, and a few cilantro leaves in the middle. Roll lettuce around the noodles and vegetables in a cigar shape and set aside, seam side down.

Working with one wrapper at a time, submerge rice paper until it is soft and pliable, about 10 seconds (it will soften more as it sits). Remove the wrapper from the water and place it on the work surface. Lay 3 shrimp halves in a row, cut side facing up, just above the center of the wrapper, leaving about 1 inch of space on each side. Place one mint leaf between each shrimp. Place the filled lettuce roll just below the shrimp.

Fold the bottom half of the rice paper wrapper over the filling and roll until the shrimp and lettuce are secured. Then fold in the sides of the wrapper. Then roll the entire wrapper to become sealed, like a burrito. Place the roll on a rimmed baking sheet and cover loosely with a lightly damp paper towel and plastic wrap. Repeat with the remaining wrappers and fillings. Make a little space between each summer roll, so they don't stick together. If not serving immediately, keep the rolls covered with damp towels and plastic wrap at room temperature for up to 2 hours. Serve with the peanut sauce for dipping.

 
Asian cuisine is delicious, healthy, and easy to prepare. Spring rolls are a popular dish that you will find in many countries of Asian cuisine, with minor differences in filling, whether they are baked or not. Often, recipes from Asian cuisine can discourage us due to the lack of food or additives that we need to prepare. Relax, soya sauce is enough to start with. Over time, you will adopt other additives such as Fish sauce, Oyster sauce, miso paste, wasabi, Hoisin sauce, rice paper or noodles, seaweed pickled ginger, and many other foods.
Someone said a long time ago that people eat everything out of pleasure or necessity and that no nation is an exception in that, and when it comes to Asia - that is the rule. The Vietnamese eat everything and are no different from their neighbors in that respect. They do not differ in terms of the importance they attach to food. In a poor, crowded country, every meal today has been a feast for tomorrow since ancient times. 
Vietnamese cuisine does not lag behind Chinese, In terms of variety and quality, although the difference due to proximity and close ties is not easy to notice. Rice, vegetables, and fish form the basis in both Vietnam and China, to which spices are added, and a thousand and one ways of preparing the final product are combined.
These delicious rolls work as a light dinner, a healthy lunch, and one very impressive appetizer. Have fun!
Complementary Smarty Products: