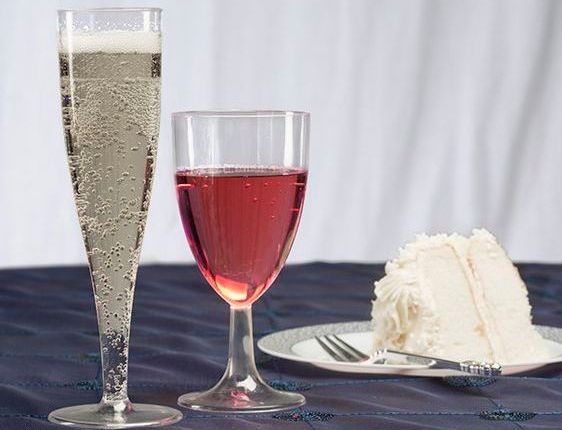 Unique Plastic Glasses to Beautify and Simplify Your Next Party!
Our lives took a complete 360 with the rise of the pandemic, right? We must maintain a safe distance from people, wear a mask, wash our hands with soap and apply hand sanitizer after every interaction. And we must also avoid sharing drinks and food we had a bite or sip of with our friends to prevent the possible virus transfer and many more due to Coronavirus. 
The recent pandemic has taught us a lot of hygienic practices that we weren't aware of or practiced earlier. Even though we knew how to care for ourselves and keep ourselves protected against any potential virus, the way COVID got worse was unexpected. The quarantine sessions were quite disturbing emotionally and economically as well. This was when we realized most of our daily-life practices got to change. 
One practice that changed with the pandemic is using glassware at parties. People used to collect premium and high-quality glass designs from all around the world for their party drinkware collection. Everyone has a prized collection of glassware that makes a special appearance at parties. However, this practice has significantly changed, and rightfully so. The new normal is using disposable drinkware at parties. From an ethical perspective, using disposable drinkware items is a more appealing choice since no one will be drinking from the same cup; the guests can use one cup per person and refill it. And there's no need to wash them afterward, as they are disposable. 
By keeping in mind this arising need for disposable drinkware items, and the lack of variety in sizes and designs, we invested our time and resources to bring the royalty into disposable drinkware categories. It's time to bid farewell to the days when disposable drinkware items were only available in standard size and shape. We've taken our sweet time and designed a range of premium-looking disposable drinkware items to make your party look as fascinating and elegant as before or more. Our disposable cups, glasses, and tumblers are fully recyclable, affordable, and lightweight. Since our drinkware comes at pretty reasonable prices, you can stay in the ever-changing trends without breaking an arm and a leg compared to buying porcelain drinkware. We love reusing our disposable drinkware as containers to start seeds instead of simply throwing them away. 
We have come up with a list of drinkware items you can choose from and the occasions you can put them to use to help you. Do give a scroll. You will end up getting more than what you searched for, for sure! 
Disposable Party Cups
No matter what your party setting is, you're going to need disposable party cups. These are the most common and essential table items. Without any, your table setting will end up looking incomplete. Our disposable party cups come in different colors, so you can choose any color that fits your overall party theme. Round cups, square cups, and tall cups are some cups you can choose from. We have also taken our time to create a range of clear cups with different rim colors, so do have a look. Our disposable party cups can be handled even by a toddler because they are lightweight. Plus, they are super durable, so you don't have to worry about your child getting hurt by breaking one of our cups. Our party cups aren't slippery, so you can stop worrying about accidentally dropping them. 
Champagne Flutes
We've designed some elegant champagne flutes to make your drinkware collection look more royal and premium. These fascinating designs and shapes will let you feel the vibe right off the rip. But, the energy these designs bring in your drink is no match.
We noted that the traditional plastic champagne flutes were of standard size and shapes because they were produced in bulk, and no customizations were made. That's one of the reasons we took matters into our hands. In addition, the lack of variation allowed us to serve you with our elegant champagne flutes to make your party memorable. Now you can choose between stemless champagne flutes, crystal cut flutes, champagne flutes with different colored rims, and many more. Also, before we forget, we have a range of disposable champagne flutes designed primarily to be used in special ceremonies like weddings.
Plastic Wine Glasses
Yes, along with champagne flutes, we also offer plastic wine glasses in different shapes and sizes just to make your party feel more royal. Your guests will love the unique designs of our plastic wine glasses because it makes your drink look extra bubbly.
Disposable Tumblers
What about serving some iced tea or lemonade in our tumblers? They will look extra refreshing due to our design. Now that's promising? We try! 
Our disposable tumblers come in epic designs that flawlessly hold your smoothies, shakes, and cocktails. With our different designs and shapes in the tumbler series, you can now choose any form that fits perfectly with your other dinnerware items. 
Plastic Glasses
Our plastic glasses can be bought in different colors. For special events like the fourth anniversary or a 4th of July party, red or blue colors are the most popular ones. You can choose to use different colors in plastic glasses to make your everyday drinkware items more vibrant. Our plastic glasses can be used at birthday parties, especially your kid's ones. Kids love to use vibrant colors, and you can get their favorite-colored plastic glasses to make them feel special.
Moreover, we also offer disposable fancy martini glasses and disposable plastic shot glasses to make your party exciting and full of choices. Your guests would notice the way you set up your party layout. With our plastic martini glasses and shot glasses, you can stop worrying about a tipsy friend breaking your precious drink glasses. Since our plastic glasses are made of durable material, they can take a tumble and much more without damage.