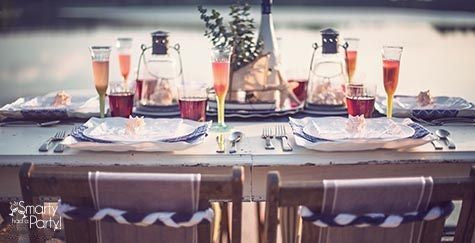 Host a Fun Sea Party with Our Beach Theme Decor
Outdoor parties are always fun in summer. Summer has some epic options available for choosing a perfect location. A beach party is one of the most common ones on the list. The best way to celebrate the blessings of summer is to throw a fantastic beach party to build some memorable moments with your sun-loving loved ones.
You need to keep a lot of things in mind while throwing a fun sea party. It's all about making the right decisions at the right time to make things work. We always forget or ignore small and little things that, if added, would bring a lot of excitement and whole new vibes to your beach party settings. The salty sea breeze awaits you! We're here to assist you in making your beach party more fascinating with our beach-theme décor.
Invite Your Guests with Style
First things first, invite your friends with style. For example, don't just send them a text to come over to a beach party. Instead, send them deflated beach ball and ask them to inflate it and bring it to the party. 
Prepare for the Beach
Preparing for the beach is another essential thing to consider because you don't want your body to absorb too much heat. Getting a sunbath is fun, but excessive of everything is disrupting. So, make sure you and your friends are coming with their items like a beach blanket, towel, and even easy-to-carry chairs.
Know Your Kid's Needs
If you're expecting some kids, make your sitting setup near a public restroom. The kids will need it, so make sure you've planned that as well. Moreover, make sure that your kids are around and in your sight. Finally, bring some fun games for them and keep them busy and engaged so they can enjoy the party.
Hot Day or a Cold Night?
On hot summer days, you need to bring some shades. You should bring beach shades and sunglasses to give your body a little rest when it's too hot. If you're planning to camp the night at the beach, making a bonfire with your friends should be your priority. What's better than having some BBQ and grilled chicken on the beach? Well, do check the weather and wind forecast while planning for a beach party because you don't want the sand to get into your mouth.
Beach Party Dinnerware
We've brought some fantastic beach party dinnerware to make your beach party more exciting. You can make your beach party setting more vibrant with our colorful plastic plates. You can also shop any dinnerware item by color. Along with plates, our modern disposable flatware series will make your dinnerware setting look complete. Moreover, we offer a variety of plastic party cups to cater to your needs for drinkware. Our disposable dinnerware sets also include elegant disposable chargers to make your presentation more professional. The value sets we offer come in epic collections at a reduced price.
Beach Party
Cocktails
Of course, cocktails are an unavoidable detail of a beach party. You don't need excellent bartending skills to make some of these ten classic cocktails for yourself or your friends and find yourself on a white sandy beach wrapped in colorful Egyptian cotton steam that matches the color of your drink!
We suggest a couple of famous summer cocktails that will phenomenally complement your summer party on the beach and satisfy your guests, especially ladies!
Cosmopolitan
No woman has watched Sex and the City without knowing about the famous Cosmopolitan cocktail that Carrie and her friends used to have fun with but also drown out love problems. It seems like something urban and foreign, only ordered by too many stylish girls in bars in elite parts of the city. But, with just a few ingredients, this bar can also become your apartment.
You need:
Quality vodka

Orange liqueur

Freshly squeezed lemon or lime juice

Cranberry juice (determine the measure yourself, depending on the amount of cocktail you want to get, it is crucial to monitor the ratio of liquids).
Pour two measures of vodka and the same amount of cranberry juice, then one measure of liqueur, then lime or lemon juice. Stir and serve in a martini glass. You can decorate the drink with lime peel or roll.
Margarita
A luxurious drink with olives that tanned beauties drink on the beach from a triangular glass with a high rate is nothing but Martini, a cocktail from the big M trio of cocktails, consists of Mojito, Margarita, and Martini.
This drink has wide varieties, but the basic recipe is gin and vermouth. Of course, you can also add some fruit juice or rings of fresh fruit to the base.
You need:
Mix vermouth and gin with ice cubes and shake. Pour into a glass and add 2-3 olives. 
Mojito
Mojito is the most famous summer, the refreshing cocktail you can make very quickly and easily.
It is served in different glasses, sometimes in those on foot, but more often plain and flat, in combination with straws and lime rings. You don't need an occasion or company for such refreshment, only good music. 
You need:
White, pure rum

Leaves of fresh mint

Yellow sugar

Mineral water
Put a spoonful of brown sugar on the bottom of the glass, then put crushed ice and mint leaves and then sprinkle with rum, lime juice, and finally mineral water. Decorate the glass with lime rings. If you want just one sip to take you to an exotic island, indulge in the delicious taste of a Margarita.
It goes best with a cool summer evening and a sweet hit. This way, you will feel the sound of the sea, the salty smell of the air, and hear the rattle of pearls in your hair.