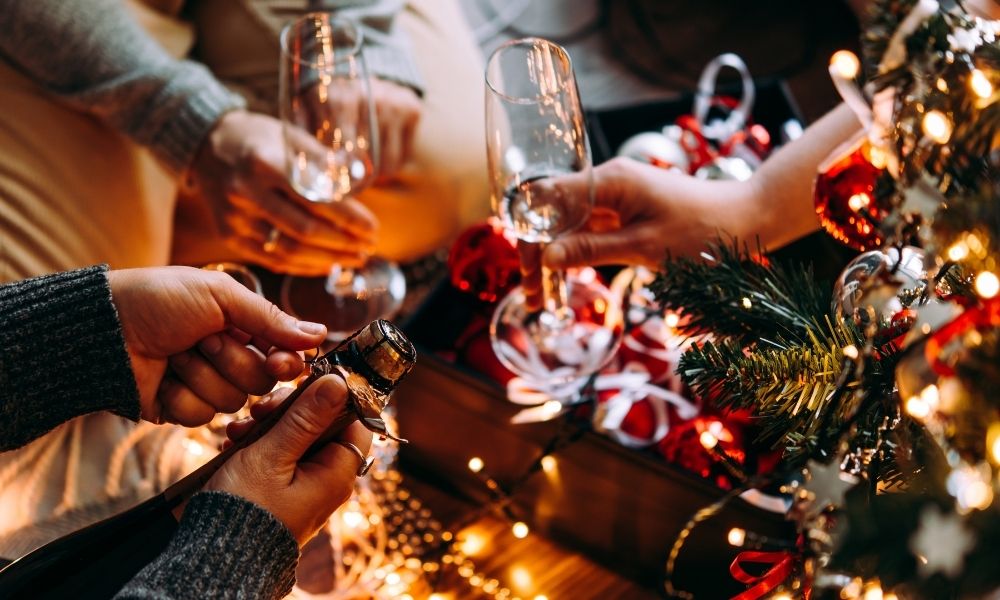 Top Tips for an Elegant Winter Dinner Party
The holidays have come and gone. Thanksgiving is a distant memory. The festive wreaths and strands of lights have come down. Finally, we've rung in 2022. It would seem, for now, that an occasion for throwing a dinner party for you and your closest friends is off the board for January and February.
What do you do when you can't find a square on a calendar that demands a party? Throw one anyway. After all, no rule says you can't host a dinner party simply for the sake of hosting one. If that's your plan, we'd like to share a few of our top tips for an elegant winter dinner party: an occasion with no overarching holiday theme to fit into, only great food and togetherness.
A Good Night for Comfort Food
We're not talking about serving up a big bowl of macaroni and cheese. Instead, hearty meals and elegance can go hand in hand. Your slow cooker is the key to preparing meals full of richness and warmth that are still fit for much more than a family dinner on some idle weeknight. Pot roast, pork roast, duck confit, or even Thai and Indian curries can be low-maintenance yet sophisticated dishes that are sure to wow your guests and keep them well-fed on these winter nights.
White Snow, Red Wine
The wine flows freely at any excellent dinner party. For a brisk winter soiree such as the one you have in mind, however, every wine aficionado should know that medium-to-full-bodied reds are the order of the evening. Cabernet sauvignon and merlot are always crowd-pleasing choices, as is a nice bottle of pinot noir. Whichever wines you enjoy with your meal, why not serve them from our disposable wine glasses? Don't run the risk of messy accidents that leave stains and shattered glass. Our beautiful but resilient single-use drinkware is perfect for your reds—or even, if you insist, your whites and rosés.
Pure Beauty in Your Centerpiece
The food may be the star of the dinner party, with your stylish single-use plates serving in the supporting role, but the centerpiece is a fine foil to the main cast. Centerpieces often try to capture the holiday spirit for annual events: a cornucopia for Thanksgiving, boughs of holly for Christmas, and all things sparkly for New Year's Eve. One of our top tips for an elegant winter dinner party is not to overthink the centerpiece: purchase or design a piece that simply looks beautiful with no overarching theme to fulfill.
Serving in Style
It's not an elegant party without elegant plates. However you curate your midwinter event, Smarty Had a Party has an entire kaleidoscope of colors and designs, from the austere to the baroque. Browse our collection today for wintry one-night tableware.
Make the Home Comfortable for Your Guests 
With the help of decor, turn your home into a comfortable place for socializing and relaxing.
By adding certain decorative items, you can completely change the look of your home. As autumn has essentially begun, our advice is to decorate your home following this beautiful season. 
Autumn is associated with sweaters, tees, and comfortable armchairs in which we can read our favorite book - and to create such a space in the whole house or just one desired room, it is desirable to choose the appropriate decor. So read our tips and see the ideas we have prepared for you for decorating your home.
Crocheted items are among the first associations for cold weather and are mostly kept at the bottom of the closet during the summer. Take out (or if you don't have one, get a crocheted blanket or blanket) and roll it over the end of the bed, the back of the armchair, or the couch. This way, you will not only breathe in the autumn but will automatically make the space more comfortable. At the same time, you will have something at your fingertips to cover yourself during colder evenings. 
As a plus blanket, why not add a pillow for an interesting texture on a sofa or armchair? Look for crochet, velvet, flannel, or fringed pillows that will add depth and comfort to the space. Combine two or three pillows and place them on a couch or armchair. 
Here's a sweet idea: write a simple phrase in chalk on a whiteboard with elegant handwriting. Place the board near the front door or the kitchen to encourage your guests to feel at home. 
Make Decorations from Fruits and Vegetables 
Let your groceries become authentic autumn decor. Buy seasonal fruits and vegetables - apples, pears, pumpkin, and pomegranate and arrange them nicely in a bowl that can be knitted or on a plate that serves to place such foods. Place them on a visible shelf or center of the table and bring in a touch of autumn. 
Make It Smell Like Delicious Food
When creating an ambiance in your home, the smell is one of the most essential aspects. Bake a pumpkin bread or cake or some simple dessert and fill the home with the smell of delicious food. Light scented candles - made of apple and cinnamon or ginger - are the favorite scents of autumn. 
Whether you like fragrant or ordinary, candles are the easiest way to create a comfortable atmosphere in the home. Group them to create a homely feel and place them on a coffee table or in the middle of the fireplace - if you have one. 
Faux fur is not only super elegant but also soft, comfortable, warm, and perfect for the fall season. So whether you choose a faux fur rug, pillow or blanket, it will be an easy way to bring a little glamor, warmth, and comfort to spice up this season. 
Bring the Plants Inside the House
As the days get colder and less favorable for some plants, bring those species into the home and create a beautiful atmosphere. Many great plants improve air quality, and if that's not your thing - just fill a vase with a diverse bouquet.