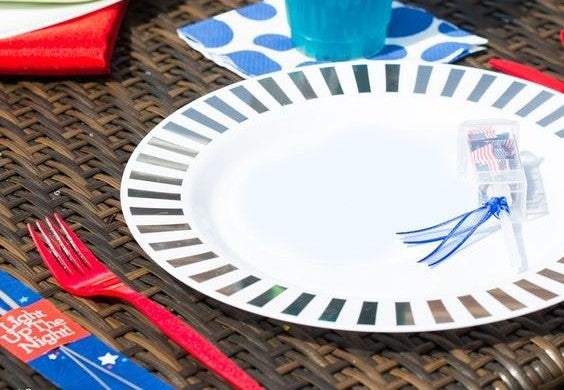 Top 7 Admirable 4th Of July Tablescape Ideas
The summer is the best time of the year to enjoy outdoor activities. And, in the hottest month of the year comes the 4th of July - a day to celebrate the birth of America. So, what else could be a better way to celebrate than throwing a party?
From dressing up your home to styling your tablescape and shaping a menu isn't an easy task. It might even be difficult for you if you plan to set up an eco-friendly tablescape for the party. Yet, as technology is at its peak, we are observing the world becoming inhabitants of us. 
People worldwide are concerned about it and adopting eco-friendly ways to save our planet and reduce its destruction. So, if you plan to set up an admirable eco-friendly tablescape, we have covered you with unique ways to help you style it elegantly.  
Patriotic Floral Centerpiece
Whether planning an outdoor party or wondering about indoor fun, the patriotic floral centerpiece is perfect for beautifying your tablescape. Red, blue and white is significant colors for the 4th of July party. 
Use the red, blue, and white flowers to create a patriotic floral centerpiece. Use the vase to hold the flowers and incorporate the flowers to give the centerpiece patriotic touches. You can use small and large vases to create this - just make it with whatever you already have. 
DIY Projects
You can't skip the DIY projects when thinking of going green with the tablescape decor. They aren't just eco-friendly party supplies but will add a reflective element to your party decor. 
There are numerous DIY eco-friendly ideas on Pinterest from where you can take the inspiration to start creating your own eco-friendly party supplies. However, most items and materials required for eco-friendly DIY are already in your home. 
Every time you buy the party supplies you buy, where do they go? Of course, the landfills. Save those party supplies and store them for reuse purposes. The color scheme doesn't change for the 4th of July, so it's a perfect way to generate waste plus save your money. 
Edible Centerpieces
You can beautify your tablescape using the edible centerpieces that guests can eat. Place the colorful fruits and vegetables in the bowl or trays to create a sustainable centerpiece for your table.
Choose the fruits and vegetables according to your color palette that'll coordinate with the party theme. For example, put strawberries, blueberries, and bananas in the bowls to incorporate the theme's red, blue, and white colors.
You should use citrus fruits like lemon and orange at the summer party. It's a cheap and sustainable way to add elegance to your table. The guests can take this edible centerpiece home and eat it after the party. 
Style up your Table with eco-friendly Serving Ware
No party table would be complete with the elegant serving wares. But, when it comes to eco-friendly serving ware, there's a lot you can do. First, add elegance to your table by laying up eco-friendly plates. 
The elegant disposable plates are made of palm leaf, making them sustainable and environment free. The palm leaves are gathered, compressed, and then shaped into the serving wares. 
They are disposable, so you won't have to worry about spending hours washing a pile of dishes after the party is over. You can discard them quickly, like tissue paper, and they'll decompose in 30 days. 
The wooden texture of the eco-friendly disposable plates makes them stand out in any setting. It's just not the perfect way to go green, but also a good conversation starter with your guests. You can discuss with them the eco-friendly serving wares and their benefits. 
Get the eco-friendly fancy disposable plates at "Smarty Had a Party" at a fraction of the cost. 
DIY Napkin
Beautiful napkins can add a glow to any party table. Instead of placing plain and white napkins on the table, consider dying them with blue or red colors. It's an effortless thing to do at home. Here's how you can dye napkins at home. 
Things you'll need: 
White cotton napkins

Dye 

Warm water

Bucket or tub
Steps to dye Napkins:
Soak the white napkins in the water before you dye them.

Add warm water to the container and a certain amount of dye. 

Mix the dye with the water well, so it becomes a solution. 

Dye the napkins in the solution. If you want an ombre effect, then dye half of the napkin.

Let the napkins sit for 5 minutes in the solution. 

Finally, remove the napkins from the solution and wash them with water. 

Dry the napkins, and they are ready to add elegance to your tablescape.
Create your Flags
When dressing up your home for the party, you might want to buy plenty of flags to decorate the surroundings. But why not make your own and save some money? They are pretty easy and fun to make. 
Give them paper, crayons or water paint, scissors, and pencils to create mini flags if you have kids. Your kids would love to help you with the party preparation. If serving the cake at the party, poke in some mini flags to make it thoughtful decor.  
Display Cake
The 4th of July is the day of celebration, and you may want to celebrate it uniquely. Fireworks are the most common thing used to celebrate a moment, but they aren't environmentally friendly. Look for sustainable alternatives to commemorate this day. 
You don't need to skip celebrating the day. Bake a cake at home or order it from the fancy bakery. Put it on the display before guests arrive so they know what you have for them. Putting it on display will add a unique touch to your party table. 
Use the cake holders to display the cake elegantly at the party. Incorporate the patriotic colors in the cake to make it stand out in the scene. Once the party is at its peak, you can cut it and serve it to the guests.