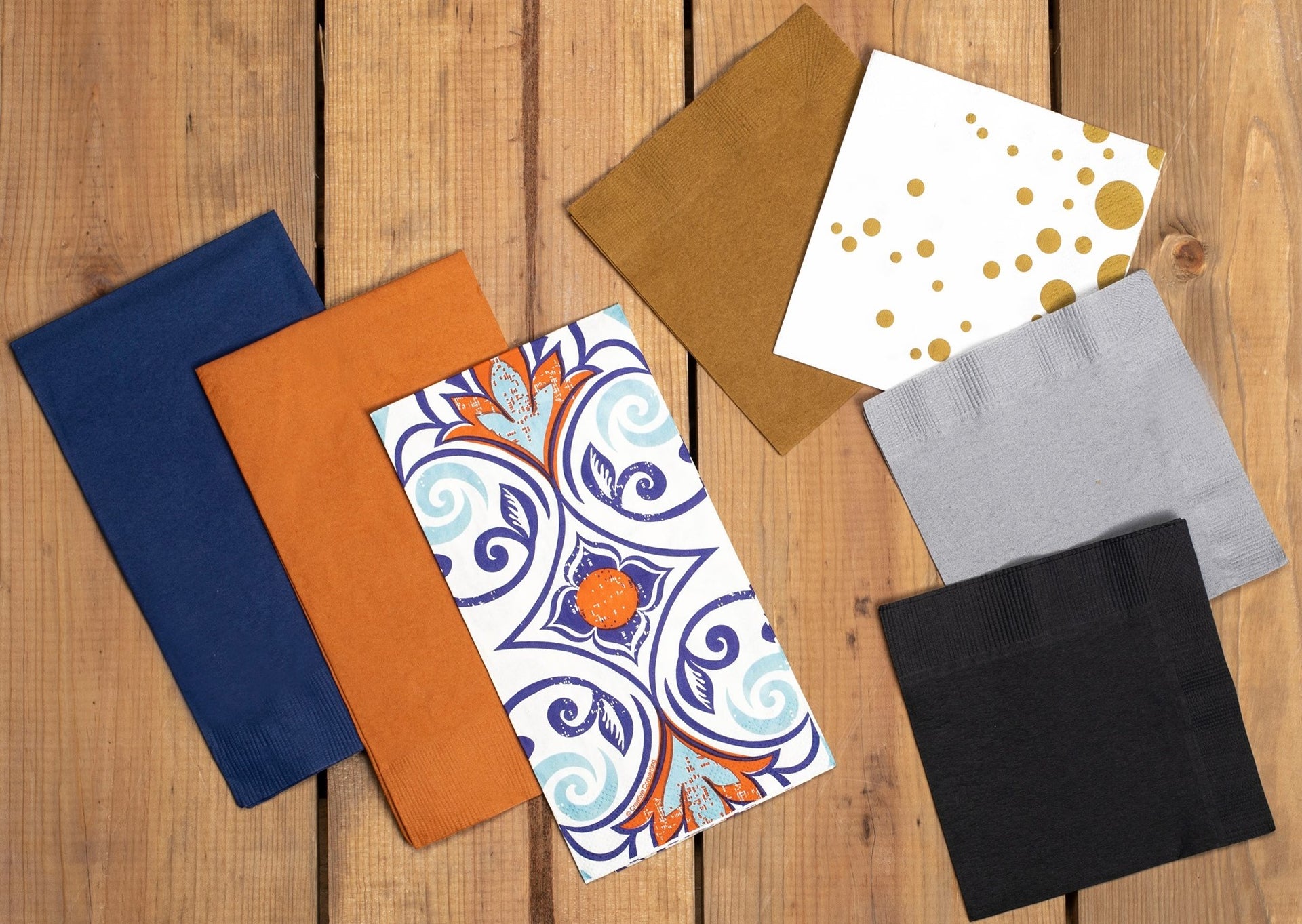 Fancy Party Napkins for Any Occasion
Any meal is incomplete without having the napkins. For most, they are just the piece of cloth used for covering the lap or wiping the mouth. However, if they are presented creatively on the table, they can be turned into a piece of art for your table.
We are talking about napkin folding, which entirely changes how you present napkins on the table. Napkin folding is a great way to show your napkins on the table, instead of just laying them along with serving ware in a place setting. 
Your party table is a great teller about your personality and style. And, when you set up your party table, whether it's about a birthday party or just casual friends and family gathering, even the minor details matter. 
Here are fancy party napkins to beautify your tablescape for special occasions to casual get-togethers. 
Napkins Folding Idea for Special Occasions
Your guests expect some special treats on special occasions. Give your unique table touches and make them stand out in the scene by presenting the napkins as unique. 
Here are some of the best year's easiest napkin folding ideas you may want to try while hosting the next formal dinner party. 
The Rose Napkin Fold
You may want to set an elegant table on a special occasion, so grab your most acceptable fancy napkin. First, lay it down on a plain surface like the table, and ensure the wrinkles are removed before you start folding it. 
Start off by turning the napkin into a triangle shape. For that, grab one corner of the napkin and overlap it with the other corner opposite it. 
Once you have turned the napkin into a triangle shape, you may want to start rolling it from the bottom towards its overlapped corners. But don't roll the corners of the napkin.
Next, grab any rolled edge of the napkin and start rolling it over to the other end/edge of the napkin. Once you have rolled up the entire napkin to the next end, tuck the remaining edge into the rolled napkin and place it vertically.
Pull out the folded corners of the napkin and turn it over. Your rose napkin is ready to be a part of your elegant tablescape. You can use it for special occasions on Valentine's Day parties or your loved ones' birthdays. 
Bread Basket for Casual Table Settings
Bread needs to be served fresh and at its optimal temperature. Turning the napkins into bread baskets is a great idea to keep the bread warm uniquely and creatively. 
Grab a rectangular napkin and lay it down on the plain where it's easier for you to fold it. Start by folding the napkin's top corners up to 3 to 4 inches and repeat it with the bottom corners.
Repeat this step until the napkin's bottom and top corners meet in the center of it. Now, you may turn the whole thing over and make sure it doesn't unfold, or you would need to start from scratch again.
Now you will get the horizontal shape of your napkin. Grab the left and right edge of the napkin and fold them, so they meet in the center and turn into a square shape. While bringing both edges of the napkin, overlap one side over the other one. 
Next, tuck in the overlapped edges inside the other edge of the napkin. Finally, close it up and turn it over, and you have a bread basket to keep the bread warm at your picnic parties and outdoor get-togethers.  
Tips to Get the Most Out of Your Napkins 
Once you start turning your napkins for a unique look on your table, there's no way back then. It becomes a part of your table's decor to turn your napkins into something creative. 
It's essential to get the most out of your napkins. Here are some tips and tricks you must know while folding your napkins. 
1 - Before folding the napkins, ironing them will give them a fresh look and will remove the wrinkles on them. 
2 - Use disposable napkins, as they are inexpensive, and you won't ever run out of clean napkins in case your guests mistakenly spill the food on the table. 
3 - Disposable paper napkins are inexpensive, and you can make as many as you want to make crafts out of them to create enchanting centerpieces for your tablescape. 
4- To make your table stand out, use the best napkins with the best fabric. Though expensive, they last longer and bring a unique touch to the table when put on display. 
Also, you can repurpose them for other occasions. Like, you can use the valentines day napkins for Christmas parties. 
Where to Buy Best Disposable Napkins in Bulk? 
Buying beset napkins isn't easy as plenty of options are available in the market, making it quite daunting to buy the best ones. However, the fancy paper napkins are the best ones as there are multiple benefits of buying them. 
One of the top benefits of buying disposable napkins is the hassle-free clean-up. Since disposable items are supposed to be discarded, you wouldn't even need to wash the napkins. 
Similarly, you get the peace of mind that you won't run out of clean napkins. You can always pull out the new one when needed. Moreover, the napkins made of fabrics are a little expensive, and buying them in bulk when serving a large crowd can upset your budget. 
Whether you are running a restaurant, catering business, or simply throwing a party, get disposable paper napkins at a fraction of the cost at "Smarty Had a Party." We have many fancy paper napkins that can be used for special occasions and casual get-togethers. 
The best part is; that we'll deliver the disposable napkin bulk to your doorstep. So look around and get ready to style your table with our fanciest napkin collection.