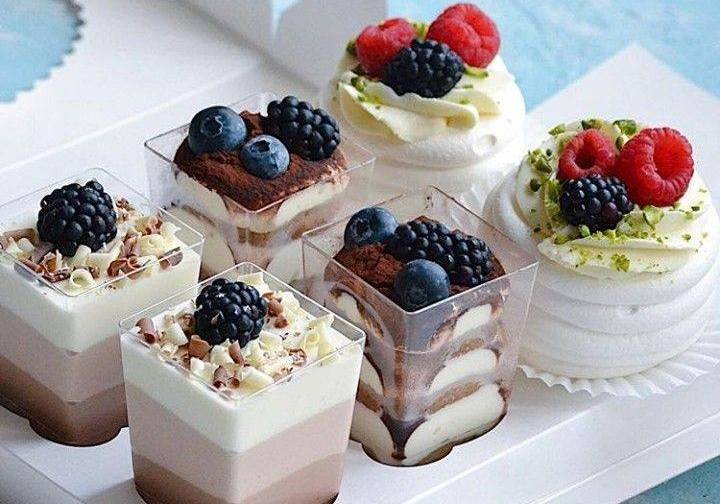 Top 10 Popular Party Desserts
We are all guilty of looking for a fulfilling dessert at an event. It would be accurate to say that a party is incomplete without a dessert. No matter how much you eat, there is always room for something sweet.
Different people have different likings toward desserts. Some love cheesecakes, while some have an inclination for chocolates. But there are a few desserts that no one can say no to! Here are 10 popular party desserts, so you know what to make for your next event.
Chocolate Brownie Dessert
We all love brownies! We know the party is going to be fun if there are brownies. But there's a twist in this recipe. Layers of whipped cream and ganache are poured over the brownies. Those layers are what make this brownie dessert rich.
What're brownies without butter? So we will begin by adding butter. Next, mix melted butter and chocolate, sift in the dry ingredients (flour, sugar, baking powder), and bake. Top with whipped cream and a layer of chocolate ganache. The ganache makes this brownie dessert a hundred times tastier.
Make this brownie dessert for your next event and make your guests beg for more!
Chocolate Mousse
Did someone say chocolate? Chocolate mousse is a creamy, rich dessert everybody loves eating. It's tastier and easier to make than you think.
A semi-sweet chocolate bar is chopped and dissolved in boiling cream. It is then poured into beaten egg whites. Whipped cream is then folded into this mixture and put in the freezer overnight. Finally, it is served in mini cups, making the mousse look prettier.
No-Bake Dessert Cups
Dessert shooters served in mini cups are the most adorable on a party table. They mainly contain cream cheese and whipped cream. But people have made variations in the recipes according to their choice. So it can have mangoes, raspberries, blueberries, strawberries, and peanut butter.
Chocolate Truffles
We cannot get enough chocolate. The more you eat, the more you want. People from all parts of the world have a love for chocolate. So, with chocolate truffles, get ready to have an explosion of chocolate in your mouth.
Hot milk is poured over chocolate chips to melt them. They are then enriched with butter and put in the freezer for 5-6 hours. Upon cutting them into slices, they are covered in cocoa powder, dipped in melted hot chocolate, and frozen to harden.
At this point, you are free to decorate them in whatever way you want. They can also be used as party favors.
Lemon Bars
When life gives you a lemon, make lemon bars. With the sour flavor of lemons and the zingy flavor of the zest, they become the best choice for a summer party.
The base is a crispy shortbread crust made by mixing flour, sugar, lime zest, and butter in a bowl. It is then baked until it's crispy.
The top is soft enough to just melt in your mouth. It is made by whisking egg yolks and sugar together. A boiling mixture of corn flour, sugar, and lime juice is added gradually into the lightened egg yolks. It is poured over the shortbread crust and baked again.
Once cooled down, it is cut into bars and dusted with granulated sugar and lime zest.
If you want your lemon bars to taste the best, use fresh lemons instead of bottled lemon juice.
Apple Pie
Apple pies have a nostalgic element to them and remind us of our grandmothers.
Apple pie is loaded with apples and covered with a crust. The top can be plain or latticed. However, the lattice top is fancier and gives a homely effect to the pie. So prepare this apple pie that is sure to take you to heaven.
Ice Cream
No matter how much of a sharer you are, you won't share your ice cream with anyone! Ice cream has so many flavors that you will lose count of them. Also, different people prefer different flavors of ice cream, so it's always better to include more than one flavor in your party menu.
No-Bake Cheesecake
No-bake cheesecakes are here for rescue if you don't have an oven or it's too hot outside to heat up the kitchen. They have a crispy base of graham crackers and a creamy center layer of cream cheese and whipped cream. The cake is topped with chocolate ganache or fruit puree.
There are a lot of versions of cheesecakes - oreo cheesecake, mango cheesecake, strawberry cheesecake, chocolate cheesecake, Nutella cheesecake, and so on.
Banana Pudding
Like dessert cups, this is another dessert that looks as great as it tastes. It is served in a clear trifle bowl that clearly shows the colors of different layers of the pudding. There are layers of wafers, vanilla pudding, banana slices, and whipped cream.
Butter Cake
We can never get tired of eating butter cakes at parties. They are perfect for an afternoon garden party.
You will need the most essential ingredients; flour, sugar, baking powder, butter, vanilla, milk, and eggs. Mix it all up and bake. It's that simple!
There are several ways in which you can decorate your butter cake. For example, add lemon zest to the recipe to give it that sour taste or pour strawberry sauce on top.
You can also cover it with buttercream frosting and decorate it with red cherries and blueberries.
Cut the cake into different shapes for a kid's birthday party to make the serving more interesting.
It's not just the dessert that matters. The way you serve it also affects your table's looks. So, naturally, you want to serve the desserts in the most elegant disposable serving ware, for you don't have to wash them once the party is over.
You might ask where to get the best serving party supplies. Smarty Had A Party has a wide range of plastic serving ware and other dinnerware items to make your tables chic. The design and color variations of our plastic dessert plates are appreciable. Also, look at the disposable dessert trays that are perfect for serving cold cakes, trifles, and brownies.