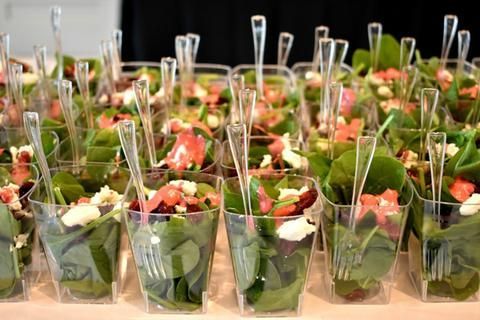 Tips to Prepare Food in Advance for Parties
Hosting a party is undoubtedly fun but equally daunting as well. You have a million tasks to do while attending to the guests with the happiest face, and you cannot do all that in a single day. Therefore, you will have to make some preparations in advance so that you can enjoy the event as well.
Our tips to prepare and store food in advance will help eliminate the hassle you go through on the event day.
Foods that Can be Stored for a Week
Make a list of all the food items and drinks you want to prepare for your event. This will help you better understand what foods to prepare a day or a week before. Food items that can be made and put in the freezer for weeks include tender pops, kebabs, turkey meatballs, nuggets, and potatoes for fries.
Put them in the freezer in our premium plastic serving bowls. Then, all you'll have to do is take them out of the freezer and fry them right away on the event day.
Foods to Prepare the Day Before
Foods that can be cooked a day before the event include beef stew, lasagne, chickpea pasta salad, quinoa muffins, and skillet meatballs. All these foods taste amazingly fresh and delicious, and your guests will think you just cooked them.
You can also prepare some no-bake desserts the day before since they must be refrigerated overnight. For example, no-bake Oreo cheesecake and banana cream pie feels like a treat. Put them in our plastic serving trays with disposable plastic lids to keep them fresh.
Meals to Prepare Partially
Some meals lose their taste and aroma if not served freshly cooked. However, some preparations can be made ahead of time, and you can assemble the ingredients on the day of the event. For example, you can boil the rice for a rice dish or make toppings for some desserts.
Instructions for Frosting and Defrosting
For defrosting the frozen items, it is better to take them out of the freezer a day before cooking and put them in a refrigerator. The containers you are using for freezing the food items should be airtight.
If you are using a microwave for defrosting, check its power because some microwaves don't cook the food evenly. Also, if you have health concerns, use our health-friendly BPA-free plastic supplies.
Set the Tables Ahead of Time
Cooking is not the only task that consumes your time in an event. Setting the tables and decorating the whole place should also be done a day before. Adorn your party tables with our disposable serving party supplies and matching floral centerpieces.
Our plastic serving trays and disposable serving flatware make your table decor look elegant and make things easier. You can shop them in various colors to match your theme. You won't even need to wash them after the party.
Simple, tasty, and Quick Snack Recipes 
When organizing a party, the way the food is served must correspond to the lively atmosphere that you naturally want to achieve. Also, how food is prepared is very important, as well as the stress that accompanies the whole process! For this reason, the best solution for organizing a successful party is simple snacks or finger food. Delicious canapes and cocktail sandwiches are a type of food that guests can be served during lively conversations, almost in passing, while the choice of flavors and types of food is extensive. Their most significant advantage is that you can prepare them all the day before on large oval trays, cover with foil and refrigerate until serving! Therefore, it will make the whole preparation process easier and give you space to enjoy! 
Sweet Potato Snacks - Irresistibly Delicious! 
We all know who the stars of every party are. Although the main dish attracts a lot of attention, it should be pointed out that canapes, served as an appetizer, are still the ones everyone loves the most. Usually served on toasted bread with different toppings, these snacks are not easy to resist. If you are looking for a proposal that replaces toast, you are in the right place. Today we present you with sweet potato snacks with two coating options. 
Ingredients:
For the sweet potato base: 
2 small sweet potatoes

2 tablespoons extra virgin olive oil 

Pepper 
For smoked salmon coating:
5 tablespoons cheese whipped cream

85 g of smoked salmon 

Fresh chopped chives 
For cranberry and almond coating:
5 tablespoons Greek yogurt 

5 tablespoons chopped dried cranberries 

5 tablespoons chopped roasted almonds 

Chopped fresh parsley 
Directions: 
Preheat the oven to 250 degrees. Line a baking sheet with parchment paper. To prepare the sweet potato base, it is necessary to wash the potatoes and remove the ends. Then cut them into slices of equal thickness. Coat both sides of the slices with olive oil, then season with pepper and salt. Arrange them on a prepared baking sheet and bake in the oven for about 20 minutes. Then allow cooling completely. To prepare the coating of smoked salmon, it is necessary to coat one-half of the sweet potato slices with cream cheese, cut the smoked salmon into 15 equal parts, and put them on each potato slice. From above, decorate with chopped chives. To prepare the cranberry and almond coating, coat the remaining potato slices with Greek yogurt and put one teaspoon of cranberries and almonds on each. Decorate with primrose.
A Sweet Table Is a Great Addition 
Sweet lovers will surely be delighted if you include a specific palette of desserts in the service at the celebration. There are some classic flavors that most everyone loves, but it is a good idea to be creative and make the choice of sweets as enjoyable as possible. For such occasions, the most popular are the so-called pops, different variants of small cakes, fruit cups, and similar healthier variants. The sweet table should be partly adapted to the vegan principles of nutrition and eventual fasting, so if you order desserts, you should emphasize that. Even if none of your guests are fasting or vegan, many probably prefer healthier options, so include cakes that contain fresh dates instead of eggs and sugar.