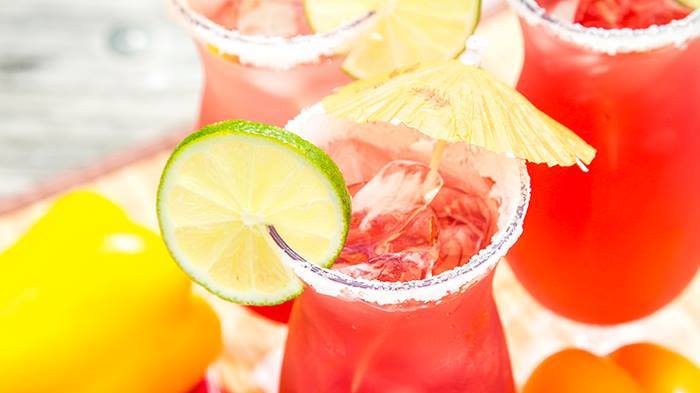 The Ultimate Prickly Pear Margarita Recipe for Your Next Party
Welcome to the ultimate guide for an unforgettable party drink experience! If you want to add a splash of vibrant color and a burst of flavor to your next gathering, we've got just the concoction for you: The Prickly Pear Margarita. Move over traditional Margaritas; this refreshing twist will have your guests asking for seconds!
How to Make a Refreshing Prickly Pear Margarita for Your Next Party?
In this blog post, we'll walk you through crafting the perfect Prickly Pear Margarita step by step. So, whether you're planning a lively fiesta or an intimate gathering with friends, get ready to impress your guests with a Prickly Pear Margarita that will become the event's highlight. Let's dive into the recipe and everything you need to know to make your party an unforgettable celebration of flavors, colors, and good times! Cheers to your next extraordinary gathering!
The Prickly Pear Margarita: A Flavorful Twist
The Allure of Prickly Pear as an Ingredient
Prickly Pear, also known as cactus fruit or nopales, is a sweet and juicy fruit derived from the Opuntia plant. Despite its prickly exterior, it offers a unique taste and is packed with antioxidants, vitamins, and minerals, adding a healthy twist to your Margarita. Enjoy this guilt-free pleasure from the arid regions of the Americas!
The Vibrant Color and Taste It Brings to the Cocktail
The Prickly Pear Margarita is captivating with its stunning pink hue, instantly elevating the cocktail's visual appeal. Its mesmerizing flavor strikes a delicate balance between sweet and tangy, adding a subtle tropical note to the classic Margarita. It's a show-stopper that leaves a lasting impression on the palate and delights guests with its charm.
Brief History of Prickly Pear Margarita's Origin
The Prickly Pear Margarita originated in the southwestern United States and northern Mexico, where the Prickly Pear cactus thrives. Mixologists and cocktail enthusiasts embraced the fruit's captivating flavor, incorporating it into their beverages. Soon, the Prickly Pear Margarita gained popularity in bars and restaurants across the region and beyond, becoming a beloved favorite at parties and gatherings worldwide.
Crafting the Perfect Prickly Pear Margarita
List of Ingredients Needed for the Cocktail
Fresh Prickly Pear Puree:

 Seek out ripe and vibrant Prickly Pears, then carefully remove the skin and seeds before blending to create a smooth puree.

Tequila: 

Opt for a high-quality, 100% agave tequila that complements the fruity flavors of the Prickly Pear.

Orange Liqueur: 

Triple sec or Cointreau works wonderfully to enhance the cocktail's citrus notes.

Fresh Lime Juice: 

The tangy kick of lime juice adds a zesty balance to the sweetness of the Prickly Pear.

Agave Nectar or Simple Syrup: 

To sweeten the cocktail to your liking, use agave nectar or a simple syrup made from equal parts water and sugar.

Ice:

 Essential for chilling and serving your refreshing Margarita.

Optional: 

Salt, sugar, or Tajín for rimming the glass (to suit individual preferences).
Step-by-Step Preparation Instructions
Step 1: 

Rim the glass (optional): Begin by dipping the rim of your Margarita glass in a shallow dish of water or lime juice, then into a plate with salt, sugar, or Tajín. This step adds a delightful twist to each sip!

Step 2: 

Prickly Pear Puree: In a blender, combine the fresh Prickly Pear puree, tequila, orange liqueur, and freshly squeezed lime juice. Blend until smooth and thoroughly combined.

Step 3: 

Sweeten to Taste: Gradually add agave nectar or simple syrup to the mixture, adjusting the sweetness according to your preference. Remember, some like it sweeter, while others prefer a tart Margarita.

Step 4: 

Shake it Up: Fill a cocktail shaker with ice and pour in the Prickly Pear Margarita mixture. Shake vigorously for 15-20 seconds to ensure the cocktail is chilled and well-mixed.

Step 5: 

Strain and Serve: Strain the cocktail into your rimmed Margarita glass filled with fresh ice. Garnish with a slice of lime or a wedge of Prickly Pear for an extra touch of elegance.
Tips on Balancing Sweetness and Acidity to Suit Individual Preferences
For a Sweeter Margarita: 

Increase the amount of agave nectar or simple syrup to enhance the cocktail's sweetness. Additionally, consider using riper Prickly Pears, which tend to be sweeter.

For a Tangier Margarita: 

Increase the amount of freshly squeezed lime juice or decrease the sweetness to elevate the tartness of the drink.

Experiment and Adjust:

 Be bold and experiment with different Prickly Pear puree, lime juice, and sweetener ratios until you find your ideal combination. Taste-testing is the key to mastering your personalized Prickly Pear Margarita.
Serving in Style: Fancy Plastic Drinkware
The Benefits of Using Fancy Plastic Drinkware for Parties
Safety: 

With a lively party atmosphere, accidents can happen. Fancy plastic drinkware eliminates the risk of broken glass, ensuring a safer environment for you and your guests.

Elegance:

 Don't let the material fool you—

modern plastic cocktail glasses

 are designed to exude sophistication. From sleek designs to crystal-clear finishes, they add a touch of elegance to your party setting.

Versatility: 

Fancy plastic drinkware comes in various shapes and sizes, suitable for a wide range of beverages, including your Prickly Pear Margaritas, mocktails, and other cocktails.

Easy Cleanup: 

After the festivities wind down, cleaning up with 

disposable plastic drinkware

 

is a breeze. This allows you to spend more time enjoying the company of your guests and less time on post-party chores.
The Wide Range of Elegant Plastic Cocktail Glasses Available
A Perfect Complement: Modern Paper Beverage Napkins
To complement the classy presentation of your Prickly Pear Margaritas, pair them with modern disposable paper beverage napkins. These napkins add a decorative element to your drink stations and serve a practical purpose by keeping things tidy. Look for napkins that feature fun and vibrant designs that match the theme of your party.
Elevate Your Prickly Pear Margarita: Garnishes and Rims
Creative Garnish Ideas
Lime Wheels: 

A classic garnish that adds citrusy freshness to your Prickly Pear Margarita. Simply slice a lime into thin wheels and perch one on the rim of each glass.

Prickly Pear Wedges: 

Take advantage of the star ingredient itself! Cut fresh Prickly Pear into small wedges and use them as a delightful and colorful garnish floating atop your Margarita.

Edible Flowers:

 For an elegant touch, garnish your cocktail with edible flowers like hibiscus or pansies. They add a pop of color and introduce subtle floral notes to the drink.

Fresh Mint Sprigs:

 A refreshing and aromatic garnish, a sprig of fresh mint adds a touch of herbal goodness to your Margarita.
Different Rim Options
Salt: 

The classic rim option for a Margarita that enhances the drink's savory and tangy notes. Use coarse sea salt or flavored salt for an extra twist.

Sugar: 

For those who prefer a sweeter experience, try rimming the glass with sugar. This pairs exceptionally well with the fruity flavors of the Prickly Pear.

Tajín: 

For an adventurous kick, coat the rim with Tajín, a popular Mexican seasoning blend of chili, lime, and salt. It adds a zesty, tangy, and slightly spicy dimension to your Margarita.

Custom Blends: 

Get creative and experiment with your own rim blends. Mix and match different spices, herbs, or even flavored sugars to tailor the taste to your liking.
Experimentation with Different Combinations
Tropical Twist: 

Garnish with a lime wheel, a Prickly Pear wedge, and a sprinkling of Tajín on the rim. The citrus and tropical flavors blend will transport your taste buds to a sunny paradise.

Garden Fresh: 

Top the cocktail with a sprig of fresh mint and rim the glass with sugar. The herbal touch complements the Prickly Pear's sweetness splendidly.

Fiery Fiesta: 

For those who like spicy, rim the glass with Tajín and garnish with a Prickly Pear wedge coated in chili powder. Be ready for a flavor explosion!

Pretty in Pink: 

Keep it simple and elegant with a sugar-rimmed glass and a floating Prickly Pear wedge as a garnish. This classic presentation lets the Prickly Pear's natural beauty shine.
Frequently Asked Questions (FAQ)
1. Can I Make a Non-Alcoholic Version of the Prickly Pear Margarita?
Yes, you can enjoy a non-alcoholic version of the Prickly Pear Margarita! Just follow the same recipe, but skip the tequila and orange liqueur. Instead, use an equal amount of fruit juice, like orange or pineapple juice, to keep the flavors balanced. This refreshing mocktail is perfect for the whole family to enjoy.
2. How Can I Adjust the Sweetness of the Cocktail?
Easily adjust the sweetness of your Prickly Pear Margarita to your liking. Add more agave nectar or simple syrup during preparation for a sweeter taste. If you prefer tanginess, reduce the sweetener or use less ripe Prickly Pears with a more tart flavor. Taste testing is essential to find your perfect balance of sweetness and acidity. Experiment and make minor adjustments until you achieve your ideal Prickly Pear Margarita.
3. Can I Prepare the Prickly Pear Margarita in Advance for a Large Party?
You can prepare the Prickly Pear Margarita in advance for a large party. Here's how: Make the Prickly Pear puree ahead of time and store it in the refrigerator. Mix the puree with tequila, orange liqueur, and lime juice in a large pitcher. Sweeten with agave nectar or simple syrup to your taste. Keep the pitcher chilled in the refrigerator until your guests arrive. When it's time to serve, stir it, pour it into cocktail glasses with ice, and garnish as you like. Enjoy a smooth hosting experience!
4. Can I Personalize Fancy Plastic Drinkware for My Party?
Absolutely! Add a personal touch to your party by customizing fancy plastic drinkware with custom labels, drink charms, washable markers, colorful straws, or themed accessories. It's a fun and creative way to make guests feel special and enhance their Prickly Pear Margarita experience. Cheers to a unique and memorable celebration!
Now, go forth and be the host or hostess with the mostest—your Prickly Pear Margaritas are sure to be the talk of the town! Enjoy every sip and every smile, and until we raise our glasses again, here's to many more unforgettable parties and a life filled with delightful experiences! Salud!