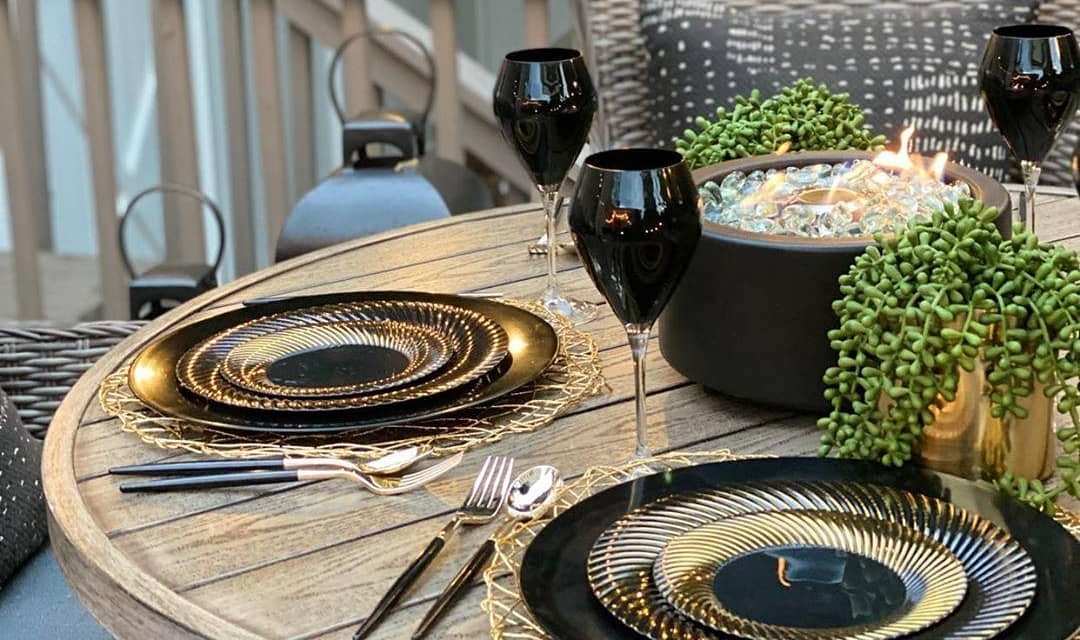 Summer Nights, Patio Delights: Dinner Party Ideas for Warm Evenings
As the sun sets on a warm summer day, undeniable magic in the air beckons us to gather and celebrate under the starlit sky. What better way to embrace the enchanting ambiance of the season than by hosting unforgettable summer evening dinner parties on your patio? Whether you're inviting friends, family, or both, these gatherings provide the perfect opportunity to savor the joys of good company, delectable food, and cherished memories.
Patio Perfection: How to Host Unforgettable Summer Evening Dinner Parties?
In this blog post, we will unveil the secrets to achieving patio perfection as we guide you through the art of hosting summer soirées that will leave your guests in awe. So, unlock the secrets of hosting the most memorable summer evening dinner parties your guests have ever experienced. Let your patio become a haven of warmth and laughter as you embark on a journey of unforgettable moments that will be cherished for years. 
Setting the Scene: Preparing Your Patio
Choosing the Right Patio Furniture and Decor
Creating an inviting and comfortable space is essential when hosting a summer evening dinner party on your patio. Choose the right furniture and decor to match your patio's style and accommodate your guests. Quality outdoor furniture from weather-resistant materials like teak, aluminum, or all-weather wicker ensures durability. Add fashionable outdoor cushions and pillows to elevate the ambiance, and consider extra seating options like floor cushions or poufs for cozy spots and intimate conversations.
Adding Soft Lighting and Ambiance
As the sun sets, transform your patio with enchanting lighting. String lights above or around nearby trees create a whimsical atmosphere. Add lanterns or hurricane candles for an elegant touch. Citronella candles not only add ambiance but also keep insects away. Gather around a fire pit or outdoor fireplace for warmth and a cozy ambiance.
Incorporating Natural Elements for a Touch of Serenity
Create a tranquil patio setting by infusing natural elements. Add potted plants and colorful flowers for freshness and life. Consider water features like fountains for a calming ambiance. Use wooden accents and stone elements for a rustic, earthy vibe that blends beautifully with the outdoors.
The Perfect Menu: Delightful Dishes for a Summer Soiree
Appetizers that Impress Without Overwhelming
Kick off your summer dinner party with tantalizing appetizers that won't spoil the main course. Embrace fresh produce with sliced watermelon, cherry tomatoes, and vibrant berries drizzled with balsamic glaze or feta cheese. Skewers are a hit, offering assorted flavors in one bite, like Mediterranean-inspired cherry tomatoes, mozzarella, and basil. Opt for grilled shrimp skewers with a zesty lemon-garlic marinade. Add elegance with bruschetta topped with fresh tomato and basil, avocado and feta, or roasted red pepper and goat cheese. These bite-sized toasts add a gourmet flair to your appetizer spread.
Savory and Refreshing Main Course Options
For a satisfying and refreshing main course that captures the essence of summer, go for grilled options featuring the season's best produce. Before grilling, stir chicken, steak, or portobello mushrooms in citrusy marinades with herbs and spices. Seafood lovers can enjoy salmon with a honey-garlic glaze or a seafood paella with shrimp, mussels, and chorizo. A vibrant summer vegetable pasta salad with a light lemon vinaigrette, fresh basil, cherry tomatoes, cucumbers, and bell peppers is a delightful option for vegetarians. These dishes bring sophistication and summer flavors to your soirée.
Decadent Desserts to Sweeten the Evening
Complete your summer evening dinner party with mouthwatering desserts that satisfy every sweet tooth. Treat guests to delectable fruit tarts topped with seasonal berries and luscious pastry cream, or indulge in a lemon-blueberry pound cake that embodies the taste of summer.
Opt for individual desserts like mini cheesecakes or fruit tarts in shot glasses for easy serving and cleanup. For a personalized touch, create a DIY dessert station with toppings like whipped cream, chocolate shavings, or caramel drizzle.
And don't forget the must-have ice cream! Set up an ice cream bar with various flavors and an array of toppings, allowing guests to create their dream sundaes. These delightful desserts will be the sweet finale to your unforgettable summer soirée.
Beverage Bliss: Crafting Summery Drinks
Signature Cocktails to Impress Your Guests
No summer evening dinner party is complete without refreshing signature cocktails that impress your guests. Embrace seasonal flavors with fresh fruits like watermelon, berries, citrus and herbs like mint and basil. Offer drinks like watermelon and basil mojitos or blackberry mules with ginger beer for a burst of flavor.
Experiment with spirits like vodka, gin, tequila, and rum to cater to different preferences. Feature a themed cocktail with a creative name to spark curiosity. Set up a DIY cocktail station with mixers, garnishes, and spirits, letting guests unleash their inner mixologist. A well-stocked bar cart ensures your guests never go thirsty throughout the evening. Cheers to an unforgettable summer soirée!
Mocktail Options for Non-Alcoholic Preferences
Offer a variety of exciting and flavorful mocktails alongside cocktails to cater to non-alcoholic preferences. Use fresh fruit juices, soda water, and garnishes to create virgin versions of classic cocktails like mojitos, piña coladas, and margaritas. Try making a "Summer Sunrise" mocktail with orange juice, grenadine, and soda, and garnish with an orange slice and a cherry. Another option is a refreshing "Mocktail Spritzer" with sparkling water, cranberry juice, and lime. Ensure the mocktails look appealing and taste delightful to encourage all guests to explore this alcohol-free option.
The Art of Keeping Drinks Cold and Accessible
For warm summer evenings, keep drinks cool and accessible. Have ample ice on hand to chill beverages during the party. Consider using a stylish ice bucket, beverage tub, or a large galvanized bucket filled with ice. Create a designated drink station on the patio with a portable bar cart or a table stocked with various drinks, mixers, and garnishes. Arrange drinks attractively and label each option for easy self-service by guests.
The Art of Place Setting: Elegance Meets Convenience
Elegant Plastic Charger Plates
Enhance your summer dinner party's elegance with chic plastic charger plates. These decorative, larger plates are a sophisticated base for each place setting. Choose from various styles and colors to match your party's theme or personal taste, like metallic gold or silver for opulence or transparent acrylic for a modern touch. Not only do they elevate the table's visual appeal, but they also make cleanup a breeze by catching spills and crumbs.
Modern Disposable Dinnerware Sets for a Sophisticated Look
Choose modern disposable dinnerware sets for your summer dinner party, no longer flimsy or unappealing. Opt for premium-quality plastic or paper sets that resemble real porcelain or ceramic, featuring elegant designs and sleek finishes for added sophistication. Coordinate dinner and salad plates, bowls, and dessert plates in matching colors or complementary patterns for a cohesive and visually appealing table setting. The best part? After the party, you can easily dispose of the dinnerware, saving time on cleanup and letting you enjoy your guests' company for longer.
Stylish Plastic Wine Glasses for a Touch of Class
Complete your elegant place setting with stylish plastic wine glasses that complement the dinnerware. Choose high-quality plastic glasses that resemble real glass, adding sophistication without the risk of breakage. Opt for different shapes and sizes to accommodate various wines—stemmed glasses for a classic touch and stemless for a contemporary look. Also, provide a variety of plastic drinkware to cater to different beverage preferences, including cocktails and mocktails.
Choosing a Complementary Disposable Cutlery Set
Complete your place setting with a complementary disposable cutlery set that looks sleek and modern and offers practicality and convenience. Look for sturdy and high-quality plastic or birchwood cutlery sets that can easily handle various dishes.
Coordinate the cutlery with the rest of the dinnerware, ensuring that the colors and styles complement each other seamlessly. Consider including forks, knives, spoons, and specialized utensils like dessert spoons if you plan to serve sweet treats.
Now, as you prepare to host your next gathering, armed with the knowledge of patio perfection, may your summer soirées continue to delight, inspire, and create cherished memories that linger for years to come. Cheers to the magic of summer evenings and the joy of hosting unforgettable dinner parties on your perfect patio!