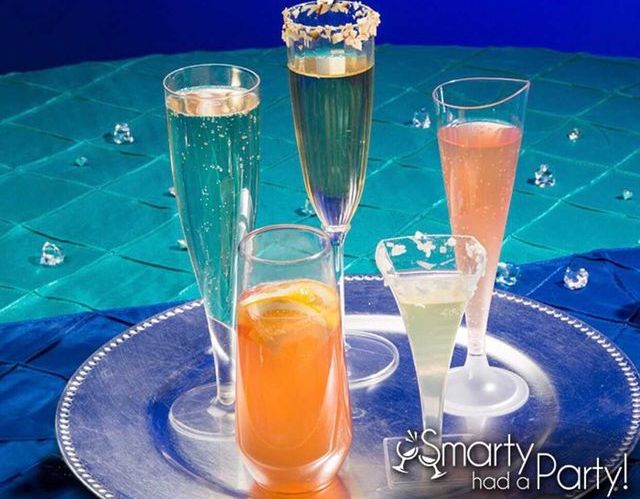 The Ultimate Guide to Your Wedding Reception Bar
From properly setting up your reception bar to stocking and then elevating its style and presentation, all might seem daunting for you on your big day of the wedding. However, the reception bar is one of the most essential elements of your wedding. 
And that's why it should be beautifully managed and organized so everyone at the event can get to drink whatever they crave. So, to make things easy for you on your big day, we have curated a guide to help you set up a perfect reception bar.
Professional Bar or Dye?
To make things easier for you to choose from, we have divided them into fractions so you can choose whatever fits your budget and your choice. 
For a professional bar, you will need to allocate 10 to 20% of your wedding budget for the luxurious bar. It will include everything from stocking up to rental, fees, bartender, and cleaning.
However, allocating such a hefty amount might seem daunting for you or might upset your overall wedding budget. 
You can go for the dye path, where you can stock up the supplies and set up a reception by following a dye path. Hiring a professional bartender is ideal for the reception bar as it won't be a good idea to serve your guests. 
Dye path is an ideal way to set up a bar at your wedding if you are low on budget or not ready to spend the chunk of your wedding budget on a bar. 
Reception Bar Style
Before you start planning the reception bar, you need to know the reception style so you can choose the perfect one that fits your budget and expectations.
One of the most common bar styles is an "Open Bar," As its name suggests, it's an open bar for all the guests. Your guests can order as many drinks as they want. However, the host pays the flat amount for it in return.
The second is a cash bar, where guests must pay for each drink they order. Such a bar is rarely seen anywhere, but it's a good solution for budget-tight couples. If you plan to have a cash bar style at your wedding reception, ensure your guests know about it. 
The third one is a consumption bar, and the only difference between a consumption bar and an open bar is; that the host has to pay per drink when the wedding is over. 
Bar Decor
Apart from the other arrangements of the bar, your bar needs to have a polished and clean look so everyone can enjoy drinks around it and take selfies.
Decorate and dress up your bar with different decoration pieces such as lights, balloons, and, most importantly: drinkware.
Drinkware is also an essential element that needs to be taken care of as it carries your personality style. Make sure you have a collection of wedding disposable wine glasses.
If you are looking for elegant plastic glasses, then Smarty Had A Party is where you should be looking for them. Get the stylish and fancy disposable vintage champagne flutes for your special occasions to elevate your serving style.
Wedding Cocktails
One of the most popular trends today is to offer your guests a drink while they wait at the reception for the wedding to begin. Offer guests an emerald cocktail that will be the perfect introduction to your wedding. Consider a green drink, such as Midori Margarita, Green Apple, Martini, or our Classic Mojito. Serve your drink with emerald green decoration and let the bright colors of the cocktail speak for themselves. 
The trends in the wedding drinks list go in one direction (which, by the way, we all love) - colorful, mixed cocktails. But, recently, newlyweds of refined taste are moving the threshold and looking for more: a cocktail whose recipe was made exclusively for their wedding. Of course, if you want to apply this idea and overshadow the guests, you will rely on your taste. However, before that, be sure to read some of our ideas on how to serve good old drinks in a new way.
The Knotty Martini  
What is specific: although it is not standard for martinis, the blue color is associated with weddings, as is the name of this cocktail. 
Ingredients: 
1 dose of Bacardi rum, 

½ Doses of Blue Curacao 

2 doses of pineapple juice 

pineapple slices (for decoration) 
Directions:
Combine alcoholic beverages with juice in a shaker. Slowly pour into a chilled martini glass, pre-coated with sugar around the rim. Garnish with a slice of pineapple before serving. 
The White Cosmopolitan
What is specific: the white version of cosmopolitanism is exquisite when decorated with orchids. 
Ingredients: 
2 doses of vodka 

1 dose of drink St. Germain 

¾ doses of white currant juice

 ½ dose of lime juice 
Directions:
Mix all ingredients with ice in a shaker and mix well. Pour into a chilled martini glass. Decorate with orchid flowers. 
Pomegranate Margarita
What is specific: pomegranate gives an exciting taste to a classic margarita. 
Ingredients:
1 dose of tequila (white) 

½ dose of freshly squeezed lime juice 

½ dose of pomegranate liqueur 

½ dose of triple Seka lime peel (for decoration) 
Directions:
Shake all liquid ingredients well in a shaker. Serve as a martini - in a well-chilled glass lined with sugar along the edge. Garnish with lime zest if desired. 
Feozen Raspberry Pinacolada 
What is specific: ice raspberries refresh the classic recipe for pine chocolate. 
Ingredients:
1½ dose of light rum 

1 dose of creamy coconut liqueur 

1 dose of pineapple juice

Raspberries, lemon, and lime peel (for decoration) 
Directions:
Mix everything except lemon or lime peel in a blender and add a little crushed ice. Mix until smooth. Serve in tall glasses and garnish with lemon or lime zest.
If you are planning a wedding in the summer, colorful fruit cocktails are the right choice! Cocktails served in fresh fruit are a growing trend. Coconut, melon, and watermelon are among the most sought-after fruits for serving cocktails. Cocktails decorated with flowers are simply irresistible. Outdoor weddings allow you to indulge your imagination and create a completely exotic, colorful, and fluttery wedding theme. Another exciting detail is adding traditional motifs to the decoration of the cocktail. Every wedding should have something blue. Why wouldn't it be a cocktail? Create a recipe based on liqueurs such as Blue Curacao. You can use some blue fabric you like as traditional decoration.