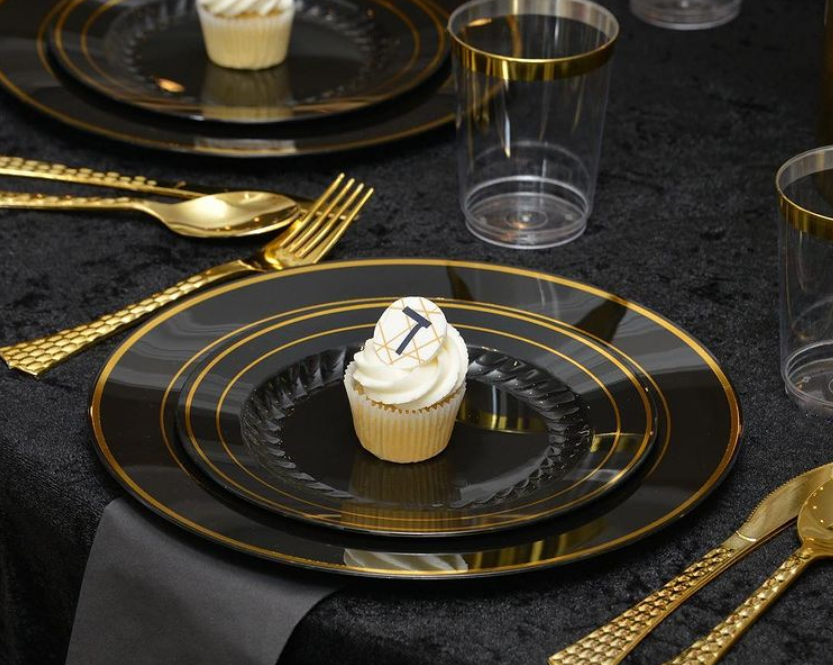 Fashionable Party Trends That You Need to Know
Parties are back now! And that's why everyone tries their best to decorate them well like never before. However, it's always good to know what party trends are going on, and if you are the one looking for them, you have reached the right place.
We have curated a list of fashionable party trends to help you throw amazing parties and wow your guests with eye-catching decor. 
Metallic Letters Decorated with Balloons
Marques's letters were first introduced in the entertainment industry. They became famous for a while but then disappeared. Then, after a short period, they started appearing in luxury, upscale parties, and special occasions.
Marques's letters are the brilliant decoration piece that will hold a strong statement in the scene. However, consider decorating them with balloons if you get a plain or dull look. Balloons are the sweet element, and we see them on almost every occasion. 
So, fill up some fancy and elegant balloons and decorate the surrounding with marquee letters to elevate its look. 
Create a Photo Spot
In the era of social media, there's a continuous urge to click and take selfies with an attractive background or eye-catching view at any event.
Moreover, you want your guests to click photos around your decoration setup, so it can be the talk of the town. Finally, as a good host, you will appreciate the guests' applause and compliments.
That's why create a spot at your venue with an attractive background image, perfect lighting, greenery, and fresh flowers. Moreover, you can do anything creative with its decoration and make your guests wow at it. 
China-Like Party Supplies
It's the 21 century, and ceramic and other materials are dull & out of date. So you need to replace your old ceramic party supplies and bring some elegant party dinnerware that should complement the food you will be serving.
In the new year, you should opt for fancy mini partyware, as these are cute and adorable-looking party supplies. 
These are disposable and made of BPA-approved plastic, meaning it's only used the finest quality plastic. If you want to pace up with the new trends, consider disposable mini partyware affordable to any budget.
Apart from the price and quality, our mini plastic party supplies are durable enough to bear accidental drops. As these aren't fragile like the ceramic, you won't need to be extra careful while handing them over to kids at the parties. 
Package Treats
Everyone loves the individual treats, and everyone gets excited while receiving goodies, especially at the parties. However, the food serving style is changing a bit and will change even more. 
Now, hosts prefer handing over the separate packages to the attendees. Decorate these small packages and give them a modern look to elevate your serving style.
There are plenty of ideas that you can implement and get the perfect and attractive-looking package treats ready for your guests.  
With the virus growing again, we are cautiously moving through 2022. In other words, we are spending more time at home again. The good thing is that so far (I guess), we have learned how to deal with it. If, however, you have fallen into a rut, you lack travel, or you need a new hobby, you can be interested in decorating the table these days.
Make dinner for yourself or your friends, and try some trends that will reign in 2022. And the food will be tastier in this environment.
Maximalism  
Did minimalism ring? Oh yes! At least when it comes to decorating tables. Everything is allowed: mixing colors and patterns, playing with cutlery and decoration. Pink cups, blue plates, flowers and tablecloths in flashy tones, pink candles, and red napkins - yes! Make a mini Disneyland from the table. When the eyes are fed with variegation, less space is left for overeating.
Vintage 
Here is the perfect way to give your table a touch of nostalgia. Everyone needs some authentic, timeless vintage piece, and this trend confirms that. Delicate plastic dishes and gilded dishes are a must-have.
A Table as a Destination 
If you are hungry for travel, move it to your table. This trend in table decoration is rare healthy escapism. Imagine Positano or Marrakech and copy the desired destinations through tall candlesticks or rustic painted dishes. In this case, borders are not a problem. The passport can remain in the drawer.
Forget about fancy coasters. It's time to take the forgotten tablecloths out of the back of the drawer. If you have a headache at the thought of ironing, don't worry because, in 2022, crumpled tablecloths are okay. Chic and practical at the same time.
You have certainly brought a little bit of yourself into every corner of the house, so there is no need not to do that when it comes to decorating the table. Forget non-uniform tables and white plates - whatever that means for you is nicely welcome - even though they are white plates and have reduced decoration. You certainly don't have to stop there.
Just natural! 
Although the industrial style has been one of the most popular in recent years, due to the epidemic and long captivity in their home, everyone is increasingly turning to nature. As a result, palm leaf, rattan, bamboo, and wicker are becoming increasingly popular, so it is logical to assume that these materials will displace the black matte trend reinforced with metal elements.
Boho Remain Current 
For a moment, the modern style from the middle of the century got its chance to shine with full splendor, but don't worry, if you weren't very enthusiastic about this trend, you would be happy to hear that it won't be so popular in 2022. Instead, design experts agree that some much lighter but more cheerful options will be in trend, and the first on the list is boho, which simply does not go out of fashion.
Artificial Plants are Being Forgotten 
Although this trend of fake plants occasionally appears to remind us that this can be one of the ways of decoration, one thing is for sure - 2022 will not be fruitful for all lovers of artificial flowers. Natural, lush, green, in a word, alive, that is what most homes will prefer to decide on next year.