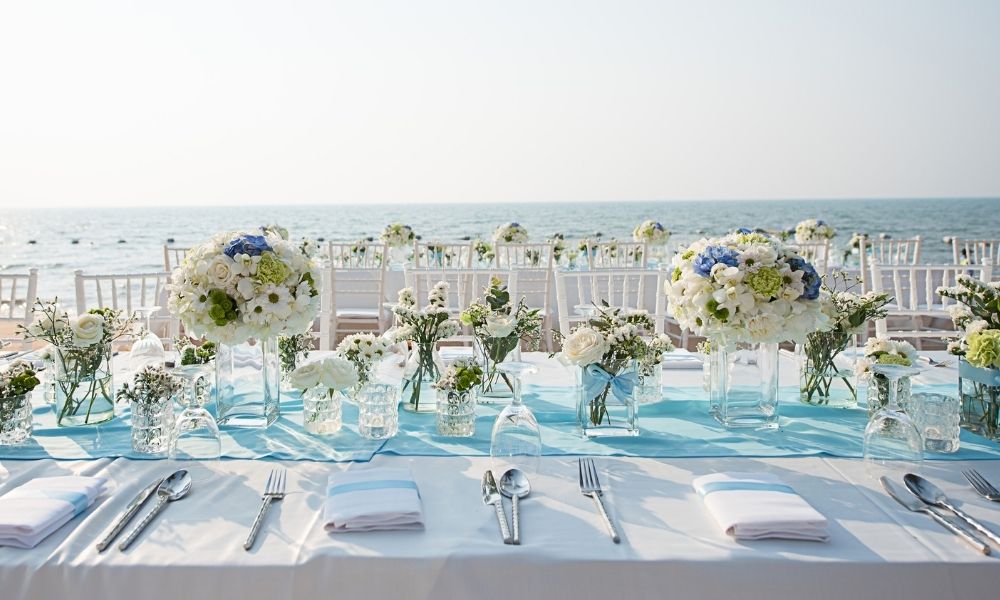 The Trendiest Wedding Theme Ideas for 2022
The previous period, during which we were more than ever turned to ourselves, brought many lessons, among which is that we should fearlessly be what we are. Life is too short to pretend, restrain and complicate things - following our feelings is what we need. Although this has little to do with the organization of weddings or wedding decorations, this way of thinking has influenced the formation of most trends, including these. If it is true that we live in a new normal, then everything that was once normal should now be changed. In the context of a wedding, you need to be much more imaginative and free to choose details that are not expected that deviate from the norms and that best represent you as a future married couple.
Your wedding ceremony will be one of the most memorable events in your life, but you need to plan to make your special day happen the way you want. Planning a wedding can be stressful, but if you start by choosing a theme, you can plan your whole wedding around that idea.
Once you decide on your theme, obtaining materials, selecting a venue, and deciding which food to serve is easier. With that in mind, here are the trendiest wedding theme ideas for 2022.
Moroccan Theme
Although you might not come from Morocco or live there, choosing this theme will give your wedding a festive feeling that will surely excite your guests. For this theme, you will want to choose vivid colors with unique fabrics, lanterns, and wedding drinkware.
Try to use as many Moroccan rugs as possible to tie everything together. If this idea feels overwhelming, you can still achieve this outcome with a minimalist version. You can hang a few tapestries and tassels to go along with this theme, but be sure to use pouf seating over more traditional seating arrangements such as chairs.
Summer Wedding
One of the easiest ways to decide on a theme for your wedding is to tie it in with the season. For example, summer is one of the most famous wedding seasons, and you can make it the theme by choosing suitable materials.
Summertime in the sunshine will connotate life, light, and warm, fuzzy feelings for your guests, and you can convey these emotions by choosing a suitable color scheme. Primary colors such as yellow, red, and blue are fantastic choices, and if you are celebrating your wedding near the Fourth of July, you can go with red, white, and blue.
However, using pastels will help keep the focus on you because loud, neon colors might be a bit distracting. For music, choose traditional pop, country, and rock songs that you might hear at a summer BBQ to soundtrack the occasion.
Beach Theme
Finally, if you are hosting your wedding on a beach, you can turn your setting into the theme by decorating appropriately. Tropical drinks such as margaritas make perfect refreshments for the occasion, and you can also include blow-up palm trees and leis, plastic grass, and flowers at each of the tables for the reception. Hiring a steel drum player for the evening might be cheaper than a professional DJ, but you must tell them which songs to play ahead, so they have enough time to rehearse them on the instrument.
Overall, your wedding day should be one that you never forget, so you will want to plan the event accordingly. However, now that you know a few trendiest wedding theme ideas for 2022, this shouldn't be too challenging.
Shabby Chic
This style is probably best described as a combination of rustic and old-fashioned but in a good way. If you want this to be the theme of your wedding, you will also need details in that style, such as wooden elements, wildflowers, vintage dishes and cutlery, and similar pieces. You can find inspiration at your grandmother's wedding if such photos are available.
Vintage Theme
This trend builds on the previous ones and encourages us to focus more on feelings and emotional values rather than on making everything perfect. In that sense, feel free to include "something old" in every sense of the word in your wedding decoration and create a unique, just your most personal story that you will not see anywhere else. In addition, vintage pieces are more popular than ever in decoration, fashion, and other areas.
Outdoor Wedding
This trend should not surprise us - since the pandemic has dramatically changed the course and meaning of weddings, we had to find a way to adopt outdoor weddings. Accurate, this trend will not suit winter weddings, but if you like the idea of holding your wedding in a fairy garden, plan a date when the weather will be nice and warm enough to achieve your intentions. In addition to traditional decoration that should be in harmony with the environment, do not forget that lighting dramatically contributes to the atmosphere, especially at night.
Following the already mentioned deviation from the classic color palette, the trends in floral decoration are also somewhat bolder and require stepping out of the comfort zone. Of course, greenery is always desirable, but this time refresh it with flowers in dark, bright colors that will be enough to bring out the whole decoration. Let it be colorful, cheerful, and optimistic, but also elegant and elegant.
Themed weddings are always an exciting option, although rarely do couples opt for them because they are a little harder to organize, but everything is worth the effort! In addition, when it comes to topics, in 2022, those related to travel will be popular, things that we missed the most in the previous period, and there are many variations - from travel in general to a specific destination. So this is another way to organize a personal wedding with a theme that is only close and dear to you.