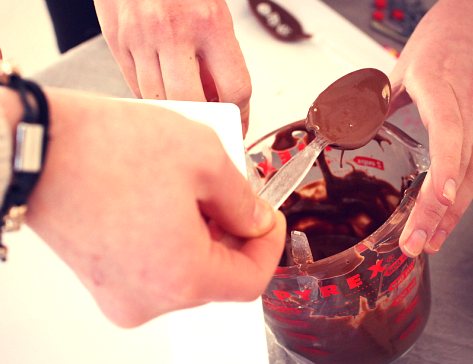 The Best Home-Made Hot Chocolate Recipe
All of us love the idea of chocolate. One way or the other, we just want to consume it and reward ourselves with a sudden dopamine rush. In winter, the best form of chocolate is hot chocolate. It is a heavenly sweet, drinking chocolate made with shaved chocolate, cocoa powder, milk, and sweeteners. 
Chocolate is the key ingredient to making this recipe what it is - awesome! Some recipes include cocoa powder, and some include just the chocolate shavings, but we have decided to add both to our rich hot chocolate recipe to give you the flavor of winter. So make homemade hot chocolate this holiday season and get ready to receive endless compliments from the guests.
We will share the best recipe for homemade hot chocolate to warm and cozy your winter holidays. Even if you have committed to not eating chocolate for whatever reasons, this hot chocolate will make you push your limits, and you might even beg for more.
Ingredients:
Here is a list of ingredients you will need to make a perfect hot chocolate at home.
Cocoa powder: ⅓ cup

White sugar: ¾ cup

Milk: 3½ cup

Chocolate shavings: ⅓ cups

Vanilla extract: ¾ teaspoon

Salt: 1 pinch

Cream: ⅓ cup
Make sure the cocoa powder is unsweetened since it adds a deep chocolate flavor to the drink.
Procedure:
In a saucepan, add sugar, salt, and cocoa powder, and whisk them well together. Then add milk, chocolate shavings, and vanilla to them.

Place the saucepan over the stove and turn on medium heat until the liquid starts to simmer. Note that it is important to whisk continuously because you don't want to burn the chocolate.

Once the chocolate is melted and the cocoa powder is completely dissolved in the milk, take it off the stove and divide it into cups. Add cream to the cups to enjoy the rich flavor of your homemade hot chocolate.
Serving:
The amount of ingredients in this recipe serves 4, but you can always decrease or increase the number of ingredients based on the number of people you have to serve.
Now that you've made the best hot chocolate in town following this recipe, you must serve it elegantly. Our elegant disposable mugs are a perfect solution to your problems. They make serving a cinch and look gorgeous on your party tables. So serve this amazingly delicious hot chocolate in our disposable plastic mugs and enjoy the warmth of winter with elegance.
Your satisfaction is what drives us to perfection! When served in our elegant disposable mugs, we ensure that this delicious drink will make your winter parties memorable. 
Nutritional Value
Know how this drink will impact your health and metabolism by knowing the nutritional values of the drink. A single serving of the drink mentioned above contains:
Calories: 310 kcal

Cholesterol: 28.3 mg

Proteins: 9.3 g

Fat: 8.7 g

Carbohydrates: 52.8 g

Sodium: 102.1 mg
Smarty Tips:
There are recipes for hot chocolate on all sides, and I try some new ones every winter. All are more or less based on heated milk to which crushed chocolate, spices, and sugar are added as desired. Variations in ingredients lead to differences in final taste, smell, and density. The flavor will be more intense if you use dark chocolate instead of milk. Cinnamon, nutmeg, vanilla, pepper, and chili are some of the spices that can be added. Someone put in a little instant coffee or a teaspoon of liqueur. Density depends on the amount of added milk and other ingredients, and pudding or thickener can be used for extra thickness.
French Hot Chocolate 
Ingredients:
2 cups whole milk

½ A cup of sweet-sour cream

1 -tablespoon powdered sugar

dark chocolate

Whipped cream
Directions:
Add milk, powdered sugar, and sour cream to the sherpa and heat over medium heat, taking care not to boil. While the mixture is heating, chop the dark chocolate. (For the best taste, use good quality chocolate that contains at least 60-70% cocoa.)
When it is thoroughly heated, remove from the heat and add the chopped chocolate to the sherpa. Whisk until smooth.
Pour into small cups and immediately serve with whipped cream and a little extra chopped chocolate on the top. 
Vegan Mexican Hot Chocolate 
Ingredients:
1 cup unsweetened vanilla almond milk

half a cup of coconut milk

a bar of dark chocolate broken into pieces

1-2 tablespoons of unsweetened cocoa powder, depending on your wishes

1- teaspoon ground cinnamon

¼ a teaspoon of ground red pepper

pinch of salt

1 -tablespoon coconut sugar
Directions:
Pour coconut milk, almond milk, pieces of chocolate, cocoa powder, cinnamon, salt, paprika, and coconut sugar into a small pot. Stir together and bring the ingredients to a boil, then reduce the temperature to a minimum and cook for 3-5 minutes, stirring occasionally.
Pour into 2- small cups, then sprinkle with some ground cinnamon on top or add a cinnamon stick. 
Enrich the Taste of Hot Chocolate in an Unusual Way
Amaretto and caramel mix: In addition to going well with chocolate flavors, Amaretto can calm you down after a hard day. With a bit addition of hot chocolate, along with a teaspoon of caramel topping and sprinkled with chocolate crumbs, you will enjoy the unusual, frothy-sweet taste.
Russian hot chocolate: Only for the bold. Mix 50g of Kahlua cocktail, 25g of vodka, and 1 cup of hot chocolate made from milk. The taste is magical, so be careful not to drink too much.
Mexican style: Inspired by Mexican flavors, this combination goes surprisingly well with hot chocolate's rich, full flavor. Peppers complement the taste of cinnamon, which in turn complements the taste of chocolate. Add 1/2 teaspoon of cinnamon and a pinch of chili peppers to your favorite hot chocolate. This combination is ideal for all lovers of unconventional flavors.
Sweet raspberry paradise: Raspberries and white chocolate make a delicious drink. Pour the raspberry liqueur into the white hot chocolate. Garnish with a piece of ginger and fresh or frozen raspberries if desired.
Ginger and Cardamom: Perhaps an unconventional partner for chocolate, ginger has a sharp taste that should not be limited to Asian dishes. Combined with the equally non-traditional taste of cardamom, it is a real delicacy. Mix a little of both spices in the hot chocolate until smooth and creamy.
Biscuit and cream: This is one simple but so delicious variant. Simply grind Hig Hagemann Doppel biscuits into hot chocolate and pour whipped cream.
Ice Cream Chocolate: Sounds like an oxymoron, doesn't it? Break up the peppermint candy and stir in the hot chocolate, then add 1/2 teaspoon of the peppermint extract. Pour the whipped cream with the foam and sprinkle the remains of the crumbled candies on top.
Peanut Butter: Chocolate and peanut butter are perhaps the most ideal sweet combination. Then why not use it in drinks? Melt the peanut butter in your favorite hot chocolate and garnish as desired, enough for the perfect drink.
Irresistible citrus: Add 2- strips of orange peel and 2- strips of lemon peel to the hot chocolate, then add 3/4 cup of warm milk. Remove the rind after 2 minutes and add a little lemon liqueur.
Rustic hot chocolate: Stir maple syrup into hot chocolate for a completely different, new taste.