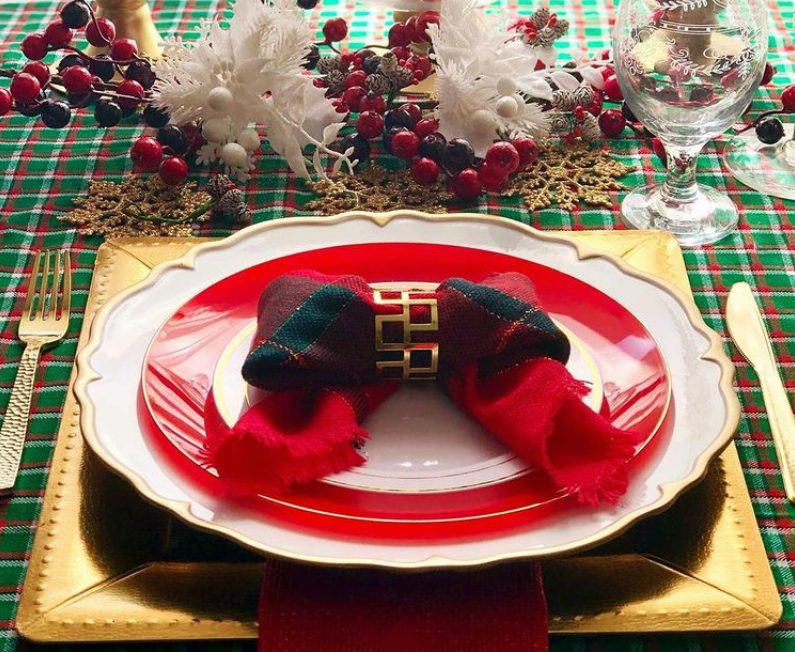 Fancy Christmas Dinnerware to Glam up Your Party Décor
When events like Christmas arrive, there is an excellent need for glossy and elegant-looking dinnerware to pull out and serve in style. But, even if you have the finest quality dinnerware sets, you should at least consider changing them. Aren't they outdated? The design, colors, patterns - aren't you tired of using them again and again?
If you want to replace your old dinnerware set with something fascinating and upscaling your table, we have covered you with our detailed guide on fancy Christmas Dinnerware for your party decor.
Disposable Dinnerware for Christmas
When you are planning to shop for a new dinnerware set for your next Christmas party, it's essential to compare the different dinnerware sets available in the market, so you know what can be a part of your tablescape at the party. 
Well, one of the top of the line dinnerware sets that come is ceramics and china. No doubt, they are fantastic and elegant. But they are too expensive if you plan to buy the fancy dinnerware sets.
That's why we consider disposable dinnerware sets best and highly recommended, especially for events like Christmas. Disposable dinnerware sets and party supplies are always affordable for any budget.
Besides the budget factor, disposable offers the ultimate practical benefit you won't find in other materials.
Why Disposable Dinnerware Sets?
If you haven't used the disposable dinnerware sets, you wouldn't be aware of their practical benefits. Apart from being cheap, disposables are safer to use than other materials like ceramics and china.
For example, there would be kids and adults at your Christmas party. Consider handing over your precious and expensive ceramics plates to kids and minute after picking them up in pieces.
Disposable dinnerware sets are super comfortable to hold, lightweight, and durable enough to bear the drops on the floor.
Moreover, disposable dinnerware sets allow you to have a minimal mess at the party. Disposables should be disposed of once your guests have finished eating. Meaning: no dish cleaning or soaking your hands in cold water.
Our Elegant Dinnerware Set Collection
Disposable party supplies and tableware offer multiple benefits, so everyone should consider buying them for upscale and formal dinner parties.
We have a wide range of fancy disposable value sets and Christmas plate sets in different styles and designs. Even if you don't like the modern designs of the dinnerware sets, we are proud to say that when you look around, you will come up losing your heart to one of the elegant disposable plate sets.
Our disposable dinnerware sets don't only cater to the practical benefits but also help you to cover your tablescape with fantastic fancy plates. If you are always looking for something unique and antique, Black with Gold vintage round rim plates are for you.
Look around for the best dinnerware set collection for your next Christmas party, even if you are on a budget.
Golden torches, wreaths, or candles are classic elements of Christmas decor that will never go out of fashion. However, sometimes it is worth taking the opportunity and experimenting with accessories to add an even more unique atmosphere to the decor. We can improve this effect by choosing them according to our interior style.
Warm Earthy Colors
Bright and soft materials, glowing fire in the fireplace, and soothing, warm color of Christmas lights. Such elements make us simply feel good in a given space.
Earth tones are so popular among this year's Christmas arrangements, which perfectly emphasize this atmosphere. Beige, brown, cappuccino, or even slightly red and terracotta are shades that visually warm the interior. This style is perfect for almost any interior.
Warm colors can be combined with metallic elements in the color of brass, old gold, and silver covered with patina. They go well with the simplicity of Scandinavian-style interiors, where light shades and wooden elements such as furniture or floors predominate. Decorations in this style should also be used on the Christmas tree. Let's focus on the transparent glass decorations that are in fashion this season, which will complete your table's visual look. They can be in the classic version without decorations or with colored delicate patterns.
Complete the composition with metal elements and decorations of different shapes reminiscent of the holidays. We can also subtly combine gold and silver. Let minimalism reign in the version of glamor! 
Be Brave! Play with Solid Colors!
This season, intense colors are definitely at the forefront when it comes to Christmas arrangements!
Dark shades of green, navy blue, intense purple, and red. Their combination will add character to the whole arrangement. Intense colors can be used in different ways. In stores, you will find a lot of accessories in this style, so we can play with a subtle Christmas table composition. Dark tablecloth with metal ornaments and intensely colored dishes combined with gold cutlery. Even the Christmas classics, red, can be presented in a completely new environment and with much greater intensity - not only as a delicate accent but also as a dominant theme in the interior.
Dark, colorful decorations will fit perfectly with the gray color in the interior and with marble motifs. Thanks to this combination, the whole stylization will have a strong character, but it will not be visually exaggerated.
Magic Forest
We can use the popular forest theme as we edit the table for this year's Christmas. It fits in perfectly with the ecological approach, which is becoming increasingly popular every year.
We can put, for example, dried fruit, wooden pendants, handmade decorations, and pine twigs that are in fashion this season. Not only do they look beautiful, but they also enrich our table with a gentle scent! Forest style gives us a lot of space for our creativity.
Let's take care of the details, including gifts. All you need is gray paper, natural jute ribbon, and a piece of Christmas tree. It will look great on your table, not only because of the ecological approach to this theme but also because of the retro style. We use the same materials to decorate the table to make our whole eco-arrangement more coherent.
Merry Christmas Smarties!