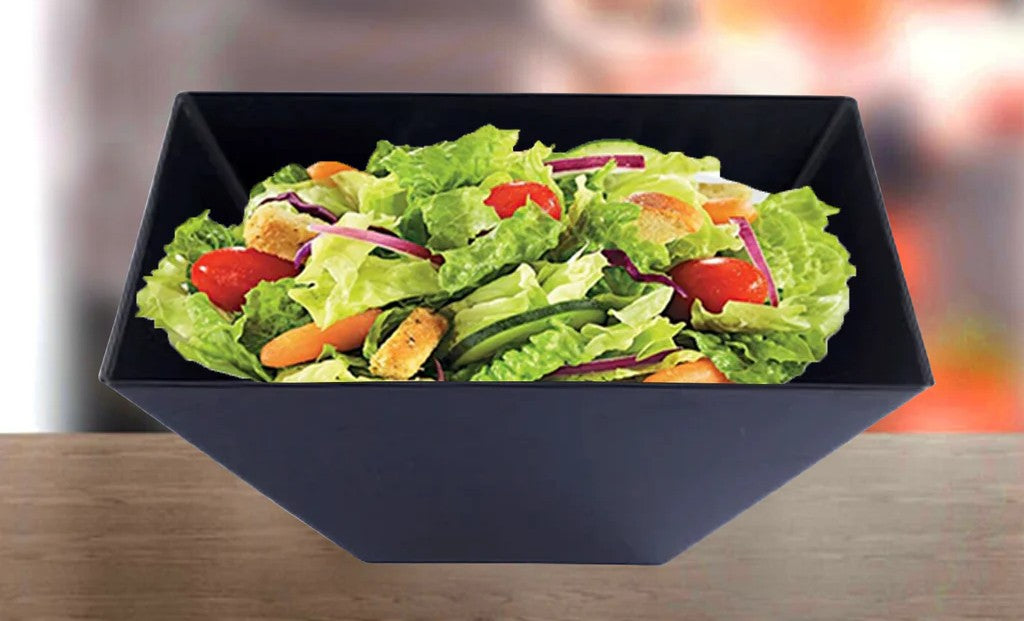 The Plastic Bowls Kingdom: The Ultimate Solution for Your Salad Needs
A suitable bowl can make all the difference when enjoying a fresh and healthy salad. And while plenty of options exist, plastic bowls are a reliable and convenient choice for many salad lovers. Lightweight, durable, and affordable, disposable plastic bowls come in various sizes and styles to suit any need. Plus, they're easy to clean and reuse, making them eco-friendly for reducing waste. In this post, we'll explore the benefits of plastic bowls for salads, how to choose the right one for your needs, and some tips for using them effectively. So whether you're packing a salad for lunch or serving up a big bowl for dinner, the plastic bowls have got you covered.
Benefits of Plastic Bowls
Plastic bowls offer several advantages over other materials when serving salads. Here are some of the key benefits:
Lightweight and Easy to Handle 
Plastic bowls are typically lightweight and easy to handle, making them an excellent choice for those on the go. So whether you're packing a salad for lunch or taking it to a picnic or potluck, plastic bowls won't add extra weight or bulk to your bag.
Durable and Long-Lasting 
Despite their lightweight design, plastic bowls are also durable and long-lasting. They can withstand a fair amount of wear and tear without cracking or breaking, which makes them an outstanding option for daily use.
Affordable and Widely Available 
One of the biggest advantages of plastic bowls is their affordability. Compared to other materials like glass or ceramic, plastic bowls are generally much cheaper, which makes them an accessible option for those on a budget. They're also widely available in stores and online, so you can easily find them in various sizes and styles.
Variety of Sizes and Styles Available 
Regarding sizes and styles, plastic bowls come in many options to suit any need. There's a plastic bowl for every occasion, from small plastic bowls for individual servings to large disposable mixing bowls for family-sized salads. You can also find plastic bowls with fun patterns or bright colors to add personality to your party tables.
Easy to Clean 
Finally, plastic bowls are easy to clean and dispose of, which makes them convenient for those who host parties with a long list of guests. Most plastic bowls are disposable but can be easily hand-washed with soap and water. 
Choosing the Right Plastic Bowl
Now that we've established the benefits of plastic bowls for salads, choosing the right one for your needs is essential. Here are some factors to consider when selecting a plastic bowl:
Consider the Size and Depth
First and foremost, you'll want to consider the size and depth of the plastic bowl you need. A smaller bowl will do the trick if you're serving a small side salad. But if you're making a big family-style salad, you'll want a larger bowl that can hold all ingredients without overflowing. Additionally, consider the depth of the bowl - a deeper bowl will make it easier to mix and toss the salad without it spilling over the sides.
Consider the Material and Quality
While plastic bowls are generally durable, not all plastic is created equal. Look for disposable bowls made from high-quality, food-grade plastic that won't crack or warp over time. It's also a good idea to avoid bowls made from recycled plastic, as these may not be as sturdy as bowls made from new materials.
Consider Any Additional Features
Finally, consider any additional features that may be useful for your specific salad needs. For example, if you're bringing a salad to work or school, a bowl with a lid can help keep it fresh and prevent spills during transport. Some plastic bowls also come with built-in dividers, which can help separate different types of ingredients or for serving multiple people at once.
Tips for Using Plastic Bowls for Salads
Using plastic bowls for salads is a great choice, but there are some tips and tricks to remember to get the most out of your experience. Here are some helpful tips to keep in mind:
Before adding salad ingredients, ensure your serving plastic bowl is clean and dry. Any leftover residue or moisture can affect the freshness and flavor of your salad. To ensure your bowl is clean and ready to use, wash it with soap and water and dry it thoroughly before use.

It's important not to overfill your plastic bowl with salad ingredients. This can make it difficult to mix or toss the salad without it spilling over the sides. It can also make eating challenging, especially if you're on the go. Stick to the appropriate portion sizes for your bowl and avoid overcrowding it with too many ingredients.

If you're bringing your salad to work or school, consider packing your dressing separately in a small container or using a separate 

small plastic bowl

 for it. This will prevent your salad from getting soggy and ensure that the dressing is evenly distributed when you're ready to eat.

If you have leftover salad, store it in a bowl with a 

plastic lid

 in the refrigerator. This will help keep it fresh and prevent any odors or flavors from transferring to other foods. Then, when you're ready to eat the leftovers, simply remove the lid and enjoy!
Where to Buy the Best Plastic Bowls?
Now that we've discussed the benefits of plastic bowls for salads, you may be wondering where you can find the best ones. Here's one excellent option:
Smarty Had A Party is an online store specializing in party supplies, including plastic bowls. They offer various plastic bowls in different sizes, colors, and styles, including dessert bowls, mini plastic bowls, soup bowls, and disposable serving bowls, so you can find one that suits your needs. They also provide affordable prices, making stocking up on bowls for all your salad-making needs easy.
One great feature of Smarty Had A Party is its commitment to sustainability. For example, the disposable bowls they offer are made from recyclable, compostable, or biodegradable materials, so you can enjoy the convenience of plastic bowls while also being environmentally conscious.
When shopping for plastic bowls, looking for a reputable supplier that offers high-quality products is essential. With Smarty Had A Party, you can be confident that you're getting a great product at a great price.
In summary, plastic bowls are an excellent solution for making salads, and Smarty Had A Party is a fantastic place to find them. So go ahead and stock up on plastic bowls today, and enjoy delicious and healthy salads at home, work, parties, special occasions, or on the go!