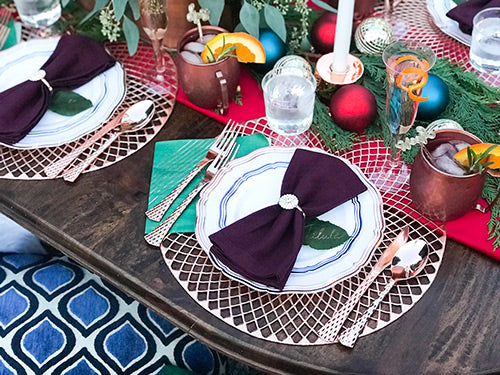 The Most Trending Christmas Party Table-Setting Ideas
This holiday season is an excellent opportunity for decor lovers to showcase their mastery and plan a fabulous holiday party with a fantastic theme and remarkable decor. Well! The first thing that comes to mind while planning and designing the set for the party is the table decor which needs to be spot-on and right according to the theme, and it becomes a primary cause for the bashing part and unforgettable get-togethers. 
So get yourself all set, as we will provide some promising ideas for the table setting. You must be curious to glance at them, aren't you?
Set the Table with Some Classic Rock Christmas Colors
You can set the table with some fantastic Christmas colors like black and white along with a contrast of red; it would surely be a killer combination. You can choose the check linens to cover the menu area, and it will give an excellent vibe. 
The whole table can be set in the classic mood more when you add some Christmas ornaments like mini Christmas trees covered with faux snow and red accents to add a little glamor to the table.
You Can Also Go with a Happy Hue
There is no hard and fast rule for choosing colors. You can pick whatever color you feel speaks to you; you can go with a funky pink or a killer black. However, try to choose the one that perfectly goes with the whole of the house to maintain the coherence element, as it gives an excellent look to the decor.
The best thing you can do is carry a happy hue through different accessories present on the table, like napkins, plates, and other decorations like mini porcelain trees, colorful macarons, etc.
Craft an Edible Place Card Holder
Putting an elegant card holder on the table is a great idea that gives a pretty gaze to the table decor. Many of us might have a query regarding making this homemade craft. Well! It is easy, and you need some basic and readily available torments to make them like candy canes. 
Wrap them with cellophane wrappers and try to position them in a sort of tripod stand, and make sure to level it right according to the table so that it comfortably fits in. Then, you can secure it with a few drops of hot glue so it completely adheres to the table and finishes with a handmade ribbon bow. 
Add a Centerpiece that You Can Eat
Centerpieces are the life of the tables, so spend your all to buy some glamorous centerpieces to set the table perfectly. You can assemble a fanciful farmhouse alone that will add a delicious scent. 
You just need some basic gingerbread house kit, sliced shingles, Unwrap shiplap, salty shudders, fragrant garland, lovely berry, a delicious doorknob, a cinnamon roll, a snow cone, etc., and attach them one by one to make a perfect centerpiece. You will be glad to see the final look.
Make it Magical
The Christmas table is the most exciting thing that most of us look forward to, so whenever you set your table, you should make sure that you not only focus on preparing the table but on making the whole scene magical by making the entire arrangement classy and unforgettable for the guests.
The best thing that you can do is always place your table near the essential part of Christmas decor, and that is the Christmas tree; design your Christmas tree in the perfect set that appeals to everything and place it near the table from where you and your guests can easily see the beauty, it adds up to the natural glamor.
Use the Good Dishes
The cutlery set you put on the table plays a vital role that can either hit the party or make it fall flat, so always choose it wisely. Also, always try to match your plates and other utensils with the overall theme of the decor and, most notably, with the table theme and colors.
Find a New Use For a Throw
This part deals with the tablecloth, which plays an essential role in the table setting, so spend your time choosing it, but honestly, you do not need to spend your all as it just needs a little creativity, and you are ready for the exact tablecloth that you need. 
Talking about creativity, we are focusing on a new use for a throw, so you can take the old blanket cover you are about to throw, wash it well, iron it properly, and it is good to go on the table. 
Hint: it will add to the glory if that blanket cover is in the checks; it will surely give an extra cozy feel to the table.
Forage and Evergreen Runner
Choose the table runner that gives a festive look and a fantastic fragrance. Next, you need to grab some evergreen clippings and line them on the center of the table along with some ornaments like flameless candles, some faux silver stars, and several fresh pine cones as a centerpiece that gives a super lavish look to the table.
Displaying Elegant Utensils
Your table is meant for eating and drinking, so it will look incomplete without elegant, heavy-duty plastic cutlery. So this Christmas, why don't you throw a huge party? And if you are afraid of the mess-ive aftermath of the party, then try durable plastic cutlery. Having heavy-duty plastic cutlery sets at your disposal is the best favor that you can do for yourself. 
Being a party person, you need disposable spoons, solid plastic knives, and heavy-duty forks. But suppose you aren't a party person. In that case, having strong plastic cutlery will become necessary to save yourself from the tears of getting your crockery broken and your body from cleaning and washing afterward.  
Now you must be wondering about the best place to get these from. An ideal option for you would be Smarty had a Party, as we can offer you the best heavy-duty plastic cutlery. On our store, you can access flatware collections and cutlery sets perfect for preparing you for your Christmas bash. In addition, you can get elegant plastic forks, durable spoons, and strong knives to make your guest's jaws drop.