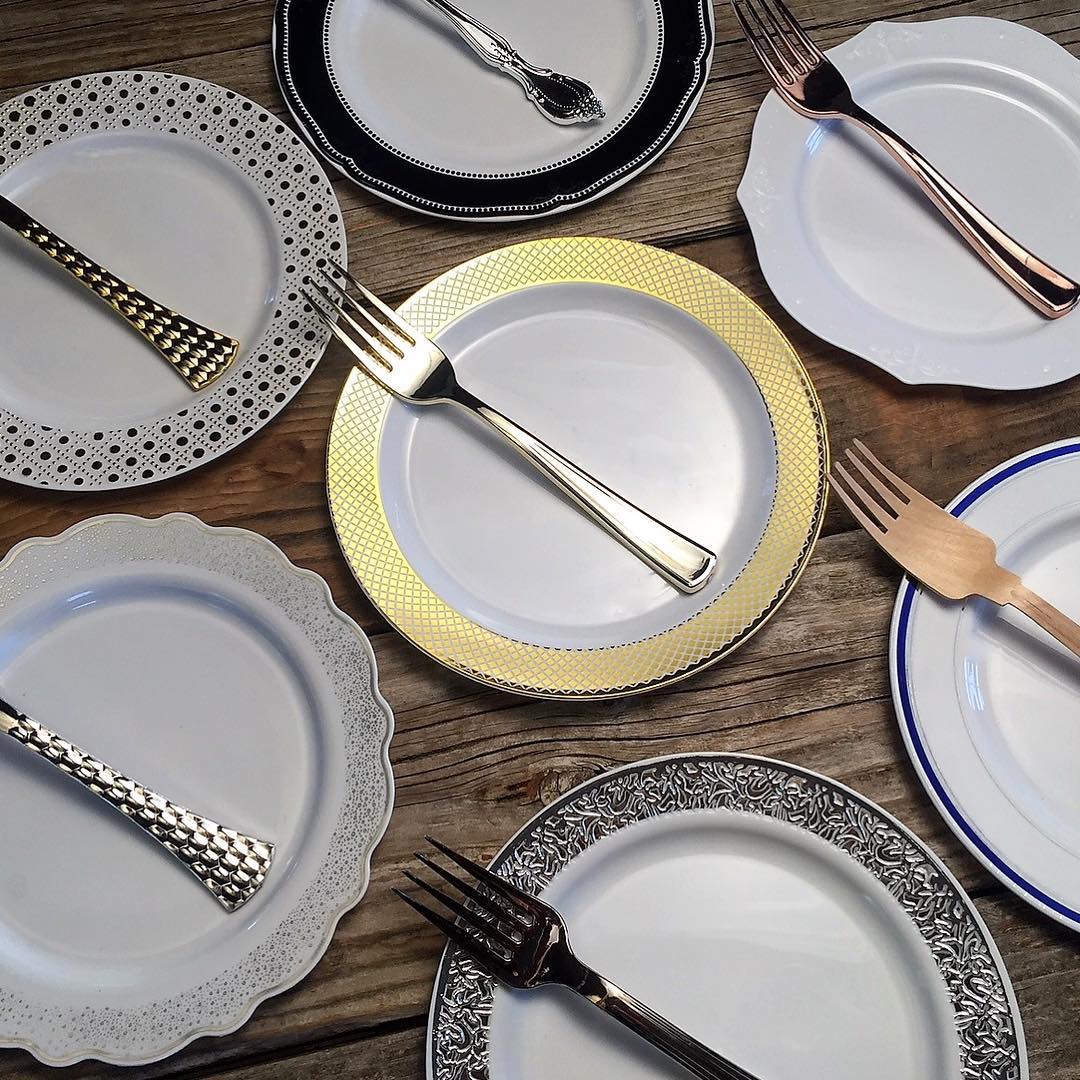 The Best Way to Party with Disposable Plastic Plates
If you've ever thrown a party, you know that having beautiful and handy party plates can make all the difference in how your guests feel. Of course, you don't have to spend a fortune on high-end dishes, and plastic ones will do just fine! However, there are ways that even disposable plates can be elegant and sophisticated.
Fancy Disposable Plates-Great For Any Party!
All kinds of disposable plates are great for your special occasions. They're available in many different styles, so you can find something that fits your theme and the kind of event you're hosting.
These are easy to clean up and dispose of once the party is over, which makes them a good option if you want everything (or most of) your party décor gone at the end of the night. 
A Casual Party That's Still Fancy
You can use a variety of colors, textures, and patterns to create a bold look that's still elegant.
If you're looking for something more casual, try pairing different materials with each other to get the most out of your party plates.
Use plastic plates on wooden tables (or vice versa) for aesthetic feels.

Use glass mason jars filled with sand or water as place settings for small parties or events where guests will want to grab their food from off the table rather than from their seats at the table itself.

Use 

eco-friendly trays

 as serving platters at larger gatherings where guests are expected to eat and converse while they do so!
Choose a Plate With a Stylish Design That Looks Like a Ceramic
Choose some 

elegant disposable plates

 with an attractive design that looks like ceramic and not plastic.

Be sure to choose simple and classic plates—too many patterns will make your party look cluttered!
Serve Food In Little Portions!
When serving food, you must ensure that your guests' plates are clean and not overflowing with food. This can be incredibly challenging when there are so many people attending the party, but there are several ways you can help keep things orderly:
Serve food in small portions. This way, anyone who wants more will get it as soon as they're done eating what's been placed on their plate or bowl!

Use small bowls instead of large ones. If someone has finished their portion but still has room for another course (or two), put something else into a smaller bowl before filling up again with whatever other ingredients may need replenishing during dessert later down the line—trust me on this one!

Use small plates instead of huge ones if possible because they tend to make everything look bigger than it is; this makes people feel less complete when they've overeaten.
Use Fancy Silverware To Make Your Party Look More Formal
You need to have the right combination of food and drinks for your guests so they can enjoy themselves at the party.
Here are some tips to ensure everything goes smoothly during your event.
Use fancy disposable plastic silverware. This will make it easier for everyone at the party since there won't be accidents involving broken glassware or dirty dishes left on tables after meals have been served.

Use plastic wine glasses. This way, your guests could enjoy themselves without worrying about getting hurt by falling glass pieces!
Disposable Bowls and Plates Must Complement The Rest of the Cutlery
If you are using disposable bowls, make sure they match well with your plates.
Color: The color of the plates and bowls should be similar.
Design: It's best if your disposable dishes have designs that go well with your primary courseware. If you're going for something more abstract, like cutting boards, try using something colorful, so it looks more varied when stacked next to each other on your table!
Size/Shape: When selecting a set of disposable plates and cups, there are two essential factors to consider: size and shape. The smaller sizes tend not only to look better but also help save space on tables since fewer dishes mean less waste overall; however, some people prefer bigger ones because they tend not only to hold more food but also hold more liquid without leaking out through cracks like smaller ones might do due their thinner walls being weaker than ordinary rubber materials used by manufacturers today.
Elegance Is in the Details
When it comes to party planning, little details are everything. If you want your event to be successful and memorable, then the small things make all the difference. Follow these tips for hosting an unforgettable party bash.
You can use disposable plastic plates or authentic dishes at outdoor parties instead of paper plates. This will save you money because there's no need for additional supplies like napkins or plasticware (which may not even be necessary if you're serving food that doesn't require butter).

You can choose from many different styles of disposable plates to match your theme or style preferences and create custom designs for events like weddings or birthday parties!
In a Nutshell
Party planning is a lot of work, but it's worth it. First, of course, you want your guests to have a good time and enjoy the planned activities, so make sure everything flows seamlessly from beginning to end. The last thing you want is for them to leave early because they're overstuffed with food or thirsty from too much wine—so make sure you've got enough servings of everything!
When planning a party, consider using disposable plates and flatware instead of porcelain and silverware so that everyone can use the same utensils throughout the evening. This will help keep things clean while allowing everyone access to their favorite foods without having any residue left on their fingers afterward.