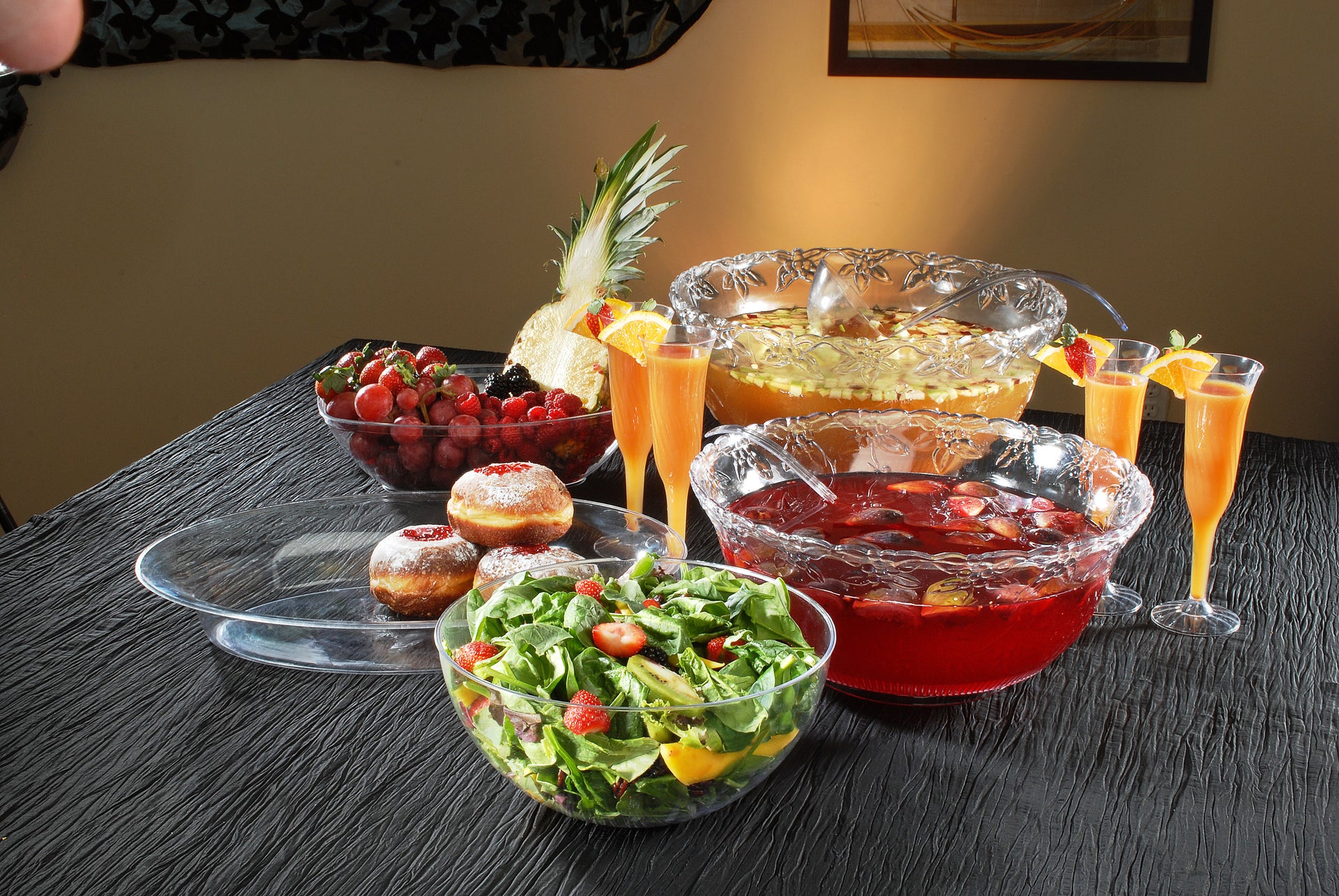 The Best Recyclable Catering Supplies
We are always choosing the best for ourselves and our homes. From getting reliable appliances to furniture with high durability. Shouldn't it be the same for our precious abode, the Earth? Recycling might be complicated, but choosing recyclable objects for everyday use is not difficult at all and would probably be the best decision we'd ever make. 
Now you might be wondering that for everyday use, recyclable supplies can work but would it be that easy if we were to throw a massive party with lots of guests and catering supplies easily? The answer is yes. Some excellent recyclable catering supplies will save the environment and make you feel on top of the world with amazing compliments for you to blush over for hours.
Let's find out the best recyclable serving party supplies collections to amaze your party guests:
1. Recyclable Servingware Collection
Servingware Collection has some of the most valuable utensils you must have in your kitchen. You would definitely have these items while serving your guests, and it might be embarrassing not to have any of these since it might make you look slightly less sophisticated than what you might not want. So here is a glimpse of this beautiful collection for you:
Gone are when everyone used to have cakes made all the time and displayed in the dining room for a fancy look and alluring aroma. People barely make the cakes these days, so they often forget to get the cake stands. 
Getting around disposable plastic cake stands is an ultimate necessity since parties, and special occasions without cakes look dull and boring, and the same can be said for the cakes too. So get a recyclable cake stand to ensure your party looks elegant and decent. 
Plastic concave cups are highly unorthodox and stylish supplies to serve the savory delights to your guests. These look just as their name suggests, in a concave shape. Can you guess the plus point here? Apart from serving the savory delights, you can also serve the beverages in them.
These cups are just perfect since they can be used for multi-purposes. Of course, you might need to be careful with the usage and experiment to find their ideal place among your other supplies. But once you find your way, you're good to go!
2. Recyclable Plastic Serving Trays for Parties
The second most important and valuable collection is disposable serving trays for parties. This is the second most important collection that you should be mindful of to make your catering supplies look beautiful. 
You want your guests to be a little of everything you have prepared for them, and the trays work the best for this purpose. So here we present you a few recyclable plastic serving trays which can please your guests a lot:
Rectangular with Groove Rim Plastic Serving Trays are the most laid back and comfortable for serving your guest's items like donuts and croissants. These are not too fancy to look experimental and not too bland to make your serving look bland. 
You can get these in both white and transparent colors to serve the guests. If you are a person who is slightly afraid of trying new adventures, then these are just perfect for you. 
Next on the list is the Rectangular Natural Palm Leaf Eco-Friendly Disposable Trays. These trays are made from natural palm leaf, giving your party a slightly vintage look and making your guests subconsciously aware of your dedication to eco-friendliness. 
If you have some educated guests who are usually talking about climate change and conserving the environment, then you have gotten the perfect supply to impress your guests. And besides that, it's always good to choose eco-friendly supplies anyway. 
3. Glamorous Serving Bowls
To be specific, you have a perfect collection of serving wares and trays. What comes next? The Glamorous Serving Bowls. Having some unique and pretty-looking serving bowls will enhance the overall look of your presentation. 
Salads, soups, and desserts are always a must at every party, and any party might be without these. However, getting your hands on some impressive serving bowls will make up 80% of your collection. So let's look at two brilliant options for you!
The square plastic serving bowls are an ultimate mix of the elegant, sophisticated, uncomplicated, and comfortable style of serving food. Square plastic bowls are usually the best ones if you want to put something that needs to stay in shape, like sandwiches. 
Another excellent recyclable catering supply is the diamond design round plastic bowls. These are slightly fancier, so use them in your supplies if you have a somewhat disco-themed party or a party with many cocktails. 
4. Stylish Serving Flatware
And finally, we move to the final piece of the jigsaw puzzle of creating the ultimate collection of your disposable party serving ware. The last piece which will take your collection from an 80 to a solid 100% is disposable serving flatware. 
Got your knives, forks, and spoons in place? You have made an elegant collection that is unbeatable. Your catering service will receive countless comments both virtually and in real life. 
Here is an example:
We just learned about the importance of having a cake stand to enhance your catering supplies collection but having a cake cutter/lifter will simply enhance the look even more. So throw away your ordinary knives and get yourself a perfect cake cutter to leave a better impression.
Wrapping Up 
In the times when the world needs recyclable supplies the most, it is time that we leave our hazardous utensils aside entirely and switch to recyclable plastic supplies, which will not just make our party look fantastic but also Smarty.