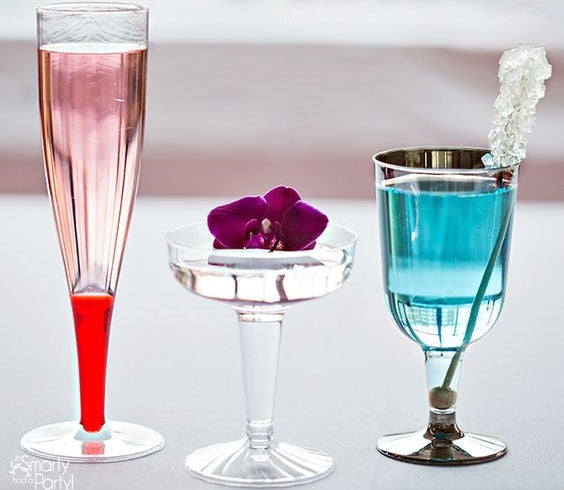 The Best Plastic Wine Glasses for Stress-Free Sipping
Whether it's a celebration party, wedding ceremony, or picnic party without the drinks, it wouldn't feel refreshing and energetic. After having a delicious meal, there's always a specific craving that needs to be fulfilled, and that's when you need a delicious yet refreshing drink.
However, most of the drinking experience is mainly focused on the drink's characteristics like its sweetness, tannin, and body. But, have you ever wondered the type of glass you use to serve the drinks can affect your drinking experience? Well, if you haven't, then it's time to consider it, as the representation of the food and beverage affects your appetite.
And this is where you need to have a stylish glass collection that doesn't only complement your drinks but also makes your personality stand out while holding an elegant glass and roaming on a party floor. We have handpicked some of the best plastic wine glasses for your stress-free sipping. Stick to the end to find the perfect addition to your glass collection. 
Stemmed or Stemless Glasses?
When you are on the hunt for the glasses, you will need to choose whether you want stemmed or stemless glasses. Both are quite popular for many years, but they aren't for every setting and every drink you serve. 
This is why it is essential to have a versatile glasses collection that allows you to serve the drinks in the glasses that are designed and made for. 
Before you choose either of them for you, it's important to know about them, so you should know what to expect from the stemmed glasses and what would be the downsides of stemless glasses. 
Stemmed wine Glasses
For the past few years, stemmed wine glasses have been quite popular in the market, and people love them for some understandable reasons. First of all, they look stylish and seem perfect serving ware for drinks in informal settings where no one would like to see hand marks on glass bowls. 
Stemmed glasses allow you to have a clean drinking experience where you wouldn't see any hand marks after finishing your drink. Also, they have stems, so you are supposed to hold them from the bottom, which allows your beverage to retain its temperature.
For instance, white wine is favorable when served chilled, whereas red wine is preferred and tastes good when served a little warm. A stemmed glass wouldn't affect the white wine's temperature, making it a perfect serving ware for the drinks that are supposed to be served when chilled. Also, when you need to swirl the drink to let it breathe, stemmed glasses are always ideal. 
Moreover, the grip is also an important factor to consider, as a perfect grip of the glass will keep you at ease. Stemmed wine glasses feel pretty comfortable, and you can easily roam the party floor holding them. 
Stemless Wine Glass
When it comes to stemless wine glasses, they are traditional ones and perfect for informal settings, but as per choice, they can also be used for formal settings. However, their characteristics are important to be considered to make a perfect choice for a wine glass collection. 
Stemless are perfect for drinks that don't need to be served chilled. Stemless wine glasses are ideal for drinks that taste good at a warm temperature. Also, they are supposed to be held from the bowl, which allows you to keep the beverage a little warm with body heat. 
Apart from the taste and drinking experience, stemless glasses are easy to store in small spaces and cupboards. However, when it's to the durability of the stemless glasses, their dimensions always make them vulnerable to getting knocked over when placed on tables and counters but with plastic wine glasses, the risk is eliminated. 
Moreover, analyzing the content of your drinks isn't done nicely with the stemless glass, as you would need to lift the fingers to see. And, as they are always held from the bowl, swirling the drinks becomes quite tricky and risky. 
Choosing a perfect wine glass depends on your preference. We don't have a straightforward answer to stemmed vs stemless glasses. To narrow down your choice for the best glass collection, consider your requirements and the settings you will be using them for. 
Our Top Picks for Stemmed & Stemless Wine Glasses
To make your purchase easy, we have handpicked some of the best glass collections. Here are some of our top picks of stemmed and stemless wine glasses 
Whether you are planning a wedding ceremony, business associates dinner party or an upscale party, these crystal-cut plastic wine goblets are the perfect collections to elevate your serving style. 
The contemporary design of these stemmed goblets and the crystal cut at the end of the stem embellish its profile. Moreover, the crystal cut design of these wine goblets isn't just for the beauty to glare, but it provides a perfect spot to have a frictionless grip. 
Apart from their appearance, they are BPA-free and shatterproof. Meaning, that they don't contain harmful substances that can cause any health side effects. 
Add a universal touch to your glassware collection with these elegant stemless wine glasses that promise beauty to your tablescape. 
No doubt, their name suggests they are made for wine glasses, but they can also be used for all types of drinks like juice and sodas. 
Stemless fancy plastic wine glasses are universal and can be used to serve all kinds of drinks and all types of settings, from indoor intimate settings to outdoor picnic parties. Also, these come at a very affordable price tag - perfect for grand events to serve a long list of guests. 
Our Disposable Plastic Wine Glasses
We offer a wide range of disposable plastic wine glasses that come in various designs and styles to cater to the serving needs of all types of events. 
Our glasses are made of high-quality disposable material, which won't only add elegance to your tablescape but will also enable you to clean up like a breeze. Get a beautiful wine glasses collection from "Smarty had a Party'' to kill the hassle of after-party clean-up.