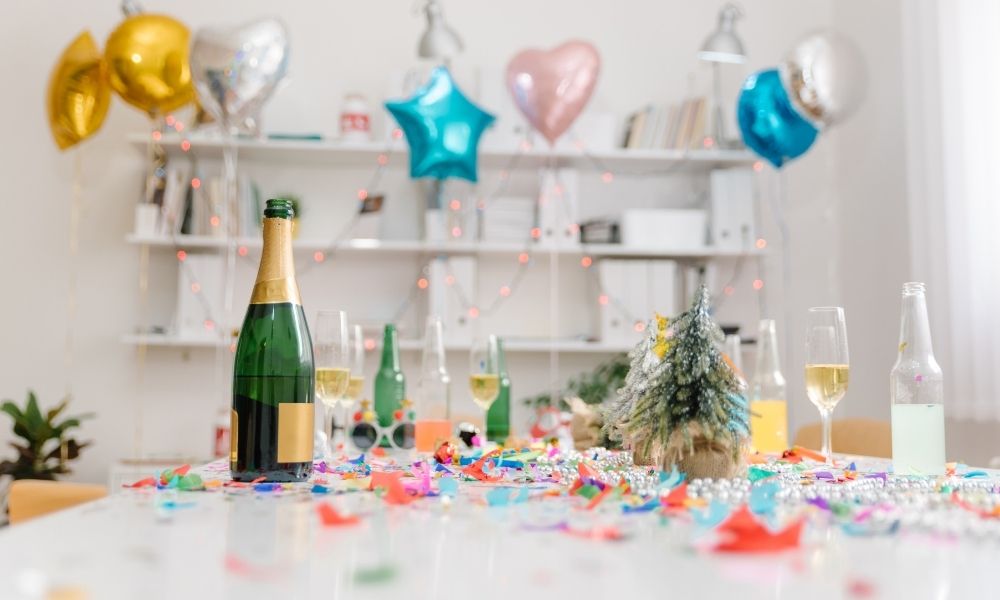 Ways To Make Post-Party Cleanup Easy
Party. A manifestation where young people like to gather, consume moderate amounts of alcoholic and non-alcoholic beverages with appropriate appetizers in the form of salty sticks and other sports for the teeth, and dance to excellent music without disturbing the blood pressure of the other tenants in the building and leave in peace, happy, sober and full of new friendships. Yes. It can be described that way.
It's nice to be a guest at a party. It's nice not to take off your shoes, dig your whole fist into a bowl of chips, and half of that handle falls on the carpet, etc. It is also lovely to organize a party until tomorrow morning.
Everyone loves a party. However, the jury is still out on cleaning up the mess at the end of the night. Whether you're an incorrigible neat freak or simply someone whose energy is spent before it's time to scrub a single dinner plate, the decidedly less glamorous aftermath of hosting dinner parties and birthday parties dissuades many would-be hosts from the companionship, pride, and fun that come with hosting. These ways make post-party clean-up easy, so picking up after the last guest has gone home won't seem so bad.
Start Clean, Stay Clean, End Clean
Cleaning the kitchen before making a mess of it may seem redundant or overly fastidious. After all, even with an open-concept floor plan, the kitchen is a workspace, and no one will judge you for a little bit of disorganization around the kitchen, right? Of course, right? But don't think of beginning with a thorough cleaning as a courtesy to your houseguests. Instead, think of it as a courtesy to yourself. By giving yourself a clean slate—or a clean countertop, as the case may be—to work with, you'll have less to do when the party's over. Also, if you are clean as you go, you'll have less of a mess waiting for you at night's end.
Use Tablecloths
Here's a lifehack that's not just about simplifying but beautifying: put down tablecloths for all the surfaces where your guests will be dining. This aids in clean-up by picking up all the crumbs, spills, and stains that would otherwise end up on your tables. When it's time to clean up, disposing of or laundering the tablecloth saves time and energy you otherwise would have spent cleaning the furniture. And tablecloths can add to the theme if you're thinking of hosting a birthday party rather than a dinner party.
Disposable Tableware
Few sights are more stressful than a sink overflowing with dirty dishes. Looking at the accumulated disorder is enough to raise your blood pressure, and that's before you even start thinking about all the rinsing you'll have to do before you can load the dishwasher. It's too much to bear. So why not do the dishes in one fell swoop by sending them straight to the bin instead? Disposable dinner party plates and disposable flatware are one of the best ways to make post-party clean-up easy. They provide a much simpler alternative to the daunting task of washing delicate dishes. Best of all, with Smarty, Had a Party's wide variety of disposable tableware options, you can coordinate your table settings to the event, season, or aesthetic you've been digging lately.
Tricks to Remove Grease from the Grill
 You already have everything you need at home.
Cleaning the grill and tools may not be the most exciting activity, but when the party is over, it's a task that must be done.
Dirt and grease stick to the grill, and cleaning is often tiring and time-consuming, but luckily some tricks will make this job easier.
1. Cleaning with Vinegar
All you need for this trick are:
2 cups of vinegar

2 cups of water

3 tablespoons of baking soda

Aluminum foil

Metal wire
Pour water and vinegar into a spray bottle, spray the solution on the grill grates, then evenly sprinkle baking soda. It would be ideal to do this on a spread bag to retain the liquid.
Crumple the aluminum foil, spray it with a solution of vinegar and water, and rub the inside of the grill well and the metal wire.
When you finish scrubbing, rinse the grill and grates with lukewarm water.
2. Onion and Vinegar
Spray the grill with white vinegar to dissolve the grease as quickly as possible. Then take half of the onion and scrape the fat off the grill grates.
Finally, you can go over the grids with aluminum foil once more.
Despite its strong smell, which can turn some people off, vinegar is a fantastic ingredient that can change your life and make household chores much more accessible. While we all love using vinegar as a great addition to salads, it can be used in various ways. That's why we've put together a list of all the fantastic things you can do with a bottle of vinegar you have on hand.
Wash the Windows
You may need to use something stronger if a standard glass cleaner fails to remove the dirt on your car. Next time, clean the windows with vinegar. Simply spray a generous amount of vinegar onto the surface, wipe with a cloth, then rinse with water. This works because of the acidity of the solution. It will remove dirt from your windows, leaving them sparkling.
Say Goodbye to Stinky Smells
We are sorry to tell you that cleaning the house is sometimes not enough to eliminate unpleasant odors. Even if all surfaces are clean, residual odors can be challenging to remove. However, this is a must if you want to make your home as cozy as possible. Vinegar will help you in this task. Simply mix it with a few drops of lemon essential oil and water. After that, spray this mixture all over the house. Of course, garbage cans should also be sprayed.