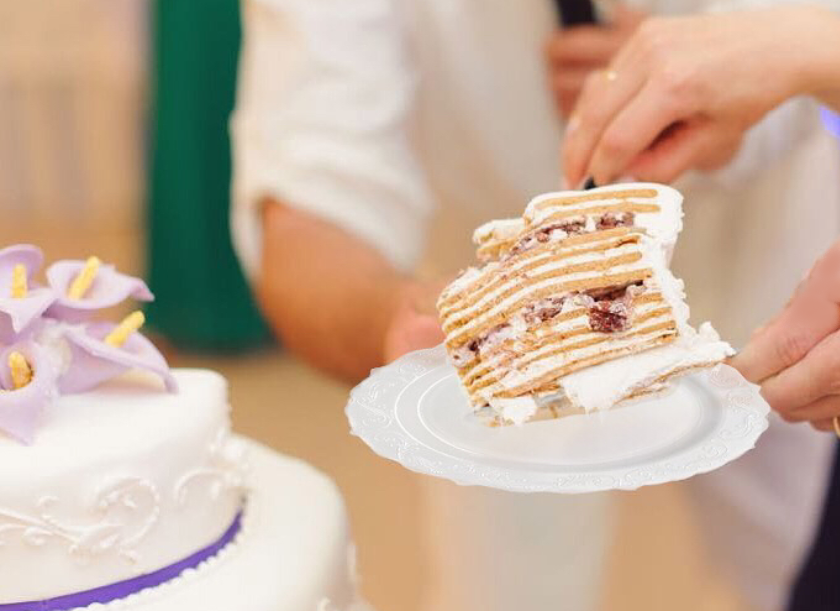 The Best Cake Servers Buying Guide
Whether it's a function, wedding, or celebration party, the cake is an essential food item that needs to be included. However, as much as your cake size, design, and color scheme matter, the presentation of the cake and serving it on a dessert plate should also be important. 
A cake server will make it easier for you to cut it into slices and serve it without breaking it into pieces. Imagine the embarrassment you would face if the cake fell off while serving it on the plate. That's why an elegant and durable cake server is an essential tool to serve cake on special occasions. 
But, when it comes to buying the best cake servers, it's a little daunting as there are numerous options available in the market and choosing the best isn't that easy. We have come up with a detailed guide to help you fall on the best cake served for all types of special events.
Decide about Material 
The first thing that you should consider when you are on the hunt for the best cake server is to decide on the material. There are three most commonly used materials; stainless steel, plastic, and sterling steel. 
However, plastic is the least costly material among all the mentioned materials. It's easy to maintain and doesn't require any maintenance like expensive polishing. Disposable cake servers are best in terms of clean-up. They are ideal for picnic parties and for on the go events. You can easily carry them and leave them behind as they are supposed to be disposed of. 
Stainless steel is also one of the cheapest options out there. It requires no extra maintenance as other premium materials need. However - it's meant to last for years as it's not disposable. Stainless steel is best for regular use. 
Thirdly comes sterling steel. It is one of the most expensive materials, but the benefits are also premium. If you buy sterling steel, it would become your companion at the caking cutting for decades, as it lasts longer. However, it needs special care to make sure it's in its original state. 
Consider Cake Server Size
When you hold the cake server to serve the cake, it should feel comfortable and provide you with ease. The cake server of perfect size according to your hand's length will provide you with ultimate comfort.
The cake server's size starts from "8 to 10" inches. If you have shorter hands, then opt for it. However, if you have a longer hand size, "10 to 13" inches would be the perfect cake serving size that would feel comfortable while holding it. 
Make sure you have opted for the right size that will provide the ultimate comfort to serve the cake without breaking it into pieces. 
Opt for a Comfortable Handle
The cake server's handle is also an important feature that should be taken into notice while buying one. A cake server with a premium quality handle and balanced weight across it will provide you the ease to transfer or serve the cake easily. 
There are fancy cake servers available in the market, which look super stylish, but their handles don't provide proper grip, which can cause the cake server to slip out of the hands while serving the cake. 
The material of the handle is an important factor to consider. A handle with premium finishing will provide a comfortable grip to the hands, while the fancier one with light material on the handle will cause you trouble on cake-cutting occasions. 
Make sure to hunt the cake servers that provide a good grip on the handle to hold it comfortably even while transferring the bigger chunks of cake. 
Cake Server Engravings
When you are about to buy a cake server for a special event like a wedding reception or a birthday, having a cake server with engravings will make it look stylish and elegant.  
It's another way to beautify your serving style, even if it's just about the cake. Every minor detail matters on special occasions, so if you want to elevate your serving style, then opt for the cake server with engravings. You can ask the vendor to engrave the wedding date or the bride & groom's name on it. 
Moreover, you can also do DIY projects to make your elegant cake cutters even more stylish and attractive for special occasions. Get plastic cake cutters/lifters from the "Smarty had a Party" and style them by your choice using your creative instincts. They are disposable, so if your first attempt doesn't go well, you can always pull out the other one.
Cake Server Blade's Size
The purpose of having a cake server is to distribute the cake flawlessly in a perfect presentation. The perfect blade size of the cake server will allow you to equal cut the cake portions. However, choosing the blade size depends on the radius of the cake. 
For instance, if you regularly have cake in a larger size, opt for the cake server with a larger blade size, as it will allow you to have equal slices of the cake without making it a mess. 
If you need a cake server for a wedding cake cutting ceremony, then you will need a cake server with large blade size. But, you go wrong with the smaller blade size for the household cooks. 
Disposable Cake Servers or Reusable Ones?
Every material has its distinguishing pros and cons, but it all depends on your preference and what you look for in your best cake server. 
Reusable cake servers are ideal for long-term use, as they are the most durable ones and made to last for years. But, some of them need proper care and maintenance, so they look flawless on all your special occasions. 
Disposable cake servers are made to provide a hassle-free experience. Plastic cake servers are supposed to be disposed of after a single use; you can throw them away after you're done with the cake serving. 
They are perfect for destination wedding events and picnic parties where you can't afford to carry all the party supplies.