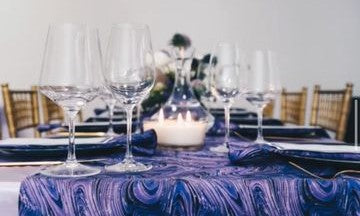 What is the Color of the Year 2022?
It's official - the color of the year 2022 has been announced by Pantone, which is 'Very Peri 17-3938'. Pantone invented this color from scratch, and we are all loving it. It is more towards periwinkle blue, having a warm violet-red undertone, or you could say that it is a bright lavender with a red undertone.
Not only is Very Peri beautiful, but the way Pantone has described this color has left us all fall in love with it. According to Pantone, this color makes traditions meet with the modern world. It creates a link between the life before the pandemic and the life after the pandemic. It helps to revitalize people's gratitude towards the calmness and serenity of the color blue and towards the wisdom and spirituality that purple holds in itself.
Since the world just came out of lockdown, everybody was craving a change. We believe Pantone did the right thing by giving the world this color to help them embrace the opportunities that the new world holds. The announcement of the Very Peri 17-3938 is the color of the year 2022 has made us all very excited.
The Influence of Very Peri
Not so soon after the announcement of Very Peri as the 'color of the year 2022', celebrities started incorporating this color into their lifestyle. Several media personalities shared their images of wearing Pantone's Very Peri, and people are following the trend. Celebrities like Lady Gaga, Olivia Rodrigo, Zendaya, and some famous stars of K-Pop styled this color, and it looked gorgeous on them.
Outfits are not the only thing that has been styled in this color. Very Peri 17-3938 has caught the attention of several event managers, and they have been using this color in decorating party venues. It would be safe to say that Very Peri has indeed had an influence on people's lives, and can we blame them? This color has a unique vibrance to it that makes everyone want to wear it and style it in their way.
How to Use Very Peri
Jump on the bandwagon and use this color in your homes for celebrations and events. Click some Instagram-worthy photographs and show the world how creative you styled this color. For that purpose, you will need to learn all the aspects of creatively incorporating this color in your event. There are a few questions that you must know the answers to. "How to use it in the decorations? What are the colors that go well with Very Peri? How can I set a beautiful tablescape using Very Peri?
We are here to answer these questions and give you detailed knowledge about how to incorporate Very Peri in your events.
Very Peri Party Decor Ideas
Pantone has used the words "encourages the courageous creativity and imaginative expression" to describe the color Very Peri 17-3938. Therefore, the way you decorate your party venue will be an expression of your thinking process and creative abilities.
Floral Backdrop
Decorate your Very Peri party with peri-colored decor and florals. Mix and match different decorations in this color and creatively arrange them in your party venue. For an outdoor event, create a floral backdrop using lilac, lavender, and white lily. The backdrop can be of different styles and designs. Also, the combination of these redolent flowers is particularly ideal for a garden or a beach party.
Purple Lights
You cannot just put any lights on your Very Peri party. Get string lights in bright purple or violet color along with purple candles. The ambiance created by purple candles is just out of this world. Imagine, a lavender and white lily backdrop, violet string lights, dark purple candles, and purple disposable plates on the table - "Perfection".
Add Accessories
Accessories can be really helpful in mixing and matching the different colors on the table. Get a Very Peri-colored vase and put white lily, lavender, and periwinkle flowers inside. Moreover, get fancy disposable plates, glassware, flatware, and serving ware to complement the decor. Don't forget to put texture on the table using a patterned table runner and napkins. Make sure the patterns have purple, lavender, or violet color.
Colors to Pair with Very Peri
Very Peri is being loved by the people for all the good reasons. It makes a good pair with other colors and gives a beautiful look altogether. It appeals to the eyes like no other color. The colors that will sit perfectly with this color include white, beige, blush, pink, and lavender. Pair it with any of these colors, and your tables will shine throughout the event.
Think Out of the Box
You are supposed to push your limits and think of unique and creative ideas that incorporate the color - Very Peri. It will be excellent if you decorate the invitation cards with periwinkle flowers and accessories.
For a wedding, make a purple floral bouquet for your partner and attach a love note alongside, which reminds them of the sweet memories you two have had so far.
Give your guest's the party favors wrapped in purple-colored wraps and write them a personalized note of love.
Don't restrict yourself and think of innovative ideas to incorporate this color into your parties - and the beauty of this color, along with your creativity, will get you a lot of appreciation from your peers.
Elegant Very Peri Tablescape
Creating an elegant tablescape is as important as decorating the venue. Your Very Peri party table should be in harmony with the lights and accessories. Use patterned table runners and place our purple party plates on the tables. We have the most exquisite dinnerware, and that too is available in all ranges of colors to match your theme. Our colorful plastic plates will add an enormous amount of grace to your Very Peri party tables.
To pair with purple plates, we have these lilac disposable plates that are equally gorgeous. Set these plates with an elegant floral centerpiece and purple candles, and your Very Peri party tables will surely be the talk of the town.