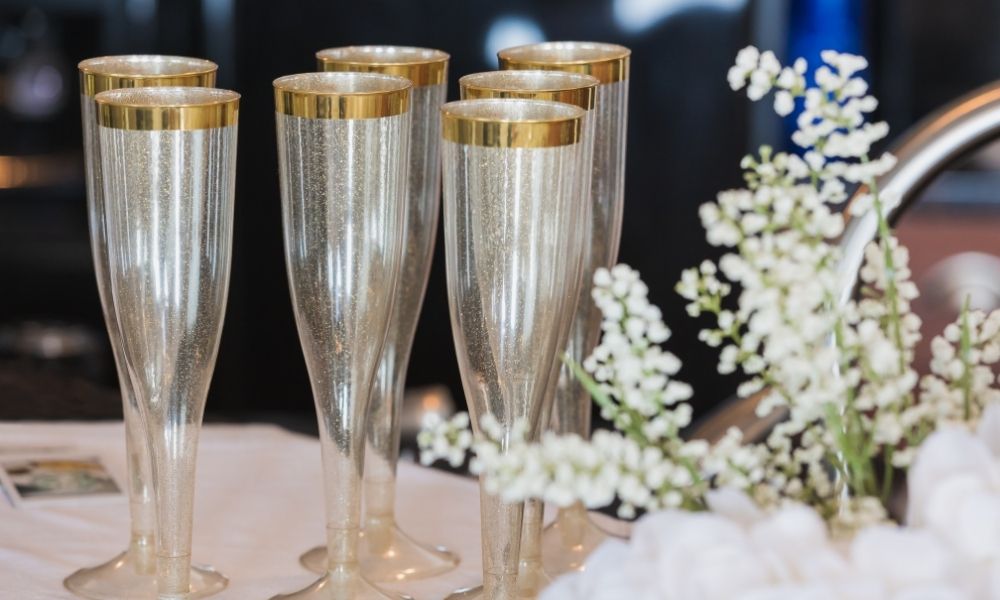 The Benefits of Using Plastic Flute Glasses
If you're trying to host a small get-together with your friends or plan on hosting a more significant event, one thing you need to consider is tableware. You need the number of cups and plates to match the number of people joining you in the festivities. However, large groups of people tend to get a bit messy, and cleaning up all the wine glasses after the party is a drag.
This problem calls for plastic champagne flute glasses, an excellent disposable alternative to their glass counterparts. You have less to clean up when you can throw them away after everyone leaves. In addition, plastic flute glasses give you more options for drinking wine and are available in countless different formats.
These glasses are most suitable for outdoor or poolside events, but you can use them anywhere. In addition to eliminating clean-up time, plastic flute glasses also don't break as easily as glass ones, which helps you save overall. In this piece, you will learn about even more of the benefits of using plastic flute glasses.
Ideal for Serving Large Crowds
Your wine glasses are delicate for a casual evening with your family, but for more significant events, you might not have enough glasses to serve everyone. For example, suppose you plan on hosting a large event, such as a wedding, graduation party, or high school reunion. In that case, a champagne toast is most likely on the agenda for the evening. So everyone needs to have a glass to participate in the toast.
Even if you manage to put together vast piles of glasses, the thought of washing them after the party might make it harder to enjoy the event while it occurs. Therefore, the best way to serve drinks to a large crowd is by using plastic flute glasses. Then, when everything is over, all you have to do is dispose of them, and the clean-up process is complete.
The Safest Material for Children
Although you don't want anyone underage drinking wine at your event, they might still want to participate during the champagne toast with some other drink if they are in attendance. However, if a child drops one, the shattered glass can cause them harm, make a mess, and possibly ruin the event. In that case, plastic flute glasses are more beneficial than traditional ones.
Instead of serving them a classic bubbly, they can celebrate with sparkling grape juice, a kiddie cocktail, or soda. Of course, letting a child borrow one of your special champagne glasses is a dangerous proposition, but if you substitute glass with plastic, you don't have to worry about it.
As far as being appropriate for children, plastic is as good as it gets. Plastic flute glasses let attendees of all ages participate in the festivities and celebrate with their loved ones.
Perfect for Drinking Champagne Outdoors
You have to be extra careful about leaving your glass on a wet surface when drinking outside because you don't want to break your expensive glasses. Unfortunately, however, sometimes all that worrying makes us forget what we were supposed to do in the first place, and we break the glass anyway.
For this reason, plastic flute glasses are the best way to drink outside. Unfortunately, everyone has that one set of glassware that is too valuable to use outdoors. Especially when the weather becomes unpredictable, losing or breaking your wine glasses is more likely to happen outdoors than anywhere else.
An ideal solution is to replace the glass with plastic. If you drop plastic flute glasses on the ground, your drink will spill, but the glasses bounce. That makes them perfect for avoiding accidents and messes.
Countless Recyclable Options
A common problem users of disposable tableware face is that disposing of all this waste can be detrimental to the environment. Especially for large events, the amount of garbage a party can produce is staggering. In addition, though biodegradable plates exist, the plastic is not durable enough to make a champagne flute or any other type of glass with a long stem.
Luckily, many companies produce recyclable options for plastic flute glasses. So the next time you go to your local party favor distributor, see if they have any recyclable plastic glasses on the shelves.
If none are available, plenty of groups sell them on the internet. Switching from disposable plastic flutes to recyclable ones can significantly reduce the event's environmental impact.
Before making the purchase, reach out to your local recycling organization or waste management service to ensure that the plastic in your champagne glasses is acceptable. Once you get the go-ahead from them, you can purchase all the plastic flute glasses you need for the occasion.
Showcase Your Creative Side
If you are still looking for party favors to give your guests when it's time to leave, consider decorating your plastic flute glasses for the event and giving them out at the end. Each can be unique, colorful, meaningful, and endless possibilities.
Of course, some of us are more talented at creating art than others, so if you don't have the capabilities to do this, you can provide the art supplies and let the guests decorate the glasses on their own. Otherwise, hiring a talented artist to work on each one is a classy way to show guests that they mean the most to you.
However, good art is not cheap, so you can ask an artistic family member or friend to help if you don't want to spend a fortune. No matter what's on there, as long as it's meaningful, the plastic flute glasses will be a memorable keepsake that guests can cherish for years to come.
Overall, most home and garden centers and party stores should have plasticware available for purchase. Or you can purchase them online in bulk at Smarty Had a Party. The benefits of using plastic champagne flutes are too advantageous to ignore. So now that you know all the benefits of using plastic flute glasses, it's time to start setting up for your next event!