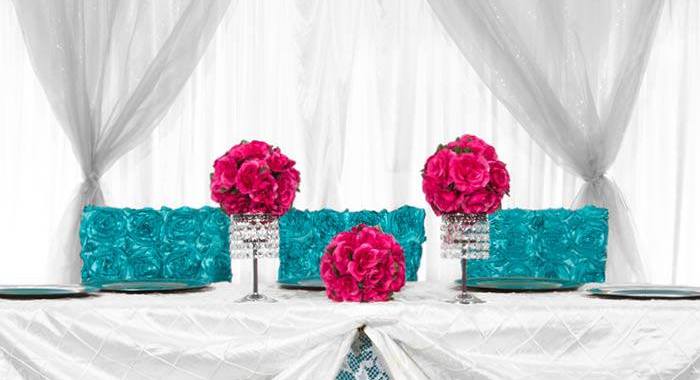 The 10 Must-Know Wedding Trends for 2022
The COVID-19 pandemic has changed the way we used to plan our weddings. But as 2022 has arrived, the impact of pandemics on our daily life events and special gatherings like weddings has visibly decreased.
We can say that 2020 wasn't a good year for weddings but let's turn 2022 into the best year for all the gatherings and joyful events we missed during the past few years.
Weddings are the best time to channel your inner inventiveness that exclusively shows your ideas and vision. Skip the traditional themes, go for unconventional ideas, and set an example for everyone with your big day.
Here are ten wedding trends for 2022 that every couple planning to tie the knot soon should know to make their big day memorable.
Skip the Traditional White Attire
The main focus of 2022 weddings is on uniqueness. Many brides want to go unconventional with their wedding attire. You can add a little pink to your traditional white dress to give it a rosy effect, or if you are the one who loves bold colors, don't think twice. Here is your sign to go for a bold red gown on your big day.
Amuse Your Guests in a Way They Remember for Years!
This year is all about being unconventional so think beyond the music band or a DJ at your wedding; instead, entertain your guests with elegance. Ask your wedding planner to add specialty vendors and food trucks to the to-do list. This will make your guests very happy. Along with this, you can have live painters to increase the beauty of your wedding venue and leave the guests in awe.
Usually, we take care of all the minute details to ensure that our guests are at ease but forget one thing: ceramic plates commonly used at weddings are heavy and can be annoying for guests. So, we have our disposable dinnerware for weddings for your rescue. They are lightweight and easy to carry; your guests will surely appreciate this extra effort.
Fewer Guests, More Fun!
The real things matter the most and bring us joy and happiness. Having an intimate gathering for your wedding with your family and a few close friends means less work and more enjoyment. This also means you can now do your wedding at places unavailable for huge crowds. Imagine having a wedding at a beach or in the middle of the desert with the love of your life and your closest people, a perfect memory indeed.
And we are here to make you a little more stress-free with our disposable wedding dinnerware sets for your intimate wedding so that you can enjoy your big day to the fullest without worrying about cleaning up the dishes.
Forget Indoors, Arrange an Outdoor Wedding
Outdoor weddings are one of the most trending things in 2022, even though they started during the pandemic. Still, the joy of enjoying a wedding in a garden with greenery and flowers is unmatchable. 
Even at nighttime, imagining walking down the aisle under a sky full of stars will give your wedding such a dreamy effect. But there are specific pros and cons of outdoor weddings that you should certainly discuss with your wedding planner.
Environment-Friendly Weddings
Eco-friendly or sustainability weddings are a trend in 2022 that should exist forever. People try to integrate sustainable features into their weddings. Thinking about the positive impact your wedding will have on our environment, which is in dire need of care, will motivate you to organize an eco-friendly wedding. 
Try to add more floras instead of using artificial decorations that can't get recycled easily. Instead of plastic cutlery items, try using eco-friendly dinnerware sets for weddings. Our eco-friendly dinnerware sets will provide a stylish look to your dinner table.
Old School Hollywood-Inspired Wedding
Bring a filmy touch to your wedding by having a wedding that has a theme inspired by your favorite Hollywood movie or your favorite Netflix show. 
Bridgerton is one such show that is the favorite theme of many young couples tying the knot in 2022.
Bring on Some Unique Color Schemes
A wedding is a joyful event, and colors play an essential role in enhancing your joy. People want different color schemes for their wedding day that are truly unique and aesthetic for the eyes. Go a little bold and unconventional with a rust-colored wedding theme that would instantly become the talk of the town. 
Use colors like orange, blush pink, and rust for this scheme and contrast with some neutral colors. You can enhance the look of your wedding table by adding dinnerware according to the color scheme with our elegant disposable dinnerware for weddings.
No Matter What Year It is, Flowers are a Must!
It's your wedding day to go over the top with the use of flowers, as it will only add nicely to the wedding look. You can use floral centerpieces and floral hangings on the top of tables; a huge set of colorful flowers in the background will enhance the beauty and overall ambiance of the function.
Destination Wedding for a Fresh Start
Destination weddings are the best idea for couples who love traveling. A destination wedding with a few guests is a way to enjoy your day to the fullest. So, throw a lavish wedding dinner at your favorite destination and have a once-in-a-lifetime experience with your loved ones.
Serve Food that Tells Your Story
You can use unique ways to share your love story with your wedding guests. For instance, you can keep an item in your wedding menu from what you ate on your first date or add a typical meal that you both love. Apart from this, you can add your favorite movie time snacks to the menu after discussing them with the caterer.
You have to choose the cutlery in which you serve food wisely. Our plastic dinnerware for weddings has always proved smart as they come in beautiful combinations and are perfect for your wedding tables.